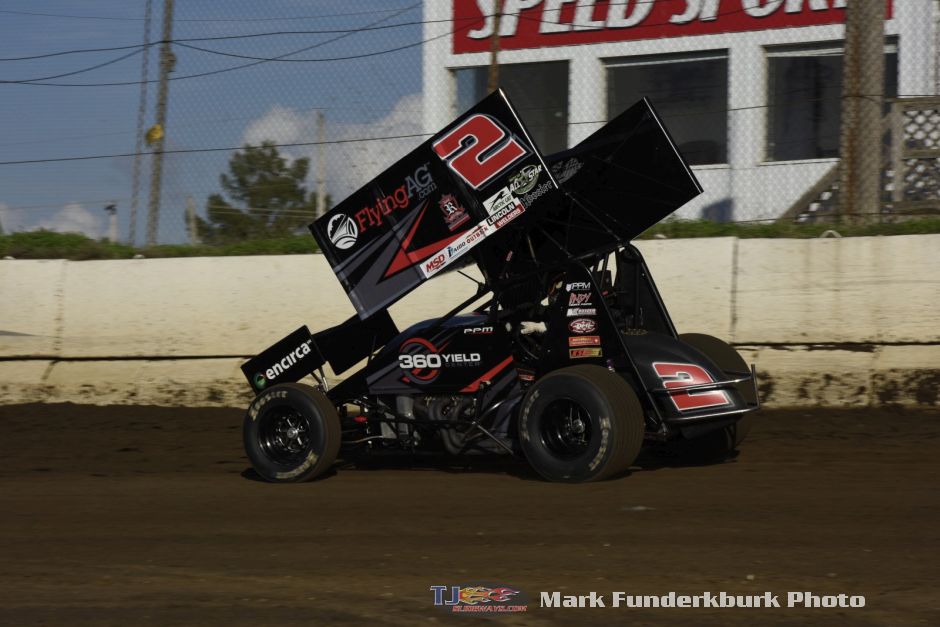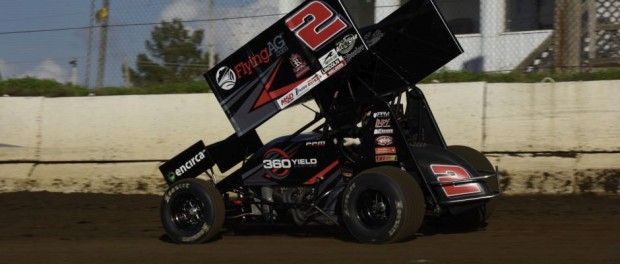 From Bill Wright
October 25, 2016 – The Midwest Open Wheel Association sprint car series wrapped up its sixth season of operation last weekend at Jacksonville Speedway. The two-night event saw veterans Ian Madsen and Jim Moughan Jr. pick up the wins, but Kokomo, Indiana's Parker Price-Miller won the war, becoming the first driver other than Jerrod Hull to win a championship with the series.
Parker led the series in victories this season with five as he edged out Hull for the 2016 title. Parker's wins came at five different tracks: LaSalle Speedway in Illinois, St. Francois County Raceway near Farmington, Missouri, Quincy Raceways in Illinois, Jacksonville Speedway in Illinois and Tri-City Speedway in Granite City, Illinois.
Jerrod Hull, racing in his final season, went out like the champion he is, recording four wins and finishing in the runner-up spot in the standings. AJ Bruns recorded one win and finished third, Chris Urish was fourth, also grabbing a victory, and Jim Moughan Jr. finished fifth in points, bringing down a long overdue first MOWA win at Jacksonville in the finale. Logan Faucon followed in sixth, Jeremy Standridge was seventh and Jake Blackhurst finished eighth. MOWA would like to extend its thanks to these eight drivers, who competed in 75% or more of events contested in 2016.
Thirteen different drivers won features over the twenty different events contested. Drivers competed at eleven different venues in Illinois, Indiana, Missouri and Wisconsin. Price-Miller (5) and Hull (4) led all feature event winners. Nine other competitors scored wins including Ryan Bunton, Willie Croft, AJ Bruns, Zach Daum, Bill Balog, Steve Meyer, Hunter Schuerenberg, Chris Urish, Brady Bacon, Ian Madsen and Jim Moughan Jr.
MOWA Banquet
The MOWA banquet will be held on Saturday, December 3 at Hamilton's located at 110 N. East Street in Jacksonville, Illinois. Doors will open at 4 p.m., Dinner is at 5 p.m. with the Awards Presentation following at 6 p.m. Admission is $20 per person, paid at the door of the banquet.
Annual Driver's Meeting
Stay tuned to social media for announcements concerning the annual MOWA driver's meeting. Traditionally, the meeting is held in January. Also stay tuned for the 2017 schedule. A partial schedule should be announced in December.
On the Web!
For more information on the Midwest Open Wheel Association, visit www.MidwestOpenWheel.com today!
Twitter: @mowasprints
Follow us on Facebook … http://www.facebook.com/midwestopenwheel
2016 MOWA Final Sprint Car Series Point Standings (Top 20)
Driver Hometown Car # Total Points
1 Parker Price-Miller Kokomo, IN 2 1527
2 Jerrod Hull Sikeston, MO 12 1462
3 AJ Bruns Lincoln, IL 44 1365
4 Chris Urish Elkhart, IL 77u 1181
5 Jim Moughan Jr. Springfield, IL 1m 1127
6 Logan Faucon Elkhart, IL 52F 1005
7 Jeremy Standridge Springfield, IL 10s 1000
8 Jake Blackhurst Hanna City, IL 25 925
9 Bret Tripplett Lincoln, IL 22 824
10 Robbie Standridge Springfield, IL 47s 754
11 Zach Daum Pocahontas, IL 5D 730
12 Paul Nienhiser Chapin, IL 9 713
13 Ryan Bunton Morton, IL 6R 692
14 Jacob Patton Bethalto, IL 79J 646
15 Cory Bruns Lincoln, IL 42 636
16 Jacob Wilson Crawfordsville, IN 07 620
17 Joey Moughan Springfield, IL 29 594
18 Brad Loyet Sunset Hills, MO o5 569
19 Spencer Bayston Lebanon, IN 9P 492
Joe B. Miller Millersville, MO 51B 492