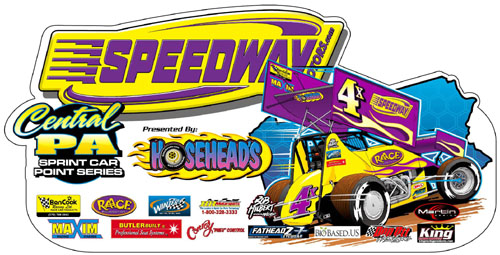 From Alan Holland
The Speedway Motors/Champion Racing Oil Central PA Sprint Cars ran their final race of the 2016 season on Saturday November 5th at Susquehanna Speedway. Jacob Allen came away with his first ever 410 sprint car win and Greg Hodnett won the championship for the seventh time in his career, and the sixth time in the last seven years.
This season it was possible for a driver to compete in 78 local races. There were 88 races held in the series, with Lincoln and Port Royal operating on the same night ten times.
In all 93 drivers were able to score Speedway Motors/Champion Racing Oil series points. Since points are only awarded for top ten finishes, that means 93 drivers scored top ten finishes in local 410 sprint car races this year. In those 88 races, 33 different drivers scored feature wins.
Hodnett was at the top of that list with 19 wins in the series. Hodnett also scored 12 seconds, 16 thirds, six fourths, three fifths, and six other top ten runs for 62 races in the top ten.
He also won the Williams Grove point title.
Second place Danny Dietrich won nine times with 11 seconds, and 16 other top fives, plus 23 other top tens, for a total of 59 top ten runs. Dietrich was the 2016 PA Speedweek champion. Lucas Wolfe ended the season third with four wins, 26 other top fives and 18 more top tens for 48 total top tens.
Brian Montieth won six times, had 19 other top fives, and 13 more top tens for a total of 38 top ten runs. Brent Marks rounded out the top five with four wins, 21 other top fives and 16 more top tens, for a total of 41 top ten runs.
Rounding out the top ten in points were Lincoln champ Alan Krimes with two wins, and 39 top tens, Lance Dewease who won ten times, and scored 23 top tens in just 26 total starts, Port Royal champ Doug Esh with three wins, and 38 top tens, Stevie Smith, another part time racer, who won three times, and scored 27 top tens in just over 30 races, and Ryan Smith, who won once, and notched 31 top tens.
2016 SPEEDWAY MOTORS / CHAMPION RACING OIL
CENTRAL PENNSYLVANIA SPRINT CAR SERIES
PRESENTED BY HOSEHEADS.COM
listing; position, car number driver, point total, series wins
FINAL; 11/5/16
1. 27 Greg Hodnett 2154 19
2. 48 Danny Dietrich 1570 8
3. 1 Lucas Wolfe 1218 4
4. 21 Brian Montieth 1048 6
5. 19M Brent Marks 1015 4
6. 87 Alan Krimes 890 2
7. 69K Lance Dewease 835 10
8. 07 Doug Esh 799 3
9. 51s Stevie Smith 784 4
10. 94 Ryan Smith 653 1
11. 51 Freddie Rahmer 618 2
12. 25 Aaron Ott 603 2
13. 3z Brock Zearfoss 545 2
14. 11c Cory Haas 513
15 52 Austin Hogue 395 1
16. 12 Blane Heimbach 297 1
17. 17B Steve Buckwalter 294 2
18. 16 Gerard McIntyre Jr 291
19. 59 Jim Siegel 288 1
20. 1 Dale Blaney 253 2
21. 20 Ryan Taylor 248
22. 5 Dylan Cisney 243
23. 55 Mike Wagner 227
24. 55K Robbie Kendall 225
25. 15 Adam Wilt 216
26. 8 Billy Dietrich 213 1
27. M1 Mark Smith 212
28. 9 Daryn Pittman 200 2
29. 15 Donny Schatz 185 1
30. 88 T J Stutts 182
31. 5 Tyler Ross 170 1
32. 88 Brandon Rahmer 163 1
33. 71m Dave Blaney 158
34. 5 David Gravel 155
35. 99M Kyle Moody 148 1
36. 5/2D Chase Dietz 144 1
37. 2w Glenndon Forsythe 128
38. 33 Curt Stroup 118
39. 10H Chad Kemenah 111 1
40. 13 Tim Shaffer 107
41. 0 Rick Lafferty 106 1
41. 4 James McFadden 106
43. 3 Pat Cannon 104 1
44. 37 J J Grasso 99 1
44. 49 Brad Sweet 99
46. 1s Logan Schuchart 96 1
47. 7w Logan Wagner 91
48. 16 Matt Campbell 84
49. 69 Tim Glatfelter 80
50. 747 Davey Sammons 79
51. 44 Rodney Westhafer 78
52. 1* Tim Wagaman 77
52. 83 Joey Saldana 77
54. 93 Sheldon Haudenschild 74
55. 1a Jacob Allen 70 1
55. 44 Joey Hershey 70 1
57. 21 Cap Henry 55
58. 36D Wayne Dadetto 52
59 4 Kasey Kahne 50 1
60. 69 Shane Hoff 45
61. 98 Mike Erdley 44
61. 21 Kyle Reinhardt 44
63. 22 Cole Duncan 41
64. 17W Bryan Clauson 35
64. 1 Sammy Swindell 35
66. 21T Scott Fisher 34
66. 47K Kody Lehman 34
68. 5 Justin Barger 30
68. 2 Shane Stewart 30
68. 1x Chad Trout 28
71. 29 Kerry Madsen 26
72. 3 Tim Kaeding 25
73. 35 Daryl Stimeling 22
73. 35 Steve Owings 22
75. 21 Brian Brown 18
75. 11K Kraig Kinser 18
77. 28F Davie Franek 16
77. 39 J B Cunningham 16
79. 5T Tyler Reeser 14
79. 10 Joe Kata III 14
79. 25 Tyler Bear 14
82. 29 Jason Shultz 12
82. 41 Jason Johnson 12
82. 89 Robbie Stillwaggon 12
82. 8M T J Michael 12
82. 12 Mike Bittinger 12
82. 2 Art Leidl 12
82. 7c Caleb Armstrong 12
89. 7s Jason Sides 10
89. 2 A J Flick 10
89. 75 Frankie Herr 10
89. 73B Brett Michalski 10
89. 33 Mike Mahoney 10