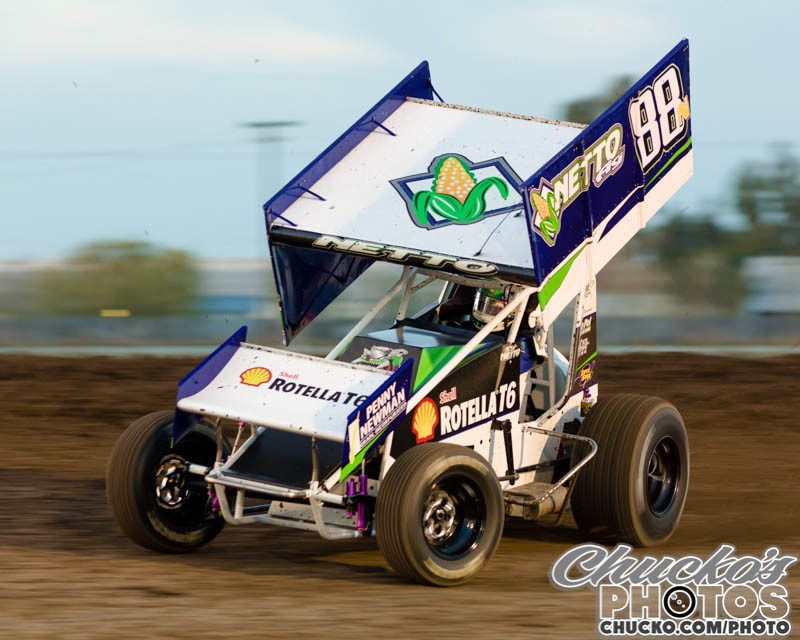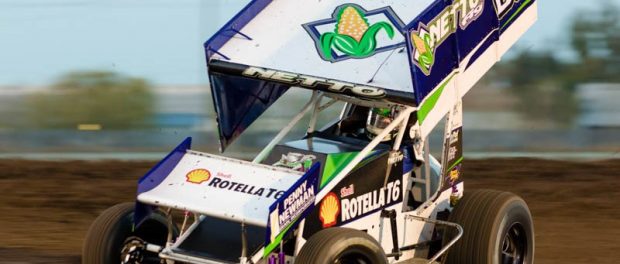 From Peterson Media
DJ Netto continued to his recent hot streak during Saturday night's Civil War Series/King of the West Series season finale. Finishing second with the Civil War Series, Netto was doing a fantastic job of working his way through the King of the West field until his engine let go with just three laps remaining.
"I keep repeating myself, but these guys really have my car comfortable to drive," Netto said. "We ran both divisions and had my personal car out and the Tri-C car out and they were both awesome all night long."
In Civil War Series action, Netto would kick things off by timing in second fastest in his qualifying flight. Running third in his heat race, Netto would move into the six-lap dash where a fourth place finish placed him in the second row for the 30-lap feature event.
With the track extremely slick and abrasive on Saturday night, Netto was able to hold his own against some of the region's top drivers including Rico Abreu, Jason Meyers, Sean Becker, and Andy Forsberg.
Running inside the Top-Five, Netto would soon get by Forsberg to take over the fourth spot before getting by Abreu to take over third as the laps wound down.
Closing in on Sean Becker with 10-to-go, Netto would get the spot as issues forced Becker into the infield. In the second spot, Netto would have nothing for Meyers who had opened up a very healthy lead. Fending off Abreu in the final few laps, Netto would pick up a second place finish.
Having issues during time trials with the King of the West Series, Netto would not record a time and find himself in the back of the pack for the remained of the night. A very strong showing in his heat race saw the Hanford, CA driver pick up a third place finish and transfer him into the feature event.
Gridding the field from the 18th starting spot, Netto was one of the few who was able to make up track position on a surface that was not conducive to passing. Simply putting his Tri-C Motorsports machine anywhere he needed to on the Stockton Dirt Track surface, Netto would find himself in the seventh spot with just five laps to go and he was looking for more.
On the 27th lap however, trouble would strike as his power plant would expire and his night would come to a close.
"It was a blast to get moving like we did in the King of the West feature, it was just dissapoitning we could not finish the job," Netto added. "I have a ton of confidence right now and am looking forward to racing in AZ this weekend. I have to thank Clyde and Marion Lamar for putting me in this position these last few months and I would love nothing more than to grab a win this weekend."