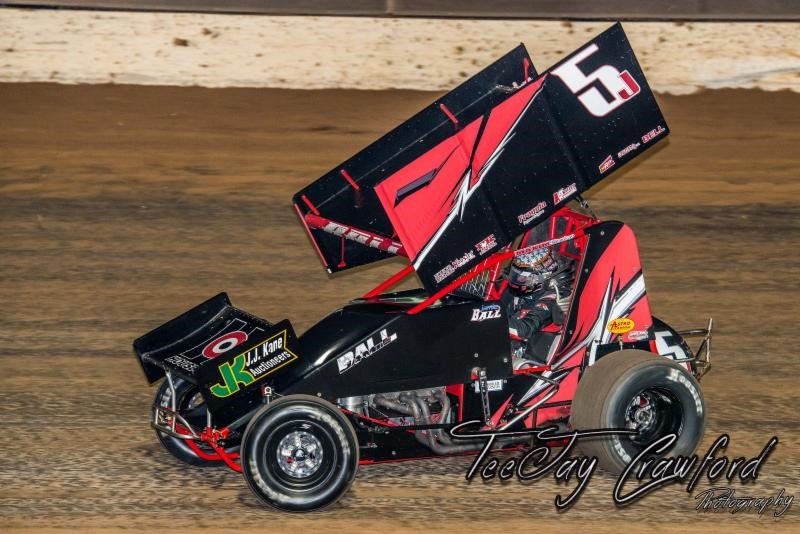 From Inside Line Promotions
LITTLE ROCK, Ark. (Nov. 9, 2016) – Jamie Ball wrapped up the 2016 season last weekend at the 29th running of the COMP Cams Short Track Nationals presented by Hoosier Tires at I-30 Speedway.
"Our first Short Track Nationals was a roller coaster of success and learning experiences," he said.
Ball and White Lightning Motorsports opened the weekend with a fast car last Thursday, finishing second in a heat race before winning a qualifier to lock into the 10th starting position for the main event.
"We were consistently fast, even when the results didn't show that," he said. "We did manage to win a qualifier and to be able to do that being our first time at STN was very satisfying."
Ball bicycled early in the main event and unfortunately collected another competitor, resulting in wing damage. Ball restarted at the back of the field and he rebounded to 16th by the time the checkered flag waved.
"Short track racing is very tricky and takes some getting used to for me," he said. "Ricky Logan helped us on the setup and driver coaching. He really is a great guy to have on your team."
On Friday, Ball started on the front row of a heat race for the second night in a row. He finished fifth, but was still high enough in points to make the qualifier, which he ended in 10th. That relegated the team toward the back of a B Main. Ball picked up a couple of positions to place ninth, which was shy of scoring a transfer.
Ball's preliminary points throughout the weekend lined him up fifth in a heat race on Saturday. Unfortunately, an eighth-place finish in the heat race sent the team to the back of a B Main and Ball was unable to drive into a transfer position.
"Overall, our results were a bit disappointing, but we learned a lot, rolled the car into the trailer, and had fun," he said. "Our 2016 season is now officially over and we will begin to prepare for 2017. We can't wait to build off what we have learned and return to STN in 2017 with a great base setup and mental focus."