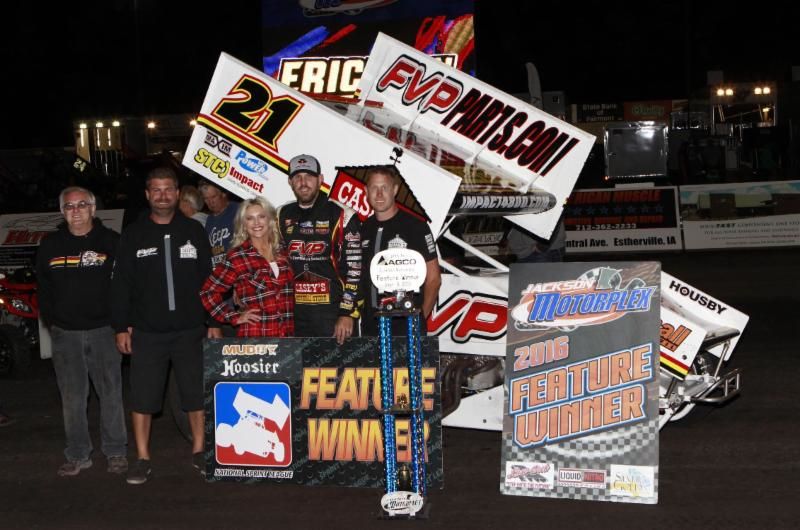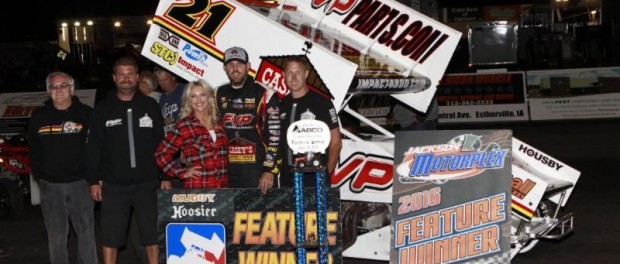 From Bill Wright
November 9, 2016 – Brian Brown and the Casey's General Stores/FVP #21 team broke out of the gates well in the 2016 season. After seeing an opening win with the World of Outlaws derailed by an infield tire, the team rebounded for a solid west coast trip. The Grain Valley, Missouri driver would not slow down when he returned to the Midwest, posting wins and a top five run at the King's Royal along the way. This week's focus is on the first half of the team's season. We'll cap it off next week.
You traveled to the Winter Heat series in Yuma to get your year started off early.
The Winter Heat series kind of felt like 2015 continued. We took a car that had been from that season. We had one good night and four average ones.
You picked up the World of Outlaws schedule in Las Vegas in March and stayed with them on the West Coast.
We started the year at Vegas with the Outlaws and in my opinion, we had the car to beat there. We were leading and hit an infield tire with eight or ten laps to go. That would have been a cool way to start the season, but it wasn't meant to be. The rest of our trip went well. We finished fourth the next night, had quick time at Queen Creek (Arizona), led for a while at Stockton, and we felt like the swing went well…not only on the track, but off the track with FVP presenting the races at Las Vegas and Stockton. It was probably our best west coast trip ever.
I believe when you came back to the Midwest, you ripped off fourteen top fives in fifteen races.
I think at one point we finished in the top three eleven out of twelve nights when we came back to the Midwest. That shows how hard Chad (Morgan), Michael (Williams) and we had Wyatt (Burks) at the time…it showed how strong we worked all winter long to build our program.
You racked up an ASCS National win close to home at Lakeside Speedway in Kansas City, and won at Knoxville as well.
It was cool to win close to home here, and we had a win in Sedalia too. In the box score at the end of the year, we didn't have the number of wins we've had in the past, but I felt we were better with our consistency all year long.
You had a very successful trip to Eldora and the King's Royal in July.
Thursday we didn't qualify well, but we fought back. We were able to go from sixth in the heat to the Dash, and went sixth to second in the Dash. We ended up running third or fourth that night, and we came back Friday and crashed. We were able to win the heat in the King's Royal on Saturday. We started on the front row and led the first eight or ten laps. We had our hood blowing apart for a while and dropped back to seventh or eighth. We had a red, we were able to fix it, and then charged back up to finish with a top five. To lead laps at a big event like that that is not your home turf just proved that we can go anywhere and be competitive.
That propelled you to a big win at Knoxville before the 360 Nationals.
We were able to come back and win that NSL show at Knoxville. We were second on our prelim night at the 360 Nationals, and we were running second on the final night. We had an engine issue. We were going to finish second, and we may have had a shot at Sammy (Swindell) late.
You also racked up third place finishes at the Capitani Classic at Knoxville and the Front Row Challenge in Oskaloosa.
Those races are always so tough, but to come out with a pair of podium finishes really gave us some confidence heading into the Nationals.
Follow Brian on the Web, Twitter and Facebook!
Follow Brian at his website located at www.BrianBrownRacing.com