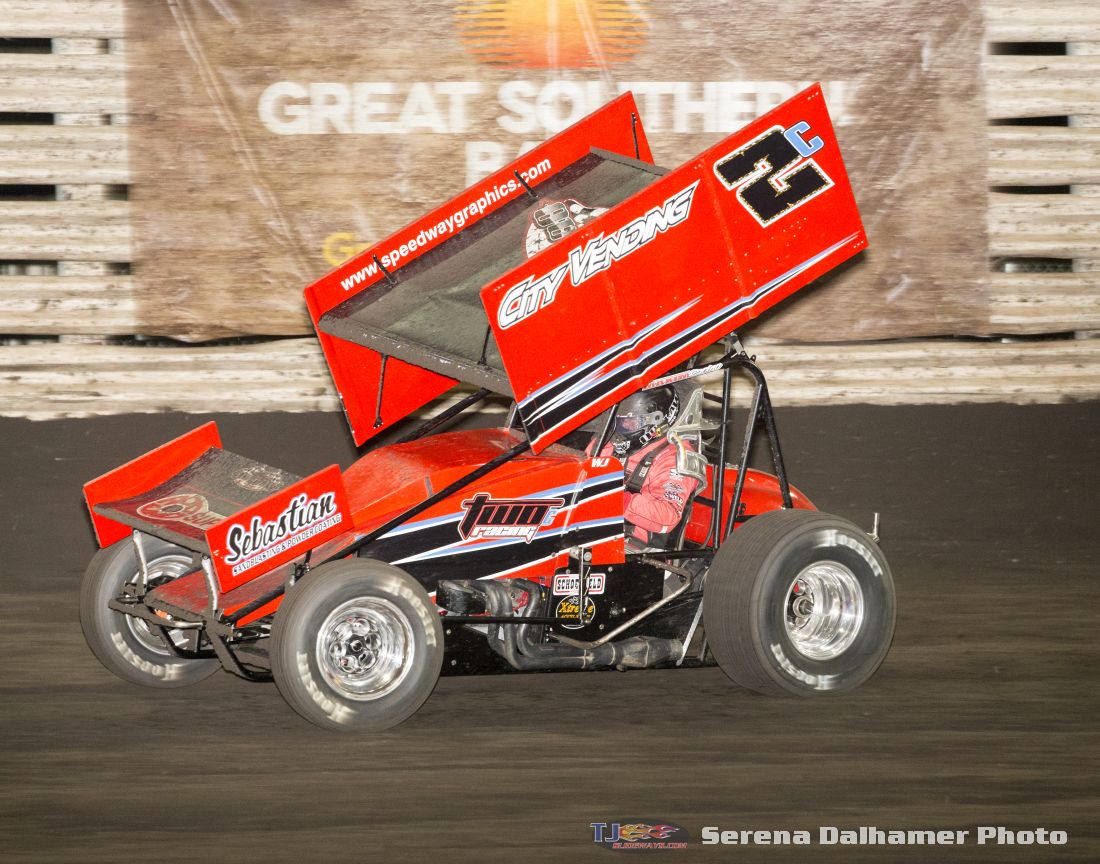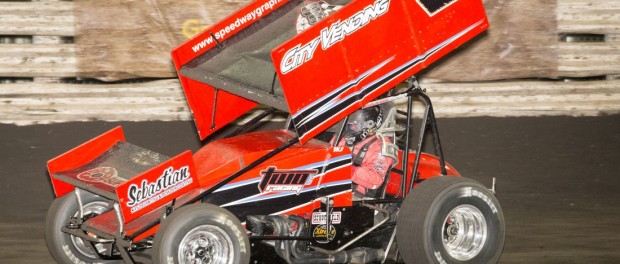 From Bill Wright
November 9, 2016 – Wayne Johnson and the Two-C Racing team continue to have a good racecar. After finishing second and fourth last weekend at Creek County Speedway near Sapulpa, Oklahoma with the Lucas Oil ASCS National Series, the Oklahoma City driver points the truck west to the series' finale at Cocopah Speedway near Yuma, Arizona this weekend.
Lately, Wayne has felt good in the car. "We went to practice night Thursday, and by the end of the night, we had the fastest car," he says. "We just kept working on it and we were fast all weekend."
Things started well in Friday's prelim. "We were able to start up front and win the heat race," says Wayne. "That put us in the second row of a Qualifier and we ran up to second. That got us second in points and on the front row for the feature."
Starting second, Wayne took the lead in the middle stages and held it until a bit of a controversial pass relegated him to second. "We pretty much led the whole race other than the first few laps and the last few," he says. "Sam (Hafertepe) passed us with four tires in the infield and we ended up second. I felt like we got taken advantage of by the officials a little bit there on that one. I felt like we got one stolen there, but we were locked in for Saturday."
He would draw a starting spot outside row one for Saturday's finale. "We were good, but we had some brake issues," says Wayne. "On the last restart, we were able to get up beside Hafertepe and (John) Carney for the lead. I was working on them, but my brakes would only work about three laps. At that point, I had to pump them. I just couldn't get in a good enough rhythm doing that over and over and we ended up fourth."
Wayne is not only looking forward to his season finale this weekend, but getting everything set for 2017. "The car is working really well right now," he says. "We've been fast. Everything's been good, we just need a little luck to go our way. We should be fine at Cocopah, but honestly, I'm looking forward to next year already. It's no fun to know you are 400 points out of first going into this weekend (third place). We're just ready to start building for next year. We're really looking forward to that."
Follow Updates on Facebook!
Wayne will update as his race night commences at his Facebook page. Find it by searching for
Wayne Johnson Racing or clicking the following link…
http://www.facebook.com/#!/WayneJohnsonRacing
Outlaw Wings – "The Wing with an Attitude"
Check out the new "recessed rivet" design put out by Outlaw Wings. Talk to Wayne about purchasing Outlaw Wings for your car! Outlaw Wings – "The Wing with an Attitude"!
Wayne's Fast Facts
Wayne competed at the World Finals at Lowe's in 2008. He timed 6th in round one, and 21st in round two in Miles Hill's #77x. After blowing his motor in the prelim, he put in "Old Lucy", won the B and finished 10th in the feature. In the finale, he drove from 21st to 11th.
Partner of the Week – Simpson Performance Products
Simpson Performance Products is headquartered in New Braunfels, TX with more than 80,000 sq. feet of manufacturing and warehouse space. Many of our restraints, helmets and flagship parachutes are manufactured and tested right here. Simpson fire suits and crew uniforms are manufactured outside of Los Angeles, CA in our 52,000 sq. foot facility. Simpson also employs the largest customer service and sales team devoted solely to servicing NASCAR customers of any racing safety supplier, based in the heart of NASCAR country, Mooresville, NC. Visit us online at www.TeamSimpson.com!
"Wednesday's with Wayne"
"Wednesday's with Wayne" is an up close look at the past, present and future of colorful and talented sprint car driver Wayne Johnson. You'll never know what to expect next with Wayne, so don't miss us on Wednesdays!