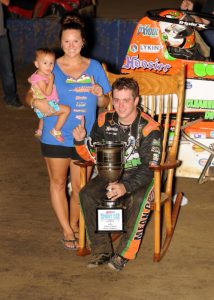 From Richie Murray
INDIANAPOLIS, Ind. (November 15, 2016) — Brady Bacon of Broken Arrow, Okla. has wrapped up the 2016 USAC Mike Curb "Super License," adding that to the AMSOIL USAC National Sprint Car Championship he completed last weekend.
The $5,000 cash award will be presented by Mr. Curb at the December 9 USAC "Night of Champions" National Awards Banquet at the Indiana Roof Ballroom in Indianapolis, Ind. The award honors the driver earning the most total USAC National points in the Silver Crown, National Sprint and National Midget series throughout the year.
During the 2016 USAC National season, Bacon has competed in 64 total feature events and posted 21 "podium" finishes.
His margin of victory in the final "Super License" standings remains to be finalized, with the season's final national points-paying race remaining at the "Turkey Night Grand Prix" Midget race at Ventura (Calif.) Raceway on November 24.
He enters "Turkey Night" with a whopping 1122-point lead over 2015 Super License champ Dave Darland. Chris Windom, enjoying a late-season surge, stands third in the "Super License" points.
Six total drivers earned points in all three National series. They include Bacon, Darland, Jerry Coons Jr., Bryan Clauson, Shane Cottle and Zach Daum.
MIKE CURB "SUPER LICENSE" POINT STANDINGS
1. (4073) Brady Bacon
2. (2951) Dave Darland
3. (2814) Chris Windom
4. (2362) Chase Stockon
5. (2226) C.J. Leary
6. (2166) Thomas Meseraull
7. (2158) Chad Boespflug
8. (2053) Jerry Coons, Jr.
9. (1960) Robert Ballou
10. (1921) Bryan Clauson
11. (1547) Justin Grant
12. (1526) Shane Cottle
13. (1419) Kevin Thomas, Jr.
14. (1383) Aaron Farney
15. (1264) Max McGhee
16. (1223) Kyle Cummins
17. (1194) Tanner Thorson
18. (1185) Spencer Bayston
19. (1146) Jon Stanbrough
20. (1136) Tyler Courtney
21. (1129) Chad Boat
22. (1058) Carson Macedo
23. (972) Jarett Andretti
24. (583) Kody Swanson
25. (877) Isaac Chapple
26. (872) Ryan Robinson
27. (814) Landon Simon
28. (810) Holly Shelton
29. (778) Zach Daum
30. (714) Tyler Thomas
31. (703) Bret Mellenberndt
32. (678) Carson Short
33. (572) Ryan Greth
34. (510) Hunter Schuerenberg
35. (491) Gage Walker
36. (489) Brady Short
37. (467) Steve Buckwalter
38. (427) Logan Jarrett
39. (407) Shane Golobic
40. (398) David Byrne
41. (386) Casey Shuman
42. (351) Davey Ray
43. (341) Cole Ketcham
44. (340) Austin Nemire
45. (316) Joe Liguori
46. (301) Tony DiMattia
47. (257) Matt Goodnight
48. (241) Shane Cockrum
49. (226) Justin Peck
50. (220) Kyle Robbins
51. (213) Tanner Swanson
52. (205) Kent Schmidt
53. (195) Aaron Pierce
54. (191) Tucker Klaasmeyer
55. (181) Jacob Wilson
56. (180) Patrick Lawson
57. (173) Jimi Quin
58. (163) Mitch Wissmiller
59. (161) Bobby Santos & Matt Westfall
61. (154) Jeff Swindell
62. (153) Tom Harris
63. (138) Dayne Kingshott
64. (134) David Budres
65. (130) Billy Puterbaugh, Jr.
66. (125) Chase Johnson
67. (122) Carmen Perigo
68. (113) Robert Bell
69. (104) Aric Gentry
70. (101) Mark Smith
71. (99) Anton Hernandez
72. (95) Joe Axsom & Chris Fetter
74. (93) Terry James
75. (90) Tim Creech II
76. (88) Tyler Nelson
77. (80) Bill Rose
78. (71) J.C. Bland
79. (70) Tad Roach & Josh Spencer
81. (67) Kyle Schuett
82. (65) Neil Shepherd
83. (61) Terry Babb & Robert Stout
85. (59) Brian Tyler
86. (55) Ryan Newman
87. (52) James Lyerla
88. (51) Dave Berkheimer
89. (50) Mario Clouser, Ted Hines, Dick Mahoney & Austin Prock
93. (47) A.J. Fike
94. (43) Dakota Jackson
95. (40) Ariel Biggs & Kellen Conover
97. (39) Chris Urish
98. (37) Kevin Studley
99. (35) Danny Long
100. (32) Joey Moughan
101. (27) John Heydenreich
102. (25) Russ Gamester
103. (22) Billy Pauch, Jr.
104. (20) Lee Dakus & Ken Drangmeister
106. (13) Jackie Burke & Kenny Gentry
108. (10) Mike Gass & Trevor Kobylarz