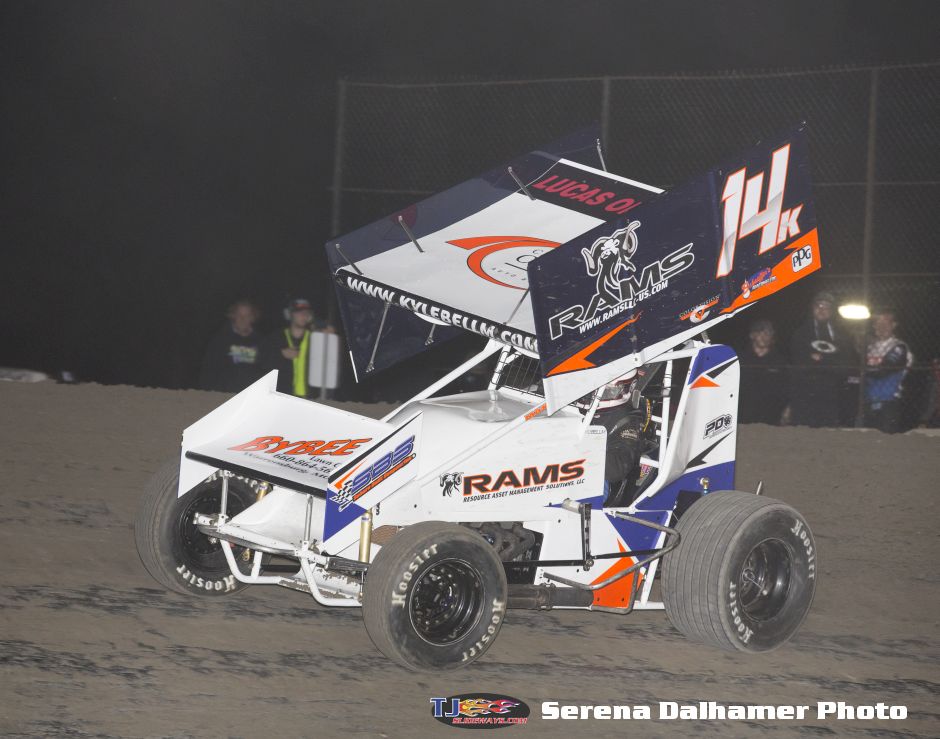 From Lonnie Wheatley
NIXA, Mo. (November 23, 2016) – Kyle Bellm wrapped up his second season among the top ten in Lucas Oil ASCS National Tour points during last weekend's season-ending double in Arizona aboard the Resource Asset Management Solutions (RAMS) No. 14k Sprint Car.
While Bellm was unable to add his 12 top-fives and 16 top-tens on the season, another pair of feature starts at the Cocopah Speedway near Yuma were enough to secure ninth in ASCS National Tour points after earning Rookie of the Year honors in 2015.
"We had the potential to have been good," Bellm said of the November 11-12 season finale at Cocopah Speedway aboard the team aboard the PPG Automotive Finishes/Colorvision machine.
Lady Luck jumped into play right away in the Friday opener. "We went from sixth to third in the heat and then a power steering line burst," Bellm relates.
The driver of the VP Racing Fuels/Schure Built Suspensions entry battled back though, racing from eighth to third in "B" Main action to capture a starting position in the main event.
Forced pitside early in Friday's feature, Bellm found himself on the front row outside of a Saturday "B" Main after heat and qualifying race action and once again put the Christian County Collision Repair/Bybee Lawn Care entry into the feature field.
It wasn't the finale Bellm had hoped for.
"We weren't really going anywhere, so we pulled in," Bellm says. "I think that we had some damage from Friday night, maybe a bad bar or something, the car just wouldn't go."
Bellm and the Schaeffer Oil/Prater Designs/Racinboys team are already looking ahead to the 2017 season with a schedule of events yet to be determined.
"I'm excited to get that new car from CSR Garage and start next year off on a good note," Bellm says.
Another season of laps and experience on the road with prove beneficial to Bellm and crew.
"We have a lot to build on for next year with all that we've learned the past two seasons," Bellm says. "We had an up and down year, we just have to work on being more consistent and the results will be there."