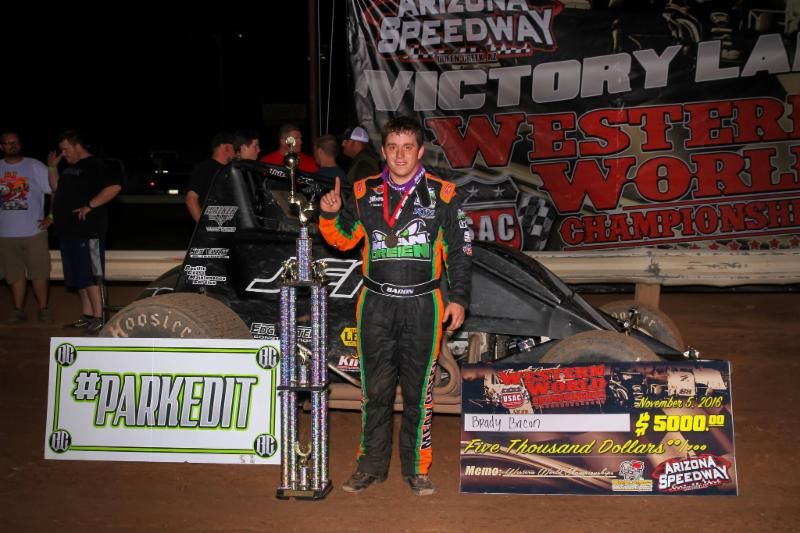 From Bill Wright
November 16, 2016 – Brady Bacon cemented his second AMSOIL USAC National Sprint Car Series title in two years with some solid runs at the Perris Oval Nationals at Perris Auto Speedway in California last weekend. The Broken Arrow, Oklahoma driver charged from back in the pack to finish on the podium in Thursday and Friday prelims before checkering fifth in Saturday's finale aboard the Hoffman Racing/Dynamics, Inc. #69. Brady will be in action in both midget and sprint car action Thanksgiving Night at the Annual "Turkey Night" at Ventura Raceway in California.
Brady timed in 12th quick on Thursday at Perris's 3/8-mile oval. "We went out late in the order on Thursday," he says. "That hurt us. We were able to win the heat (from fourth), but we had to start twelfth in the feature."
He put on a charge from there. "We had a really good car in the feature," says Brady. "We kind of picked around there and we were able to move around on the track and get up to third."
Friday's qualifying saw a similar result, 15th quick. "On Friday, we just weren't very good in qualifying," says Brady. "We were way too free. That set us back. It helped us in that we started fourth in the heat and were able to win, but it set us back in the feature."
Starting 14th, Brady repeated his Thursday podium run, charging to third in the main event. In Saturday's finale, he ran third in the Dash, setting himself up inside row two for the big show. "Unfortunately, the racetrack just wasn't much to work with," he says. "We were really excited going in, but the track was just kind of heavy around the bottom. It was never worked in, and it was greasy to start the feature. We all just kind of ran down there for 35 laps."
The racetrack opened up a bit in the late stages. "With five laps to go, it started coming around," says Brady. "(Chris) Windom and I started making some moves, and I kind of showed him the line. I was jammed up and he got back around me and up to second. He kind of took the lane I was looking for."
Brady's USAC championship is his second, and the eleventh in sprint car competition for the Hoffman's. "It was good to end the year with some momentum," he says. "We were fast the last five nights. That was encouraging for us. It was good to have the championship wrapped up and be able to race, unlike last time (2014) when we had the stress of the last one going into the last night."
His finishes at Perris also nailed down the $5,000 "Mike Curb Super License" Award for his accomplishments with USAC in not only the sprint car, but the Frank Manafort Racing #76M midget and the Paul Martens #48 Silver Crown car. The award goes to the driver accumulating the most points in the three divisions, and it will be handed out at USAC's banquet in December.
Follow Brady on his Website, Twitter and Facebook!
Follow Brady at his website located at www.BradyBaconRacing.com! Also keep up with him on Facebook and Twitter (which also can be accessed at the website) at the following links…
Twitter Link – http://twitter.com/BradyBacon
Facebook Link – www.facebook.com/pages/Brady-Bacon-Racing/278125555137