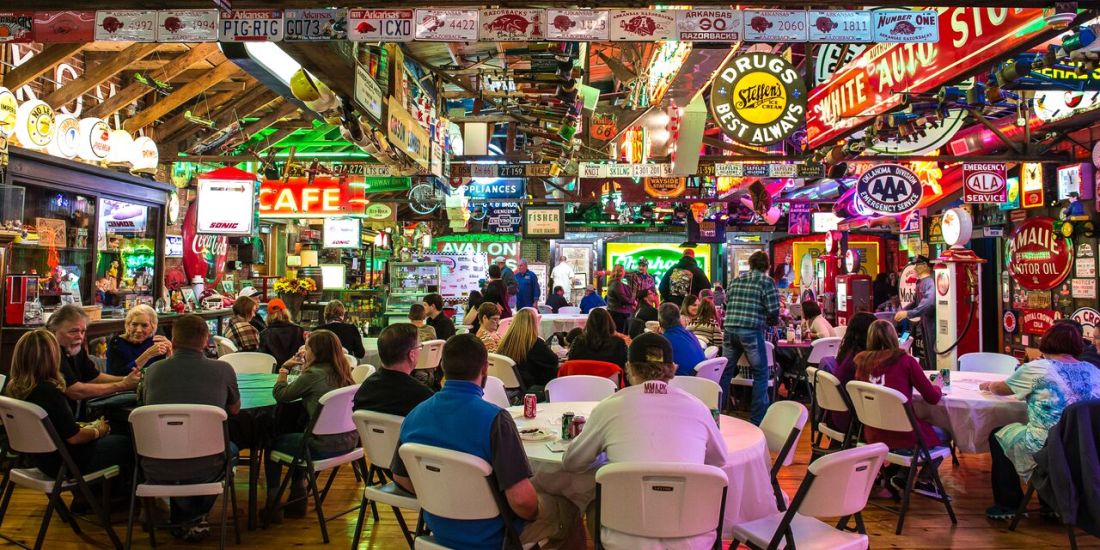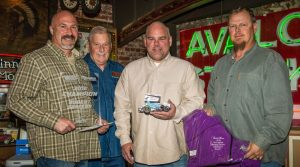 From John Lemon
SAPULPA, Okla. (November 19, 2016) – Robert Sellers received the 2016 Harold Leep Championship Trophy as champion of the Ameri-Flex / OCRS sprint car series Saturday night. The venue was held for the first time at the 'Signs of the Times' in Sapulpa Oklahoma where several other drivers were acknowledged for their accomplishments during the 15th year of sprint car competition by the Tulsa Oklahoma based series. Sellers is a back to back champion as he also took the 2015 crown as well.
When Sellers came onto the stage, he made a note to thank David and Zach Chappell for their efforts of assistance at the season finale at the Caney Valley Speedway. While in a battle to the wire with Whit Gastineau, Sellers had a major rear end failure in his heat race to which the Chappell's aided Sellers in getting the car repaired for the main event. A race Sellers had to be in to retain his crown. Stated Sellers: "I have to give a huge thanks to the Chappell's," said Sellers. "If it wasnt for their help, I wouldnt be standing up here right now. I owe them a big thank you."
Sellers added: "This series (Ameri-Flex / OCRS) has some really tough competition and it isnt easy to win races in this series. I have to thank David Moss (car owner) for all he does for me. We have been together a long time and I couldnt ask for anyone better to work with. I also want to thank Corvan and everyone from Ameri-Flex for all they do for the series."
Ameri-Flex Challenge II Pre Announced
Ameri-Flex Hose & Accessories, title sponsor for the series, had owner Corvan Robison along with his son Logan announce that "Ameri-Flex Challenge II" will take place in 2017 after a successful run in 2016 that saw Sean McClelland win $5000 in the specially designed event. Exact details will be announced at a later date as Ameri-Flex Challenge II is still being put together. The Robison's did state that not only will the event happen, it will be another fantastic program. Stayed tuned.
Drive Shafts Inc. received a special award from the series for their dedication and support. The major principals from the company were unable to attend due to a personal commitment but in their absence, all the drivers from the series in attendance came up on stage to have a picture taken with their award that will be sent to the Drive Shaft Inc. offices for their support of the series.
Other award recipients included:
Action Auto Collision Hardest Charger of the Year: Zach Chappell
Perseverance of the Year: Tim Kent & Whit Gastineau
Most Improved Driver of the Year: Sheldon Barksdale
Sportsman of the Year: Pickard Racing Team
Mechanic of the Year: Rick Barksdale
Spirit of the Year: Cameron Hagin
As with past seasons, Larry & Linda Dean presented two awards that they are involved with:
The Dena Dean Angel Award went to Kevin Pickard.
The D&P Escort Award (best looking car) was presented to Zach Chappell.
Multiple door prizes were given away and we wish to thank everyone that donated items:
Ameri-Flex Hose & Accessories
Linda Mar Hamburgers
Xtreme Racing & Entertainment
Ikes Chili House
White River Fish Market
Joey Perry Arts
Grand Prix Auto
Freddies Hamburgers
David Edwards of the Salina Highbanks Speedway & The Finishline Restaurant was in attendance to accept a sponsors certificate for their participation with the series.
Don Swope and his crew catered a great BBQ dinner. Comedy entertainment was provided by Billy Bazar and Sophia Starr.
Congratulations to everyone for a fantastic 2016 racing season. The 2017 schedule is currently a work in progress and will be released in the near future. Have a great holiday season and we will see you back at the racetracks in 2017!