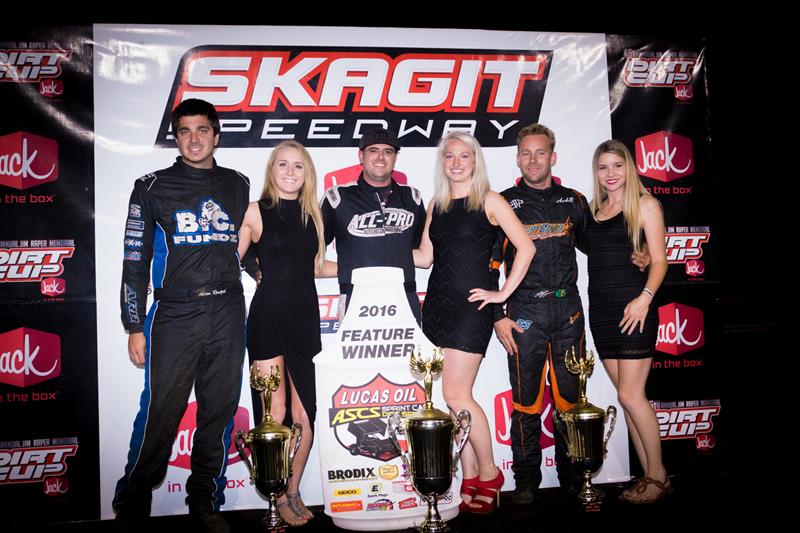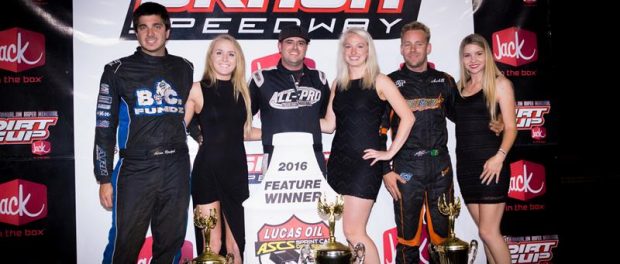 From Bill Wright
November 22, 2016 – Heading into 2016, Sam Hafertepe Jr. wasn't sure of much. Indecision about when and where the Keith Dobbs #15H race team headlined the offseason. Convincing his car owner to run the Lucas Oil ASCS National Series proved to be a winner in more ways than one. In addition to his first championship with the series, he picked up ten wins, including historic runs at the Skagit Dirt Cup and the Fred Brownfield Memorial in Washington.
Sam talked about the team's indecision early on. "We weren't sure we were going to run. We thought we might run regionally, but I had it in my mind that I wanted to run the national tour. I just didn't know if that was going to be possible. We tried Donald Trump style politics on the owner, and it worked. Once that happened, we didn't really know how good we were going to be, until about May."
That's when the team scheduled a practice session at Lonestar Speedway near Kilgore, Texas. "We were already fast, but that really made us into a car that would win once in a while, to a car that would be consistently in front," says Sam. "That was crucial for a number of reasons. Ryan (Beechler) and I had never worked together before. We needed that time to race not only the competition, but the track and ourselves. It helped us figure out where we needed to be with the car. That gave us the balance in the car, and we took off from there."
The team loaded up for the dirt track at Texas Motor Speedway and success followed. "We had a baseline down really well, and we went out and won the first night," says Sam. "We felt we should have won the second night too, but we second-guessed ourselves before the A. But we took a lot out of that and it propelled us into Speedweek."
Sam picked up the ASCS Speedweek title with wins in Amarillo and Wheatland, Missouri, as well as consistency at the other tracks. "Even at tracks we don't do well at, we were good at," he says. "We had one hiccup at Sedalia, but after that, we just picked it up with a win Wheatland."
The team pointed the rig towards the Pacific Northwest, and everyone else in the series was racing for second. He picked up the prestigious Skagit Dirt Cup and swept the Fred Brownfield Memorial weekend at Grays Harbor Raceway in Elma, Washington. "I don't think we could ask for much more," says Sam. "To win the Dirt Cup and then sweep the weekend at Elma…that really showed where our program was at. We had to earn it on Friday night at Skagit to make the top four and lock ourselves in. At Elma, we started in the second row both nights. We took that momentum and kept rolling with it."
Though he didn't win the rest of the trip, he registered three seconds in four features. "We had a little motor issue in Belgrade (Montana)," says Sam. "That put us behind the 8-ball, and the second night, we just weren't good enough. We had a little lull getting into Knoxville. We had some motor issues there in both the 360 and the 410. We had to get out of that funk."
Following Knoxville, Sam was back on his game the next week in Missouri at Farmington at Sedalia. "We hadn't won since early July and we were able to get a win in Farmington there in August," he says. "That put us back where we needed to be, mentally especially. We were a contender with (Brian) Brown at Sedalia there early," he says. "We started running out of fuel late and ended up fourth.
His consistency had him padding a point lead the second half of the season. "The biggest thing was, even if we didn't think we were running as well as we should be, we were still in the top five," says Sam. "There was only a few races where we were out of the top five. There was one at Badlands, at Sedalia during Speedweek, the DNF in Waco and a couple others. When you look back at the year, you really can't complain about that."
Sam's confidence rose at tracks he hadn't felt comfortable at in the past. "This year, places that hadn't been good for us in the past…we improved on and did well," he says. "All the struggles that I had at those places, most of them bullrings, we were strong at. Farmington is a tiny bullring and we won there. They have really good competition. We ran third during Speedweek at Creek County, which was like a win, and we won there on a Friday night at the end of the year. To do that, gives us a lot of confidence heading into next year. When you can't really find a track that you can't do well at on the schedule, that's a good thing."
Sam hopes to fill next year's gaps in the schedule with more 410's. "We're going to try and do more 410 racing," he says. "It was a stretch to just be able to do the ASCS National tour last year. Now, financially, the team is a little better off. We're still trying to make some motor improvements. We're trying to improve on what we have every day. Our game plan is to get more 410 races on the schedule. We want to go to Knoxville in August and be in contention like we have been in the past. We've ran well on some prelim nights there, and getting some more 410 shows will help us towards that."
Next up will be January's Chili Bowl. Sam will again be fielding his own midget. "We're going to try and make it," he says. "We're putting a motor back together. It's going to be getting to a point where we'll be pressing to get it done, but we'll try. Our focus, of course, is our sprint car team."