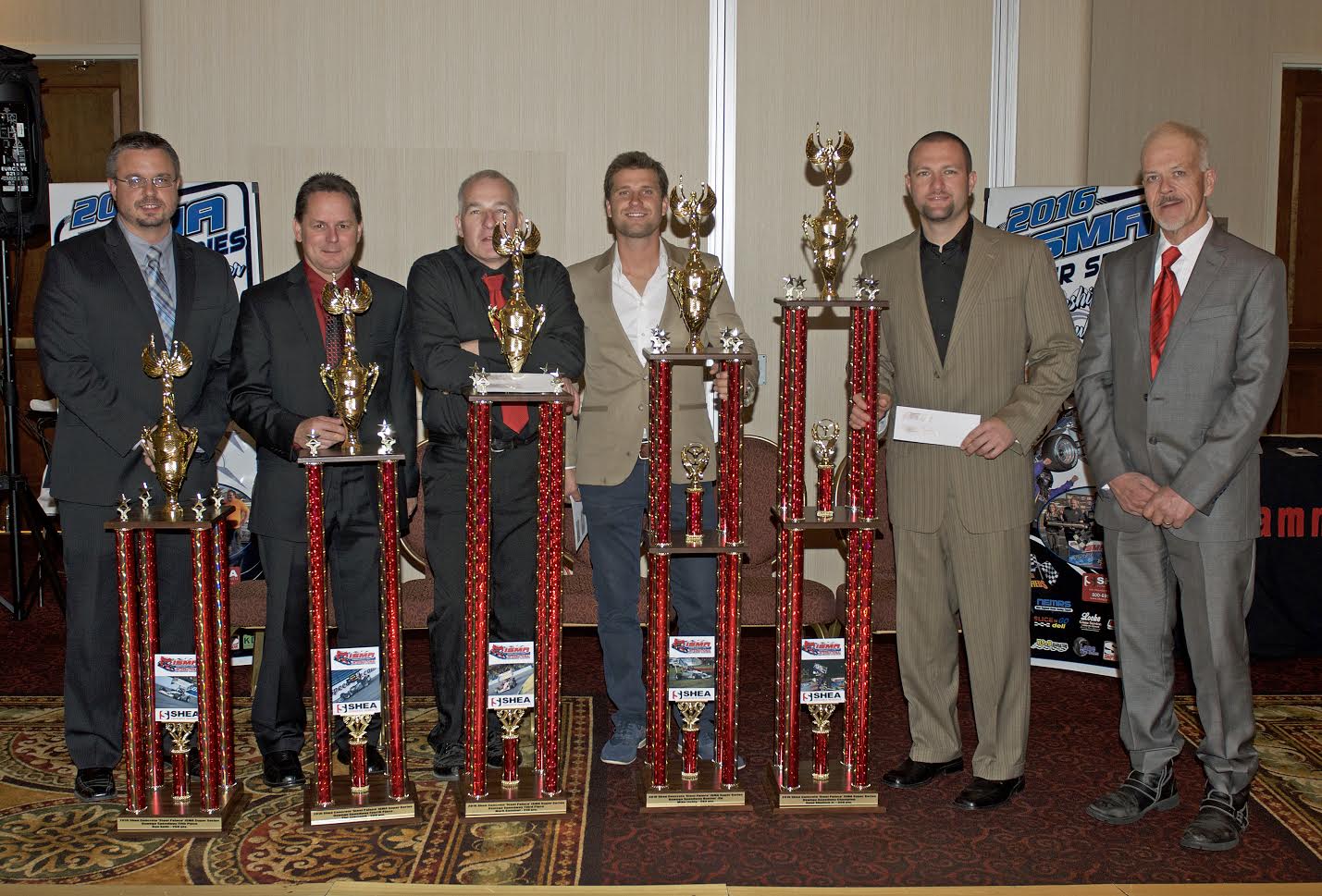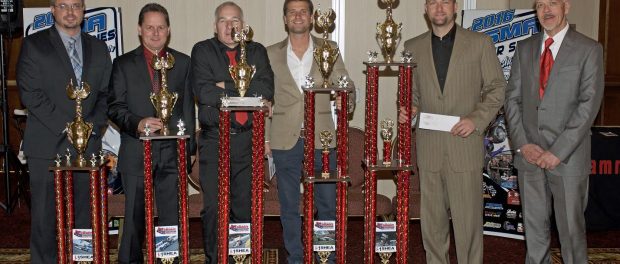 From Dan Kapuscinski
OSWEGO, N.Y. (November 22, 2016) – For the first time in his illustrious Supermodified career, Dave Shullick Jr. was honored as Oswego Speedway's Shea Concrete 'Steel Palace' ISMA Super Series champion at the annual ISMA Supermodified awards banquet held at the Turning Stone Resort Casino this past Saturday.
Ohio veteran Shullick, the winner of the Bud Light ISMA Super Nationals held at the Speedway during Budweiser International Classic Weekend, is the first driver in the four year history of the series to knock off Canadian Mike Lichty to earn the series championship, worth $2,000 behind the wheel of the Bodnar No. 95 machine.
Despite winning the series opener in May as the champion of the Jack Murphy Memorial, a DNF finish of 21st in the Bud Light ISMA Super Nationals dropped Lichty from title contention, although he was able to hold on for a runner-up finish in the three race title fight, collecting $1,500.
Fellow Canadian Mark Sammut ended the three race series in the third position overall worth $1,000 while Ohio's Tim Jedrzejek and Massachusetts racer Ben Seitz finished the top five positions, each collecting $750.
King of Wings champion Trent Stephens just missed the top five cut in the sixth position following Classic Weekend with Mike McVetta, Danny Shirey, Mike Ordway Jr., and Dan Bowes concluding the top ten in the series.
Shullick would go on to earn his second consecutive overall ISMA Supermodified series championship on top of the 'Steel Palace' series championship after collecting a series leading six victories on the season, defeating Lichty and Jedrzejek in the yearlong battle for the championship.
Planning is in the final stages for Oswego Speedway's 2017 season schedule which will be available in the coming weeks.
For more information on Oswego Speedway visit online at www.oswegospeedway.com or LIKE on Facebook at www.facebook.com/OswegoSpeedway or FOLLOW on Twitter @OswegoSpeedway.
Shea Concrete Steel Palace ISMA Super Series Champions:
2013 – Mike Lichty
2014 – Mike Lichty
2015 – Mike Lichty
2016 – Dave Shullick Jr.
2016 Shea Concrete Steel Palace ISMA Super Series Standings (Top Ten):
1. 95 – Dave Shullick Jr.*: 306
2. 84 – Mike Lichty*: 283
3. 78 – Mark Sammut: 276
4. 97 – Tim Jedrzejek: 269
5. 17 – Ben Seitz: 258
6. 19 – Trent Stephens*: 250
7. 22 – Mike McVetta: 248
8. 49 – Danny Shirey: 241
9. 61 – Mike Ordway Jr.: 238
10. 25 – Dan Bowes: 228