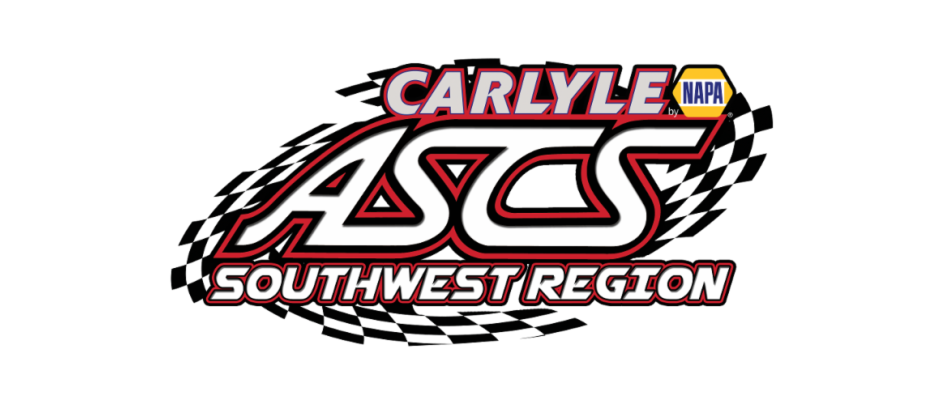 From Bryan Hulbert
QUEEN CREEK, Ariz. (November 25, 2016) — A wild night at the races ended with Arizona's Billy Chester III standing atop the podium with the Carlyle Tools ASCS Southwest Region to kick off the Copper Classic at Arizona Speedway in Queen Creek.
Leading the final four laps of Friday's $2,000 to win preliminary A-Feature, the road to the top was a bumpy one as Chester gridded the field eighth. Giving chase as Oklahoma's Christopher Bell jumped to the lead in the Buffalo Wild Wings No. 82, Bell was challenged on the eighth round by Aaron Reutzel. Taking the top spot, the lead was short lived as Aaron made contact with the wall along the back stretch.
Shredding the right rear of Reutzel's machine, the flying chunks of Hoosier sent Bell pit side as well. Bell was able to continue after the crew reattached a dislodged plugwire.
Handing the lead to Colby Copeland, the No. 18w looked to be en-route to victory before his night ended in spectacular fashion along the front stretch. Colby was unharmed in the crash involving lapped traffic.
Inheriting the lead, Chester found himself stalked by Christopher Bell.
Having fought back from the tail of the field, Bell took several shots at the point, but would be denied the victory as Chester crossed 0.883 seconds to the good for his third career victory with the Carlyle Tools ASCS Southwest Region. Bell would settle for second with Washington's Reece Goetz taking the final podium step.
Locking the top-four into Saturday's $5,000 to win finale, New Mexico's Rick Ziehl grabbed the final transfer spot. Chase Goetz completed the top-five from 17th. Colton Hardy crossed sixth with James Aragon, Jeremy McCune, Garen Linder, and Alex Pettas making the top-ten.
The Cooper Classic concludes on Saturday, November 26 and is the finale of the 2016 season for the Carlyle Tools ASCS Southwest Region. For continued updates, log onto http://www.ascsracing.com.
Results:
ASCS Southwest Region
Arizona Speedway – Queen Creek, Ariz.
Copper Classic – Night 1
Friday, November 25, 2016
Car Count: 31
Heat 1 (8 Laps): 1. 82-Christopher Bell; 2. 5C-Billy Chester III; 3. 0J-Jeremy McCune; 4. 22L-Garen Linder; 5. 4S-Michael Kofoid; 6. 22X-Jesse Baker; 7. 77M-Nate Maxwell; 8. 14H-Ben Holmberg
Heat 2 (8 Laps): 1. 2-Alex Pettas; 2. 18W-Colby Copeland; 3. 12-John Carney II; 4. 9R-Reece Goetz; 5. 131-Royal Jones; 6. 29-Darrell Sickles; 7. 22-Mike Rux Jr; 8. 8-Bob Ream Jr
Heat 3 (8 Laps): 1. 3C-D.J. Netto; 2. 4U-James Aragon; 3. 20Z-Rick Ziehl; 4. 01JR-Josh Shipley; 5. 14-Cody Sickles; 6. 5-Brian Boswell; 7. 91-Casey Buckman; 8. 77-Damon McCune
Heat 4 (8 Laps): 1. 87-Aaron Reutzel; 2. 90-Lance Norick; 3. 74-Colton Hardy; 4. 44-Jake Helsel; 5. 91C-Chase Goetz; 6. 14USA-Jeff Slinkard; 7. 17K-Kyle Danielson
B Feature 1 (12 Laps): 1. 91C-Chase Goetz; 2. 22X-Jesse Baker; 3. 14-Cody Sickles; 4. 91-Casey Buckman; 5. 29-Darrell Sickles; 6. 14USA-Jeff Slinkard; 7. 17K-Kyle Danielson
B Feature 2 (12 Laps): 1. 4S-Michael Kofoid; 2. 5-Brian Boswell; 3. 131-Royal Jones; 4. 14H-Ben Holmberg; 5. 77M-Nate Maxwell; 6. 8-Bob Ream Jr
A Feature (25 Laps): 1. 5C-Billy Chester III[8]; 2. 82-Christopher Bell[1]; 3. 9R-Reece Goetz[15]; 4. 20Z-Rick Ziehl[11]; 5. 91C-Chase Goetz[17]; 6. 74-Colton Hardy[7]; 7. 4U-James Aragon[9]; 8. 0J-Jeremy McCune[13]; 9. 22L-Garen Linder[14]; 10. 2-Alex Pettas[6]; 11. 14-Cody Sickles[21]; 12. 131-Royal Jones[22]; 13. 01JR-Josh Shipley[12]; 14. 4S-Michael Kofoid[18]; 15. 18W-Colby Copeland[4]; 16. 44-Jake Helsel[16]; 17. 3C-D.J. Netto[2]; 18. 12-John Carney II[5]; 19. 87-Aaron Reutzel[3]; 20. 90-Lance Norick[10]; 21. 22X-Jesse Baker[19]; 22. 5-Brian Boswell[20]