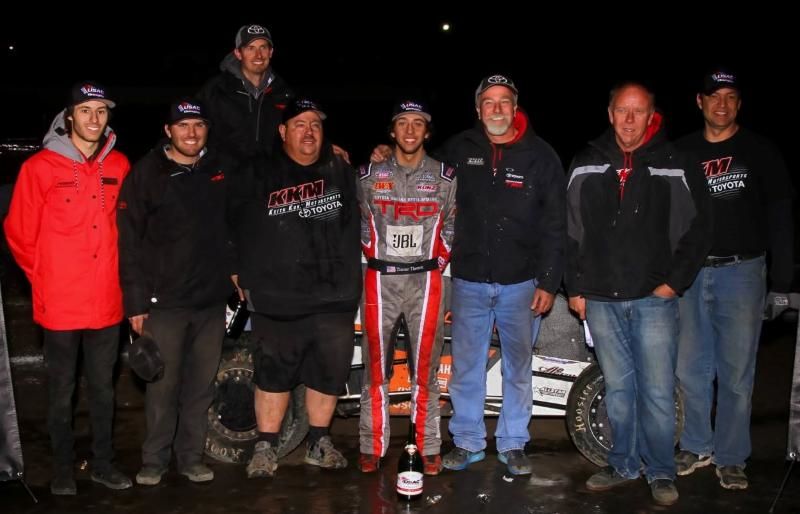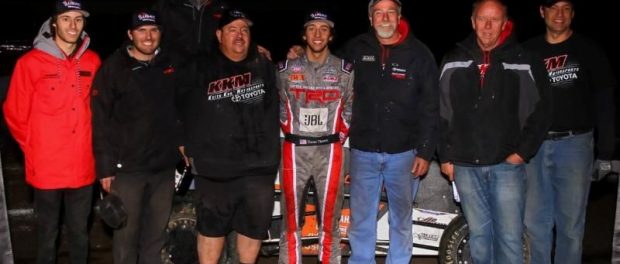 From Richie Murray
INDIANAPOLIS, Ind. (November 29, 2016) — Coming into the 2016 USAC National Midget season, many observers earmarked Tanner Thorson as the odds-on favorite to become the next series champion.
Armed with three years of experience in the series and a ride in the perennially potent Keith Kunz/Curb-Agajanian Motorsports ride, it was more than enough to provide credence to the notion that Thorson would be a contender to win each and every night he strapped into the TRD – JBL Audio/Bullet/Speedway Toyota No 67.
However, the season opener indoors at the Southern Illinois Center in Du Quoin was not a performance anyone was expecting. In what would prove to be the toughest night of the year for Kunz/Curb-Agajanian Motorsports, Thorson was the only one out of the team's five-car stable to transfer to the feature without a provisional, sneaking around Daniel Adler for the final transfer spot on the final lap of the first semi-feature.
Thorson would manage a solid seventh-place run at Du Quoin before heading into a set of five races in six nights for the 12th annual "Indiana Midget Week." In the IMW opener at Montpelier, Thorson led Kyle Larson for all but one of the first 25 laps of the 30-lap feature, but after a restart with five laps to go, Thorson began to fade with a tire that was losing air, dropping him to a disappointing 18th place finish.
In the second round of IMW, the story was no better after a 19th place run at Gas City I-69 Speedway, which dropped him to a season-low seventh in the standings.
Luckily for him, the season was young and, in this business, memories must be short from one night to the next. One night later, Thorson was back in victory lane with a scintillating performance at Lincoln Park Speedway – the site of his massive crash one year earlier that forced him to miss two races that may very well have prevented him from winning the title. A championship he eventually lost to Tracy Hines by a mere 18 points.
Thorson's results of 11th, 7th, 1st, 7th, 10th throughout the next six contests were indicative of the tumultuous beginnings of his season. By early August, Thorson was fifth in the standings, 76 points out of the lead.
The Minden, Nevada native was figuratively searching for traction. The speed was always there, but consistency had been an errant dart throughout much of the 2016 campaign, thus far, that Thorson needed to rectify if he was going to be the national champ.
And if there was a single event that could be pinpointed as being the turnaround point for Thorson's season, look no further than the seasonal pivot that took place in the "Chad McDaniel Memorial" feature event at Solomon Valley Raceway in Kansas on August 3. No, it wasn't a victory, but after timing in an uncharacteristic 18th fastest in ProSource Qualifying, the deck was stacked against Thorson.
Thorson and the team kept their heads down and methodically picked their way from their ninth row starting spot to grab a second-place finish at the checkered flag, earning himself KSE Hard Charger honors for the effort.
After a sixth place run at the "Belleville Midget Nationals," no driver or team ran up front as consistently through the balance of the season as did Thorson.
A come-from-the-tail victory at Lanco during "Pennsylvania Midget Week" was followed by a second place-run at Eldora. Yet, Thorson remained fourth in the standings with just five races left.
Three-straight nights at Tri-City Speedway in Granite City, Illinois loomed for Thorson at the "Gold Crown Midget Nationals." It was a place that Thorson was comfortable with, a place where he had swept to victories in each of the two events the previous year.
Thorson proved to be a master of the three-eighths mile once again, doubling his season victory total from three to six in a single weekend to become just the second driver in the history of the USAC Midget National Championship to win at least five straight times at a single track. Only the legendary Rich Vogler had reached that milestone in a career, running off six straight victories during his dominance of Indiana's Terre Haute Action Track from 1983 to 1986.
In the process, Thorson vaulted himself to within nine markers of points' leader and teammate Spencer Bayston heading into the "Jason Leffler Memorial" in Wayne City, Ill. – the penultimate round of the season championship. Thorson reversed the tables on Bayston by virtue of his seventh-straight top-two finish while Bayston took eighth, boosting him to a nine-point lead heading into the season finale in Ventura, California on Thanksgiving night.
In the "Turkey Night" closer on the beach, Thorson, the defending race winner, started the 76th edition of the 98-lap race from the outside of the fifth row, directly ahead of the front bumper of his main contender, Bayston. If Thorson finished fourth, the match would be over for all intents and purposes. But, a turn four tangle between Bayston and Frankie Guerrini just before halfway marked a sea change that would give Thorson the upper hand.
Though Bayston made a valiant effort to fight back from 23rd to a ninth-place result in the end, Thorson's sixth-place finish was more than enough to be crowned the 2016 USAC National Midget champion over Bayston by 18 points – the same amount Thorson was defeated by Tracy Hines in 2015.
No, the season-closer for Thorson wasn't spectacular and it wasn't as flashy as his charges from the tail Solomon Valley and Lanco. It was a steady drive that, simply put, got the job done. It was a drive that experienced drivers make; a drive that champions make.
Thorson became the state of Nevada's first USAC National champion and provided Keith Kunz his eighth USAC National Midget owner's title. Thorson also led all drivers in each of USAC's three national divisions in 2016 with a combined finish of 5.53.
In a season with high hopes, the trying first half of Thorson's season could've dashed his championship dreams. But, the see-saw ride leveled out for the 20-year-old by late summer when he put together a string of finishes that a driver could only dream of.
Now, those dreams have become a reality for the young driver, and through his dedication and perseverance, forever will Tanner Thorson be known as a USAC champion.