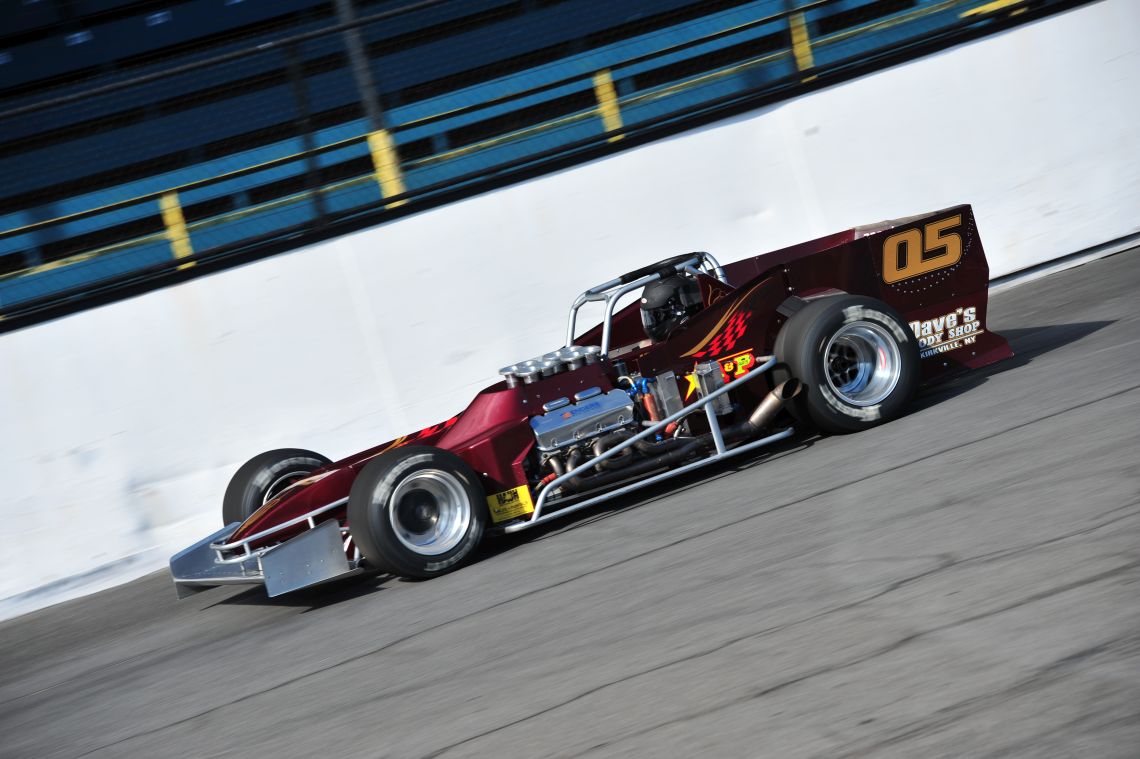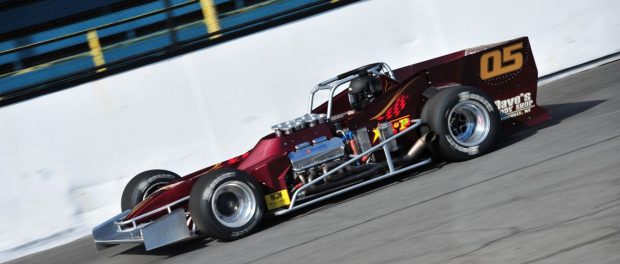 From Dan Kapuscinski
OSWEGO, N.Y. (January 3, 2017) – A championship fight for the ages at Oswego Speedway in 2016 will look to continue in 2017 as last year's championship hopefuls Dave Gruel, Otto Sitterly, Mike Muldoon, and defending Budweiser International Classic champion Jeff Abold all have their sights set on surpassing the Syrell Racing No. 68 machine, driven by defending Speedway champion 'The Hustler' Michael Barnes.
Add to the mix Sitterly's John Nicotra Racing teammate, defending two-time ISMA Supermodified champion Dave Shullick Jr., plus a host of others, and Barnes will again have a fight on his hands this coming season.
Gruel, last year's championship runner-up, wasted little time in preparing for 2017 as the No. 50 was stripped shortly following the International Classic and sent to the Hawk Jr. Fabrication shop for updates.
Those updates include a conversion to independent front suspension for the coming season, a design reinstituted to the division for the beginning of the 2016 season.
While Gruel did not visit victory lane last year he did score more top ten runs than any other racer and was in the driver's seat of the championship heading into the final main event of the year before Barnes snatched it away by a margin of just 7.5 points.
Gruel hopes that the IFS setup will help in a run for the title this coming season, especially after watching Keith Shampine and Shullick dominate the Classic utilizing the front end design.
The surprise of the season last year may well have been not seeing Sitterly in Oswego's Turning Stone Resort Casino Victory Lane.
Despite three heat race wins, seven top five finishes, and leading the points early in the season, Sitterly did not score a feature win for the first time since 2008, resulting in a third place finish in the season long championship.
Sitterly, who started the season in an independent front end design, finished the year with the more familiar straight axle. But, Sitterly says that both he and Shullick will compete for the championship in '17 with IFS.
Also not cashing in on a main event in 2016 was Muldoon, but the No. 15 was a force week in and week out, showing superior speed qualifying on the pole position for the Budweiser International Classic 200 last season.
One of four drivers with a legitimate shot at the championship heading into the final event of 2016, Muldoon fell short but now knows the true feeling of being in a title hunt and will look to fulfill that desire in '17.
Winning Oswego championships in 1997, 1998, 1999, 2002, and 2003, the Muldoon team will seek a sixth title this season with the same set-up as a year ago, with young Davey Hamilton Jr. as a potential option for part-time action yet again.
Perhaps the driver heading into 2017 with the most momentum, besides track champion Barnes, is Classic champion Abold in the Team Abold Motorsports No. 05.
Hitting his stride in 2016, Abold nailed four top five finishes last season including his first career victory in the Novelis Supermodified Twin 35's.
Following that win, Abold rallied back into the title fight, ending the season fifth overall just 60 points out of the top spot, before going on to earn one of the most dramatic Classic victories in history just two weeks later.
Any one of the drivers listed above will prove difficult for defending champion Barnes, who hopes to have two race cars at his disposal for 2017 out of the Syrell Racing garage.
Started last off-season, the Syrell team and builder Joey Hawksby continue work on a new IFS machine, which they hope can be debuted by the Speedway's opener on Saturday, May 13.
Either way, Barnes and the Syrell team will be loaded and ready for a defense of their title which was won in historic fashion in the waning laps of the 2016 season.
Looking to re-enter into the realm of championship contenders are the likes of Brandon Bellinger, Dan Connors Jr., Joe Gosek, Tim Snyder and Shampine, while Canadian Logan Rayvals has requested commitment paperwork in a potential run for Rookie of the Year honors.
As far as the championship contending teams of Danzer Racing and Graham Racing are concerned, Oswego plans appear to be limited at this time.
The Oswego based Danzer team, who finished third in the driver's championship in 2015 and sixth just last year with 10 feature wins since 2011, has indicated they are only planning a limited Oswego non-wing schedule consisting of the Jim Shampine Memorial, $10,000 to win Mr. Novelis Supermodified, as well as the Budweiser International Classic 200.
Danzer is a two-time winner of the Mr. Supermodified and won the Shampine Memorial for the first time in 2016, and would no doubt be considered a championship threat at the Speedway this season.
The Graham Racing team has made commitments to go DIRT Modified racing in 2017, and as of yet has not announced their Supermodified plans for the coming season.
For more information on Oswego Speedway visit online at www.oswegospeedway.com or LIKE on Facebook at www.facebook.com/OswegoSpeedway or FOLLOW on Twitter @OswegoSpeedway.
2017 67th annual TENTATIVE OSWEGO SPEEDWAY SCHEDULE OF EVENTS (Subject to Change)
Saturday, May 6 – Open Practice Session
Saturday, May 13 – 67th Season Opener: RoC Richie Evans Memorial Modified (61), Novelis Supermodified Kick-Off (50), Pathfinder Bank SBS Kick-Off (30)
Friday, May 26 – Port City 'Super Spectacle' Open Practice Session
Saturday, May 27 – Port City 'Super Spectacle': 'Jim Shampine Memorial' Novelis Supermodified (75), 'Jack Murphy Memorial' King of Wings IX ISMA Super (50), 'Tony White Memorial' Pathfinder Bank SBS (35)
Sunday, May 28 – Port City 'Super Spectacle': Rain Date
Saturday, June 3 – Rain Date for May Events
Saturday, June 10 – Novelis Supermodified Twin 35's: Novelis Supermodified Twins (35), Pathfinder Bank SBS (30) – AUTOGRAPH NIGHT
Saturday, July 1 – 'Independence Weekend Grand Prix': Novelis Supermodified Grand Prix (75), Pathfinder Bank SBS Grand Prix (35) – FIREWORKS
Friday, July 7 – RoC Weekend Open Practice
Saturday, July 8 – 67th annual Race of Champions: Race of Champions Asphalt Modified Series, Novelis Supermodifieds, Pathfinder Bank SBS – Other division(s) TBA
Sunday, July 9 – RoC Weekend: Rain Date
Saturday, July 15 – Summer Championship: Novelis Supermodified (50), Pathfinder Bank SBS (30) – DEMOLITION DERBY
Saturday, July 22 – $10,000 Mr. Novelis Supermodified (75), $1,500 Mr. Pathfinder SBS (35)
Saturday, August 5 – Reunion Weekend – Super Semi-Finals: Novelis Supermodified (45), Pathfinder Bank SBS (30) – Oswego Speedway Old Timer's Reunion
Saturday, August 12 – Pathfinder Bank SBS Twin 20's: Pathfinder Bank SBS Twins (20), Novelis Supermodified (50)
Saturday, August 19 – Track Championship Night: Novelis Supermodified (50), Pathfinder Bank SBS (30) – $5 ADMISSION – AUTOGRAPH NIGHT
CLASSIC WEEKEND
Thursday, August 31 – 11th annual Oswego Kartway Classic
Friday, September 1 – 'FAST FRIDAY': Novelis Supermodified and Pathfinder Bank SBS Time Trials, Pathfinder Bank SBS Heat Races, 'PARTY in the PITS'
Saturday, September 2 – 'SUPER SATURDAY': NASCAR Whelen Modified Tour 150, ISMA Supermodified Super Nationals 60
Sunday, September 3 – 'CLASSIC SUNDAY': Budweiser International Classic 200 for Novelis Supermodifieds, Bud Light Classic 75 for Pathfinder Bank SBS