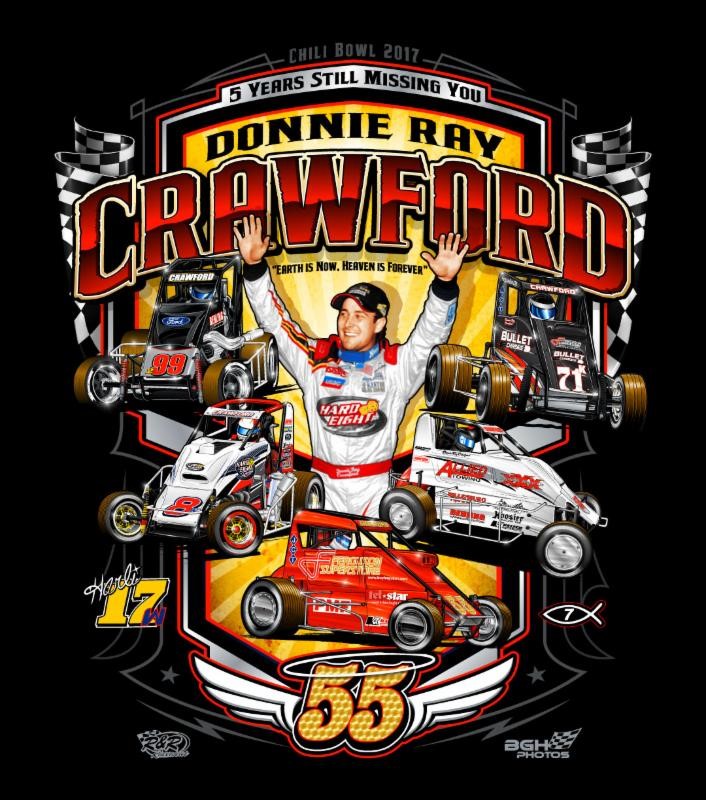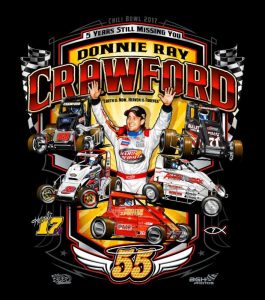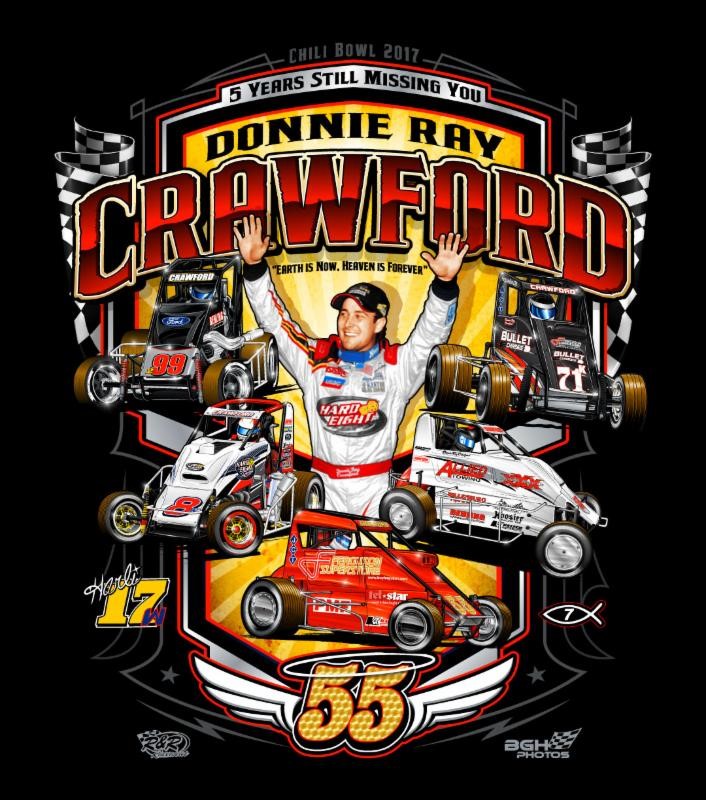 From Inside Line Promotions
TULSA, Okla. (January 9, 2017) – This year's finale of the Lucas Oil Chili Bowl Nationals Presented by General Tire falls on a challenging day for the racing community.
The marquee midget event, which is held this Tuesday through Saturday inside the River Spirit Expo Center, wraps up its 31st edition on the five-year anniversary of the passing of local favorite Donnie Ray Crawford.
In remembering him, the Donnie Ray Crawford Legacy Foundation has produced a unique commemorative t-shirt as well as hoodies that will be for sale at its booth this week and online at http://www.DonnieRayCrawford.com . Sizes range from child small to adult XXXXL. All proceeds will go toward the non-profit foundation and its efforts to help provide financial assistance to young adults within the racing community who, like Crawford, have a passion for racing and a love of education as well as racer's relief and faith missions.
The Foundation will also sponsor the Chili Bowl Hard Charger Award for the second straight year.
Additionally, the Donnie Ray Crawford Legacy Foundation wants to remember and pay respect to Chili Bowl co-founder Lanny Edwards, who passed away in 2016.
Crawford and the Chili Bowl are bonded together. Crawford, who was an Oklahoma native, won a Chili Bowl preliminary night in 2011 almost exactly one year to the day before he passed away. When news circulated in 2012 about his passing the Chili Bowl changed the A Main from 50 to 55 laps in honor of Crawford, whose car number was No. 55.
The Donnie Ray Crawford Legacy Foundation has given out approximately 20 scholarships totaling more than $30,000 since its inception approximately five years ago.
In addition to assisting financial needs for individuals pursuing a post-secondary education, the Donnie Ray Crawford Legacy Foundation is committed to racer's relief and faith missions. The Foundation has given money to Kevin Swindell and the USAC benevolent fund in honor of Bryan Clauson, it has funded one mission trip and donated to the Make-A-Wish Foundation and the Little Light House.
For media members wanting to set up an interview with one of the Crawford's or a Donnie Ray Crawford Legacy Foundation board member, please contact Megan Eubanks at 918-697-2081.