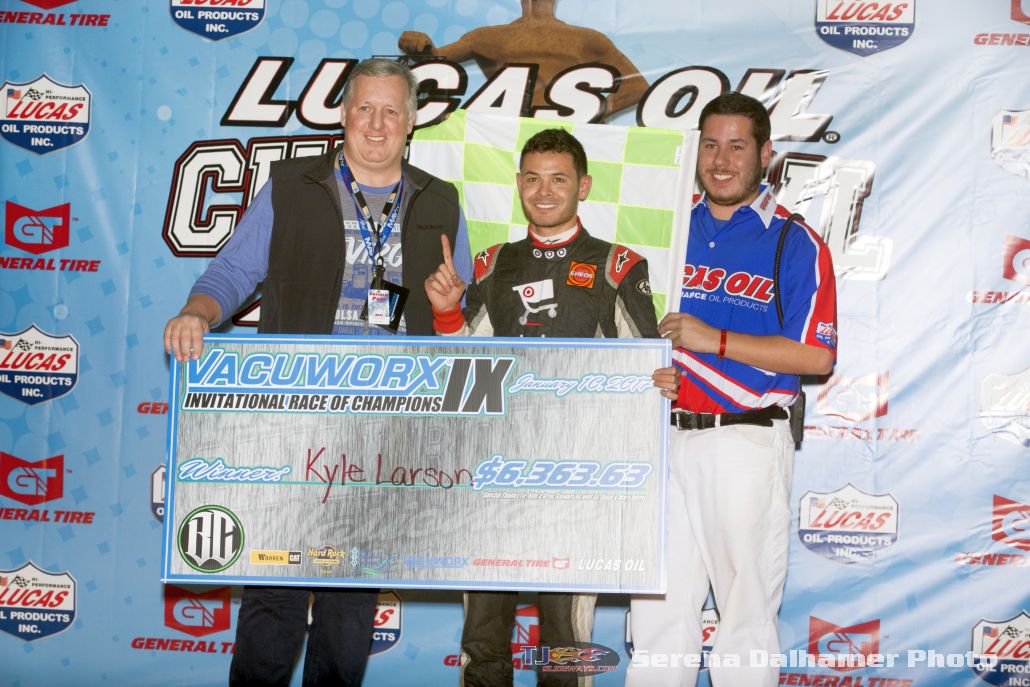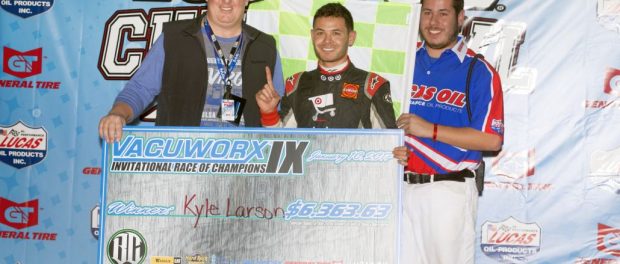 By T.J. Buffenbarger
TULSA, Ok. (January 10, 2017) — Kyle Larson started off his quest for the Chili Bowl Nationals title on Tuesday by winning the Vacuworx International Race of Champion. The win was Larson's second in the VIROC invitational held on the opening night of the Chili Bowl.
For winning the VIROC Larson picked up a special prize of $6,363.63 in memory of Brian Clauson.
Larson and defending Chili Bowl champion Rico Abreu started on the front row for the 20-lap main event. After racing side by side the first two laps Larson slid up to the top of the track to take the lead.
Abreu then found himself under pressure from J.J. Yeley for the third spot on lap three before Yeley dropped back further in the field. Abreu closed in on Larson again when the caution appeared on the final lap for a spin by Johnny Heydenrich in turn four. The ensuing restart brought out another caution for Yeley stopping in turn two.
Larson pulled away during the final restart as Abreu bounced off the fence in turn two trying to keep pace. Larson motored away for the victory as Abreu held on for second. Darland, Tim McCreadie, and Thomas Meseraull rounded out the top five.
VIROC IX (20 Laps): 1. 71K – Kyle Larson [1]; 2. 97 – Rico Abreu [2]; 3. 6K – Dave Darland [3]; 4. 47X – Tim McCreadie [7]; 5. 1R – Thomas Meseraull [11]; 6. 71 – Christopher Bell [19]; 7. 76M – Brady Bacon [5]; 8. 84X – Chad Boat [10]; 9. 21K – Cory Kruseman [6]; 10. 21 – Daryn Pittman [18]; 11. 67 – Tanner Thorson [14]; 12. 5 – Jerry Coons Jr [15]; 13. 47 – Danny Stratton [9]; 14. 71G – Damion Gardner [13]; 15. 24 – Tracy Hines [20]; 16. 1 – Sammy Swindell [12]; 17. 05 – Brad Loyet [17]; 18. 1ST – J.J. Yeley [4]; 19. 15 – Donny Schatz [8]; 20. 22H – John Heydenreich [16]