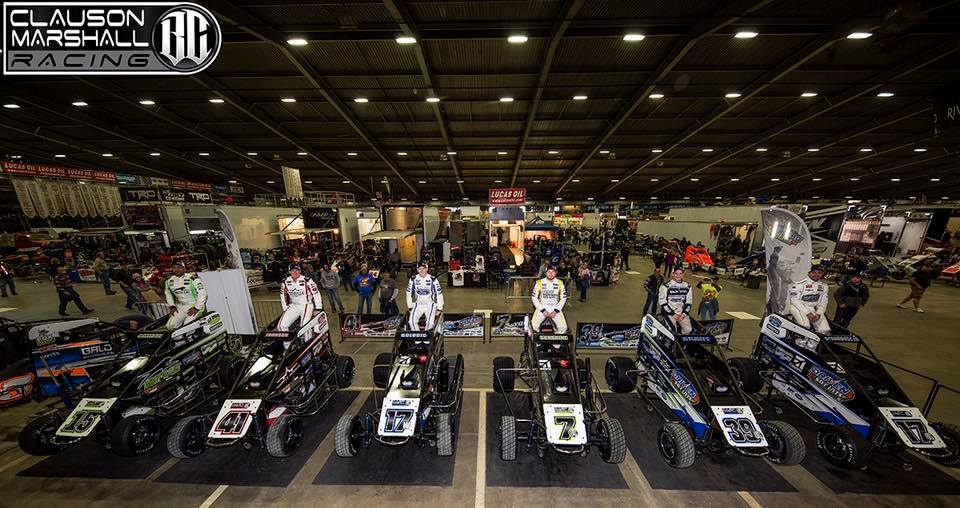 From Lonnie Wheatley
NOBLESVILLE, Ind. (January 20, 2017) – Bryan Clauson envisioned a "Dream Team" for the Chili Bowl Midget Nationals.
That's exactly what Clauson-Marshall Racing delivered at the Tulsa Expo Raceway last week, picking off a pair of preliminary feature wins and landing four of six entries into the 55-lap Chili Bowl championship feature event with the other two missing the cut by just one position apiece.
"I've never had a group of racecar drivers work together and be so excited for each other's successes," Tim Clauson commented. "Bryan's vision was spot on."
Justin Grant led the CMR stable in Saturday's finale with a podium finish of third with Tyler Courtney also among the top ten in sixth. Shane Golobic was credited with 15th with Ricky Stenhouse, Jr., in 16th while Donny Schatz and Jason Johnson both fell just feet short of transferring from "B" Main action among the record field of 365 competitors.
After winning the recent Junior Knepper 55 at Du Quoin's Southern Illinois Center in the initial race under the CMR banner, Tyler Courtney set the early tone for the week with a near-perfect Tuesday night qualifying effort.
"Sunshine" earned the pole position for Tuesday's 25-lap preliminary feature and battled into the lead after a handful of laps en route to taking the win and locking into his first career Chili Bowl championship feature event.
"Honestly, I think I'm still in shock, I don't think it's really hit me yet," Courtney said in victory lane. "This is really cool with a new team, on the 'Dream Team' that Bryan wanted to put together. Bryan was the guy that gave me my first opportunity seven years ago."
Courtney went on to finish out the week sixth in Saturday's finale.
After getting some laps in the Tuesday Race of Champions, World of Outlaws kingpin Donny Schatz made his first career Midget start on Wednesday and didn't disappoint. After a late caution denied what looked to be a qualifying race win, Schatz rallied from 15th in Wednesday's feature to finish eighth.
Schatz then battled among the transfers in Saturday night's "B" Main action only to get nipped at the line by inches for the sixth and final transfer. A seventh-place finish was still enough for Schatz to earn Chili Bowl Nationals "Rookie of the Year".
"What an incredible opportunity," Schatz said. "We came here with high expectations. We wanted to make the show first and foremost and, unfortunately, we came up one spot short. Racing in the Chili Bowl was something I wasn't sure I'd ever do, but I'm thrilled I had the chance to do it."
Thursday night brought double-duty for CMR with Shane Golobic and Knoxville Nationals champion Jason Johnson both taking to the indoor ¼-mile clay oval.
Golobic missed a lock-in position by finishing fourth in preliminary feature action with Johnson close behind in seventh. Golobic raced into the Saturday finale via "B" Main action while Johnson's "B" Main run mirrored Schatz', getting edged at the line for the final transfer.
While both Schatz and Johnson missed the cut by one spot, both impressed with their runs outside of their familiar element of winged Sprint Cars.
"The way they worked and took advice from the young guys was really cool," Tim Clauson commented afterwards.
The week's prelim action rounded on Friday with NASCAR star Ricky Stenhouse, Jr., and late CRM addition Justin Grant taking to the track.
Stenhouse, Jr., matched Golobic's prelim run with a fourth-place finish while Ione, CA, native Grant finished out a near perfect night by wiring the field in Friday's 25-lap feature for the second CMR win of the week.
"I can't even try to put it into word," Grant said after the triumph. "But I'm not going to say I'm carrying on Bryan's legacy at all. That would be not even a chance."
While Stenhouse, Jr., raced through Saturday "B" Main action into the final and finished 16th, Grant ultimately led the way for CMR with a podium finish of third in the 55-lap finale.
It was most certainly a week for Bryan to be proud of.
For additional information regarding Clauson-Marshall Racing, be sure to check http://www.clausonmarshallracing.com/.