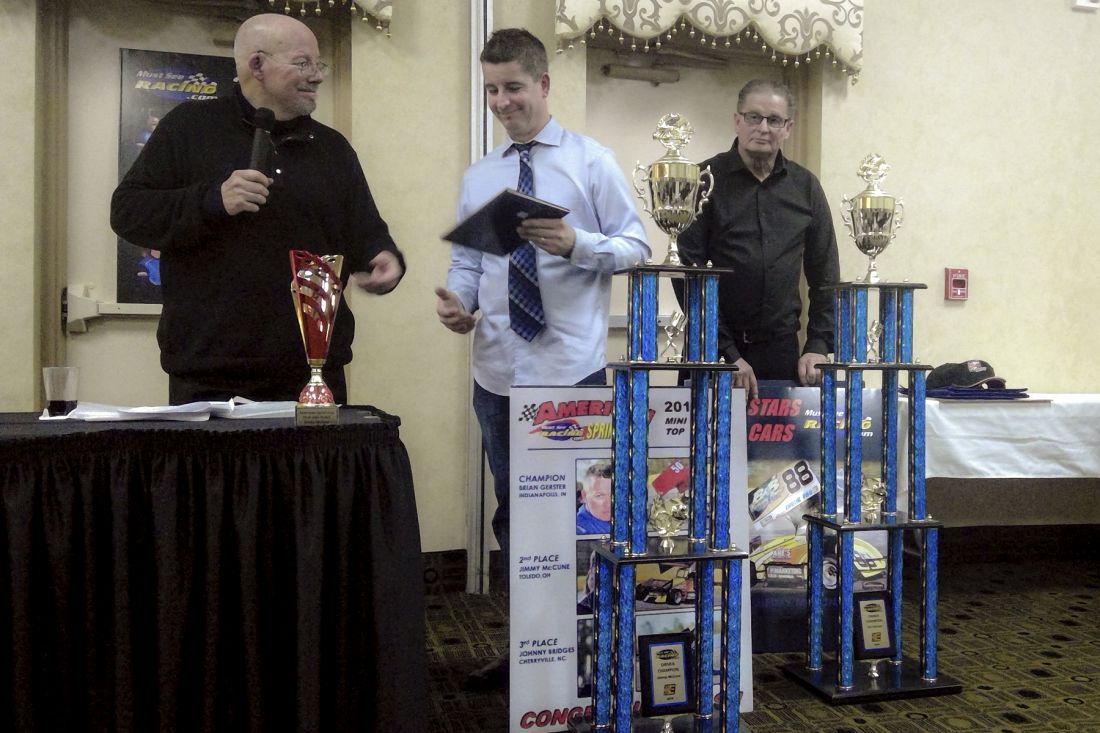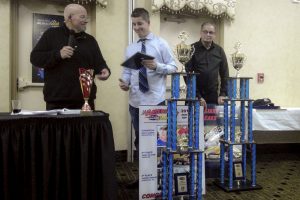 From Jacob Seelman
HOLLY, Mich. (January 22, 2017) – The Must See Racing Sprint Car Series honored its top performers and special award winners during the series' season-closing awards banquet on Saturday in Coldwater, Michigan.
Led by 2016 series champion Jimmy McCune, who collected the top trophy from the head table for the second-straight year, the series honored its top 15 drivers from the overall point standings among the night's festivities and honors, distributing more than $23,000 in awards.
In order, the top 15 from last year's championship were McCune, Jerry Caryer, Jeff Bloom, Kris Leming, Bobby Santos III, Brian Gerster, Brad Wyatt, Jason Blonde, Jacob Wilson, Chris Neuenschwander, Johnny Bridges, Ryan Gillenwater, Chris Lamb, Joe Speakman and Jason Cox.
Additionally, the top three performers from the year's American Sprint Cup/North vs. South mini-series were recognized, led by ASC champion and two-time MSR national champion Brian Gerster, who topped the ASC point standings in the program's inaugural year.
McCune and Bridges completed the podium among the ASC top points finishers, with Bridges taking home the $500 American Racer/David D. Mateer Memorial Top Qualifier Award for his efforts during the four ASC races, which included a new track record at Ohio's Shady Bowl Speedway.
McCune was also honored with the Driver of the Year Award as the series champion, while journeyman racer and successful driver/owner Jerry Caryer collected the Car Owner of the Year Award for his tireless dedication and support of the sport.
Leming's fourth-place finish in the series point standings was enough to garner the series' 2016 Rookie of the Year Award, while North Carolina's Chris Lamb received the MSR Young Gun Award and Chris Neuenschwander took home the Most Improved Driver Award after scoring his first two career victories during the 2016 season.
Linda Bloom was honored with the Crew Chief of the Year Award, working all season long with her husband Jeff, who was recognized in his own right as a National Sprint Car Hall of Famer.
One of the series' highest honors, the Sportsmanship Award was presented to Gerster, a former two-time series champion.
Must See Racing also recognized series staff members in attendance, as well as officials from Anderson (Ind.) Speedway, representatives of series sponsor Engine Pro, and additional sponsors Fel-Pro Performance Gaskets, American Racer Tires and Radical Race Gear.
National Sprint Car Hall of Famer and five-time Indianapolis 500 starter Tom Bigelow was the event's Keynote Speaker.
The 2017 Must See Racing Sprint Car Series schedule will kick off April 21-22 with a pair of South division races, held at Anderson (S.C.) Motor Speedway and Hickory (N.C.) Motor Speedway.
For more information on Must See Racing, including schedule updates, team and driver information and more, visit www.mustseeracing.com.