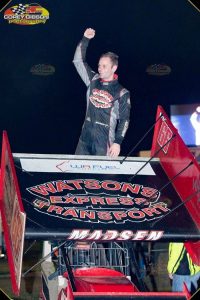 From Peterson Media
Continuing his Australian tour at the 45th Grand Annual Sprint Car Classic over the weekend, Ian Madsen and his team had a nice weekend that saw the St. Marys, NSW native score his first career Classic prelim before posting an eighth place finish during the Sunday night finale.
"It was awesome to get our Watson's Express Transport/Valvoline/WA Fuel entry in victory lane on Saturday night, and put ourselves in a good spot for Sunday," Madsen said. "This team has really given me a fast hot rod down here and now we will focus on winning the 1AU this weekend."
Madsen's Grand Annual Sprint Car Classic started off extremely well as he was able to time in fastest in his qualifying flight. Heat race action would see the West Coast High Performance backed entry finish second during the first heat race before a fourth place effort in his second heat placed him on the pole for the feature event.
From the front row, Madsen would take full advantage of the prime starting spot. Jumping out to the early lead, Madsen would lay down 30 exceptional laps as his pace would be unmatched on this night.
A late caution would bunch the field back up, but the former Knoxville Raceway Champion would leave the field in his wake and score his first ever win during Grand Annual Sprint Car Classic competition.
Returning to the Premier Speedway on Sunday night for the finale, Madsen would finish eight during his heat race and find himself in the eighth starting spot for the feature event.
Following track work prior to the final race of the weekend, the Premier Speedway would not quite go away as fast as Madsen and company had thought. With the track staying relatively narrow for the duration of the race, passing would be tough on this night. Running inside the Top-10 all race long, Madsen was unable to get any higher than the eighth spot. Battling with former Classic Champions Kyle Hirst and Steven Lines, Madsen would bring his weekend home with an eighth place finish.
"It was a little disappointing to not have a better run on Sunday night, but it was still a nice weekend with an extremely tough field of cars on hand," Madsen added. "This weekend will be just as tough as we go after the Australian Championship in Sydney."
Ian and his KCP Racing team would like to thank Logan Contractors Supply Inc., Aspen Aire, Team Kline Electric, Royal Flooring, Bobcat, TammyHeckart.com, Caliber Iowa, Quality Traffic Control, Flatrate, Inc., Speck USA, Bergen Paulsen, Coverage Direct, Finer Cuts Lawn and Landscape, Lucas