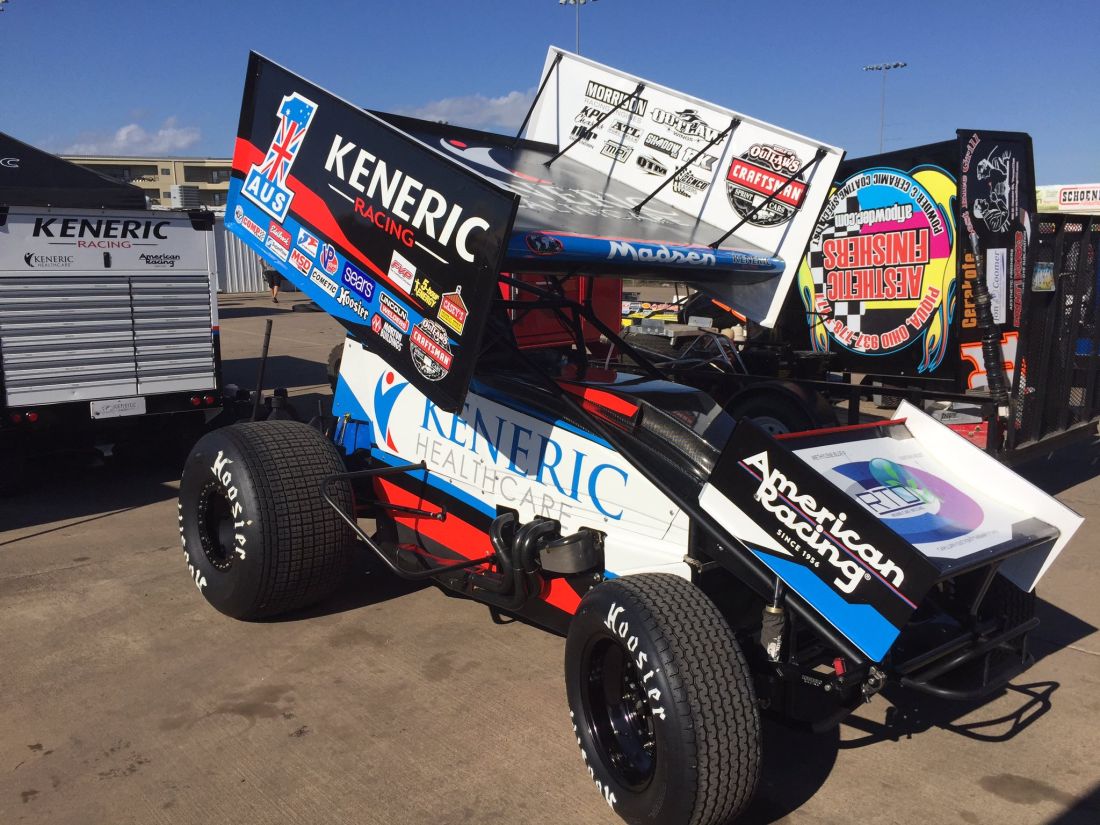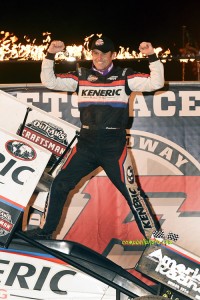 SYDNEY (January 28, 2017) — Kerry Madsen won his second consecutive Australian Sprintcar Title Saturday night at Valvoline Raceway. Kerry held off his brother Ian as they became the first brothers to run first and second at the Australian title.
Kerry Madsen started on the front row and led the first 15 laps of the main event before Robbie Farr and Grand Annual Sprintcar Classic champion James McFadden challenged for the lead. McFadden ended up with a flat right front tire while racing for the lead and dropped out of the event while Kerry wrestled the lead back from Farr.
Ian Madsen, who had been strong at Sydney all season, worked his way up from fifth starting spot up to second but not move past his brother as Kerry Madsen claimed the title for the second year in a row. Ian Madsen held on for the runner up spot with Farr, Brooke Tatnell, and Jordyn Brazier rounding out the top five.
55th Australian Sprintcar Title
Valvoline Raceway
Sydney, AU
Saturday January 28, 2017
Heat Race #1:
1. 57N – Matthew Dumesny
2. 25V – Jack Lee
3. 17W – James McFadden
4. 72S – Chad Ely
5. 92N – Sam Walsh
6. 38N – Max Johnston
7. 43N – Alex Orr
8. 97W – Mitch Wormall
9. 55N – Kim Becker
10. 74V – Michael Cunningham
11. 68N – James Duckworth
Heat Race #2:
1. 28N – Darryl Campbell
2. 5V – Max Dumesny
3. 7Q – Robbie Farr
4. 77W – Brad Maiolo
5. 28Q – Alan Woods
6. 75Q – Darren Jensen
7. 88N – Jimmy Matchett
8. 75N – Glen Saville
9. 12N – Thomas Jeffrey
10. 57C – Brendan Scorgie
11. 18D – Jason Gebert
Heat Race #3:
1. 21N – Garry Brazier
2. 12W – Daniel Harding
3. 2W – Brooke Tatnell
4. 23Q – Lachlan McHugh
5. 7N – Toby Bellbowen
6. 16Q – Bryan Mann
7. 21D – Chace Karpenko
8. 7T – Tim Hutchins
9. 14W – Jason Pryde
10. 74Q – Brodie Tulloch
11. 49N – Jamie Matherson
Heat Race #4:
1. 66W – Ian Madsen
2. 37V – Grant Anderson
3. 2C – Ben Atkinson
4. 11N – Matt Smith
5. 48N – Jackson Delamont
6. 59Q – Kevin Titman
7. 34N – Michael Jordan
8. 24D – Jamie O'Neill
9. 2S – Graig Vanderstelt
10. 95N – Daniel Needham
11. 81N – Graham Lagerlow
12. 20N – Troy Little
Heat Race #5:
1. 3V – Ian Loudoun
2. 1A – Kerry Madsen
3. 77N – Mitchell Dumesny
4. 54N – Grant Tunks
5. 20S – Glen Sutherland
6. 9N – Kyle Caunt
7. 6N – Matt Geering
8. 25N – Kelly Linigen
9. 54Q – Richard Morgan
10. 39N – Jeremy Cross
11. 51N – Sean Richards
Heat Race #6:
1. 83Q – David Murcott
2. 21NQ – Jordyn Brazier
3. 16N – Daniel Sayre
4. 45S – Jake Tranter
5. 36Q – Mitchell Gee
6. 99W – Jamie Maiolo
7. 56N – Michael Saller
8. 89C – Braydan Wilmington
9. 18N – Guy Stanshall
10. 96N – Bruce White
11. 45N – Matthew Thomas
Heat Race #7:
1. 21C – Shaun Dobson
2. 28NQ – Lynton Jeffrey
3. 22N – James Thompson
4. 35V – Jamie Veal
5. 47N – Marcus Dumesny
6. 32N – Warren Ferguson
7. 52N – Mark Attard
8. 51D – AJ Nash
9. 3N – David Craft
10. 41N – Jeff Lawler
11. 37S – Terry Kelly
12. 44W – Ben Element
E-Main:
1. 68N – James Duckworth
2. 3N – David Craft
3. 57C – Brendan Scorgie
4. 49N – Jamie Matherson
5. 81N – Graham Lagerlow
6. 41N – Jeff Lawler
7. 95N – Daniel Needham
D-Main:
1. 6N – Matt Geering
2. 43N – Alex Orr
3. 18N – Guy Stanshall
4. 9N – Kyle Caunt
5. 88N – Jimmy Matchett
6. 24D – Jamie O'Neill
7. 18D – Jason Gebert
8. 14W – Jason Pryde
9. 89C – Braydan Wilmington
10. 37S – Terry Kelly
11. 3N – David Craft
12. 75N – Glen Saville
13. 55N – Kim Becker
14. 68N – James Duckworth
15. 96N – Bruce White
16. 2S – Graig Vanderstelt
17. 52N – Mark Attard
18. 7T – Tim Hutchins
19. 54Q – Richard Morgan
20. 74V – Michael Cunningham
C-Main:
1. 20N – Troy Little
2. 7N – Toby Bellbowen
3. 16Q – Bryan Mann
4. 38N – Max Johnston
5. 75Q – Darren Jensen
6. 28NQ – Lynton Jeffrey
7. 99W – Jamie Maiolo
8. 43N – Alex Orr
9. 97W – Mitch Wormall
10. 12N – Thomas Jeffrey
11. 6N – Matt Geering
12. 59Q – Kevin Titman
13. 74Q – Brodie Tulloch
14. 34N – Michael Jordan
15. 20S – Glen Sutherland
16. 44W – Ben Element
17. 56N – Michael Saller
18. 51D – AJ Nash
19. 45N – Matthew Thomas
20. 21D – Chace Karpenko
B-Main:
1. 21N – Garry Brazier
2. 22N – James Thompson
3. 37V – Grant Anderson
4. 2C – Ben Atkinson
5. 47N – Marcus Dumesny
6. 28Q – Alan Woods
7. 28N – Darryl Campbell
8. 36Q – Mitchell Gee
9. 25N – Kelly Linigen
10. 25V – Jack Lee
11. 72S – Chad Ely
12. 16Q – Bryan Mann
13. 7N – Toby Bellbowen
14. 12W – Daniel Harding
15. 38N – Max Johnston
16. 21C – Shaun Dobson
17. 83Q – David Murcott
18. 77N – Mitchell Dumesny
19. 20N – Troy Little
20. 11N – Matt Smith
Feature:
1. 1A – Kerry Madsen
2. 66W – Ian Madsen
3. 7Q – Robbie Farr
4. 2W – Brooke Tatnell
5. 21NQ – Jordyn Brazier
6. 48N – Jackson Delamont
7. 22N – James Thompson
8. 37V – Grant Anderson
9. 3V – Ian Loudoun
10. 54N – Grant Tunks
11. 92N – Sam Walsh
12. 23Q – Lachlan McHugh
13. 57N – Matthew Dumesny
14. 32N – Warren Ferguson
15. 2C – Ben Atkinson
16. 28N – Darryl Campbell
17. 77W – Brad Maiolo
18. 47N – Marcus Dumesny
19. 28Q – Alan Woods
20. 17W – James McFadden
21. 21N – Garry Brazier
22. 45S – Jake Tranter
23. 16N – Daniel Sayre
24. 5V – Max Dumesny
25. 35V – Jamie Veal