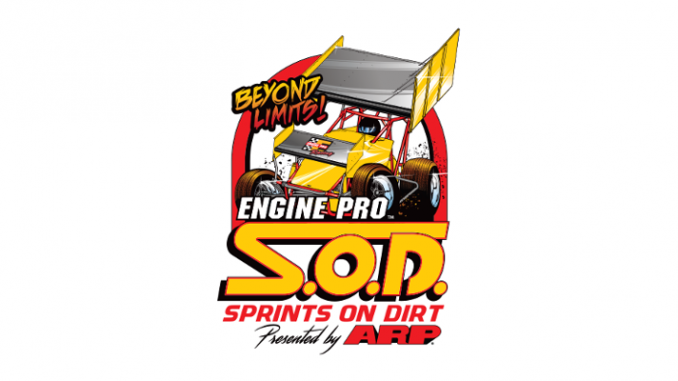 From Sprints on Dirt
ERIE, Mi. (February 24, 2017) – The 2017 Engine Pro Sprints On Dirt presented by ARP driver membership form is now available online. It can be downloaded by going to wwww.sprintsondirt.com, clicking the Competitor Info tab, and then selecting the form from the list of documents. Once downloaded, the pdf form can be filled out on a computer or printed and filled out by hand. A W9 (Request for Taxpayer Identification Number and Certification) form is included in the membership form.
Sprints On Dirt members who meet compensation eligibility requirements are eligible for:
• Bonuses and awards throughout the season,
• Year-end point fund payouts,
• SOD Series Rookie of the Year,
• SOD Sprint Car Rookie of the Year,
• All banquet payouts & awards.
The 2017 Sprints On Dirt Rule Book, 2017 SOD Sponsorship Awards Requirements, and other documents are also available under the Competitor Info tab.
The driver membership fee is $100. Please make your check payable to Sprints On Dirt.
Mail completed pages 1 and 2, your W-9, and check to:
Pat Holzinger
15185 Groesbeck Street
Grand Haven, MI 49417
You can also email completed pages 1 and 2 with your W-9 to: director@sprintsondirt.com. Signature and payment will be due at first race.
Questions? Call Pat @ 616-402-0557
To learn more about Engine Pro, go to www.enginepro.com. For more information about ARP, go to www.arp-bolts.com. Follow SOD at www.sprintsondirt.com and on Facebook at www.facebook.com/sprintsondirt.