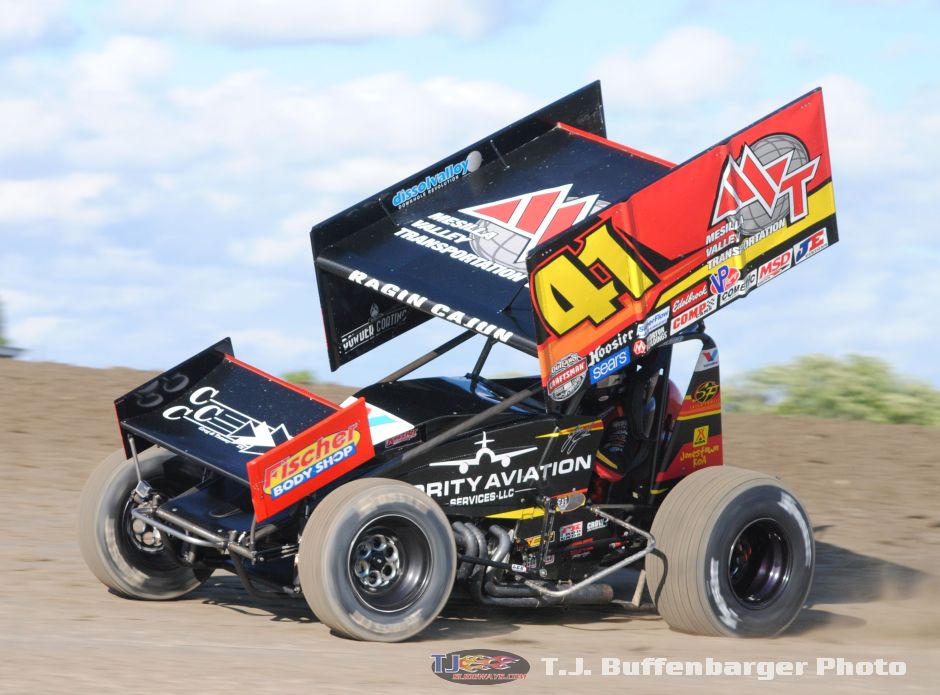 From Tony Veneziano
WILLIS, Tx. (March 1, 2017) — Jason Johnson has made five starts at Gator Motorplex in his career and has finished on the podium in each and every one of those races. Among the string of top-three finishes is a pair of wins at the high-banked quarter-mile bullring, located about 50 miles north of Houston in Willis, Texas.
Johnson will return to Gator Motorplex this weekend on Saturday, March 4 for the inaugural Outlaw Gator Bash, featuring the World of Outlaws Craftsman Sprint Car Series, along with the Southern United Sprints.
"When you race with the best in the business, these guys figure it out pretty fast, so having raced there probably won't be much of an advantage, but it doesn't hurt any," said Johnson. "We've definitely had some success at Gator Motorplex so hopefully we can carry some of that momentum into the race."
Johnson made his debut at Gator Motorplex in 2005 with the American Sprint Car Series (ASCS), finishing second. He returned to the track in 2009 and was victorious in an ASCS event, coming from the B-main to score the win. Johnson picked up his second win at Gator Motorplex the following year in an ASCS regional race. The five-time ASCS champion finished second at the track in 2011. In his most recent start at Gator Motorplex in 2013, Johnson finished third in an ASCS National event.
"The track really suits my driving style," he shared. "It has true straightaways and quite a bit of banking in the corners. Places like that, you can run a little harder than normal and you have something there to hold you with the banking. Another thing is the red clay is pretty unique down there in that part of the country. You have to really have forward drive when you are racing on tracks like that."
The racing surface at Gator Motorplex was re-configured significantly in the off-season. The straightaways were widened from 35 feet to 50 feet and the turns were widened from 60 feet to 70 feet. In total, more than 400 truckloads of clay were added to the surface. Also, the entrance to the track was moved to turn four.
"The notes we have from the past there, should apply again this time," noted Johnson. "Even though they have changed the surface some, the racing line usually stays the same. We have to watch and see what the track produces. They've never had 410 sprint cars there, so '410s' will probably produce different racing lines than you normally see."
Hailing from Eunice, Louisiana, which is a little over 200 miles from Willis, Texas, the Gator Outlaw Bash will be the closest race Johnson has all season to where he was born and raised. The veteran driver always looks forward to getting to race in front of folks that saw him cut his teeth in the sport.
"We have a lot of family and friends coming from across the border in Louisiana," said Johnson. "It's great to race in front of so many people that watched us grow up and supported my career back from the very beginning. It's going to be a lot of fun to see everybody and hopefully we have a good outing."
Johnson started the 2017 World of Outlaws Craftsman Sprint Car Series season off on a strong note in Florida a couple of weeks ago, picking up a win on opening night and finishing second on night-two. Despite a flip on the final night, which led to a DNF (did not finish), after running in the top-five, Johnson currently is third in points, just 16 markers behind eight-time and defending series champion Donny Schatz.
"The season definitely started how we had hoped and we had some success right out of the box," he stated. "We have to keep building on it. We had a little bit of driver error in the third show and he got over the lip (of the track) and tagged the wall. Point-wise, you can't make mistakes like that as a driver. It's still early in the season, so we aren't going to worry about points now. We definitely have great car-speed and the guys have done a great job, so we just have to keep digging."
While the 2015 season was Johnson's first year on the road with the World of Outlaws Craftsman Sprint Car Series, last year was his first full year, after missing a few months of action the previous year (2015) due to a back injury. With the same crew from last season back this year, led by crew chief Philip Dietz, along with a new partnership that merged Jason Johnson Racing (JJR) with Marshall Racing to form JJR Marshall Racing, the goals are lofty for the reigning winner of the Knoxville Nationals, who won four races and finished seventh in points last year with the Outlaws.
"Richard and Jennifer (Marshall) have been an influential part of our success, competing with the World of Outlaws and striving day in and day out to become better and better," explained Johnson. "Not only has this been on the track, but off the track as well. They are great people and love sprint car racing and support many different drivers and race teams. They have been great for JJR, so it made a lot of sense to form a merger. We're excited for the future. Richard has a lot of business techniques that he can bring that will really help the team in terms of management, motivation and inspiration. When you add all of these things up, the focus of the team becomes believing that you can compete for championships and wins, night in and night out."
Tickets for the inaugural Gator Outlaw Bash, featuring the World of Outlaws Craftsman Sprint Car Series and Southern United Sprints at Gator Motorplex in Willis, Texas, the Gator Bash on Saturday, March 4 can be purchased online at slspromotions.ticketforce.com and at the track on race day.