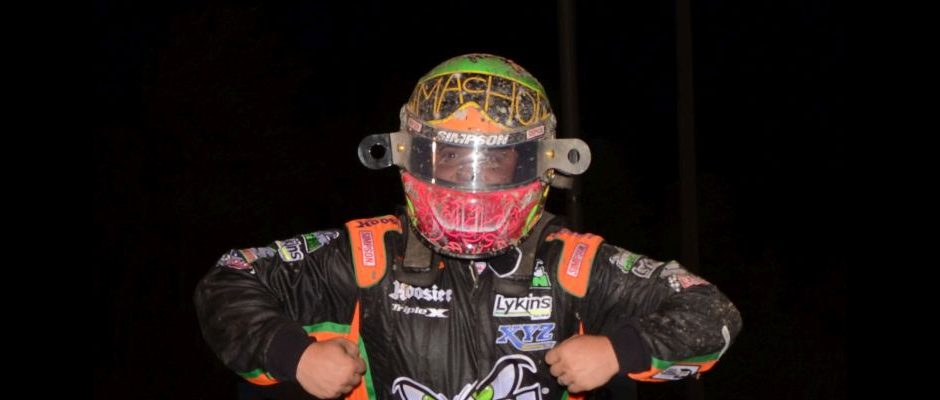 From Bill Wright
March 6, 2017 – Brady Bacon and the Bacon/Marshall Motorsports #99 team hit the ground running last Friday night with the World of Outlaws. The team battled back from a tough qualifying effort to charge from 12th to seventh in the feature event at Lonestar Speedway near Kilgore, Texas. The Broken Arrow, Oklahoma driver will next pull double duty for the Josh Ford Racing #73 team at The Dirt Track at Las Vegas with both the World of Outlaws and the non-wing USAC Southwest and USAC West Coast 360 sprint divisions this Thursday and Friday.
A good early pill can be essential in qualifying with the Outlaws, but on Friday, being the fourth car out didn't pay. "Early, it was sandy and loose," says Brady. "I didn't really get a good lap even the way the track was. I don't think it would have mattered much…maybe three or four spots. The track picked up six or seven-tenths by the end of the qualifying. It was one of those deals."
Lining up sixth in his heat, Brady picked up a pair of spots to finish fourth. "We were able to improve a couple of spots in the heat, so that was good," he says. "I actually had the fastest lap in the heat race. We were all pretty close, but we were good."
The 1/3-mile bullring was prime come feature time, and Brady would start outside of row six.
"We kind of worked our way up," he says. "A few guys had some problems. The last eight or nine laps, we were really good. We passed two or three cars on the bottom of one and two."
The result was a strong seventh place finish. "I was really pleased with that," says Brady. "The first night out, you just don't want anything to go wrong. We were able to get a pretty good finish with the Outlaws, so we were happy. We had the good balance that we had last year when we gained some ground, so it was very encouraging. To be fast at the end of the race is the key, and we did that. That's what pays the money."
You can't help but wonder what would have happened with a different result in time trials. "A decent qualifying spot would have given us a shot to finish in the top two or three spots," says Brady. "It's very encouraging going into the big swing that we'll have with the Outlaws in the #99 staring in April."
Brady hopes that switching cars this week will be seamless in Vegas. "We're definitely looking forward to it," he says. "The #73 car is a similar package as the #99. Hopefully, we can run well. We made both of those shows last year. I don't think we had as good a program then as we do now. We had a top ten going at Placerville last year too before we got in a wreck. We are excited to get out there."
He'll be doing double duty both nights, as he'll run the non-wing 360 car as well as with the Outlaws. "We weren't originally planning that, but they kept bumping the purse up," says Brady. "It was good enough that we needed to do that. It will be a lot of racing, and hopefully, we can get four good finishes."
A look at the Bacon/Marshall Motorsports #99