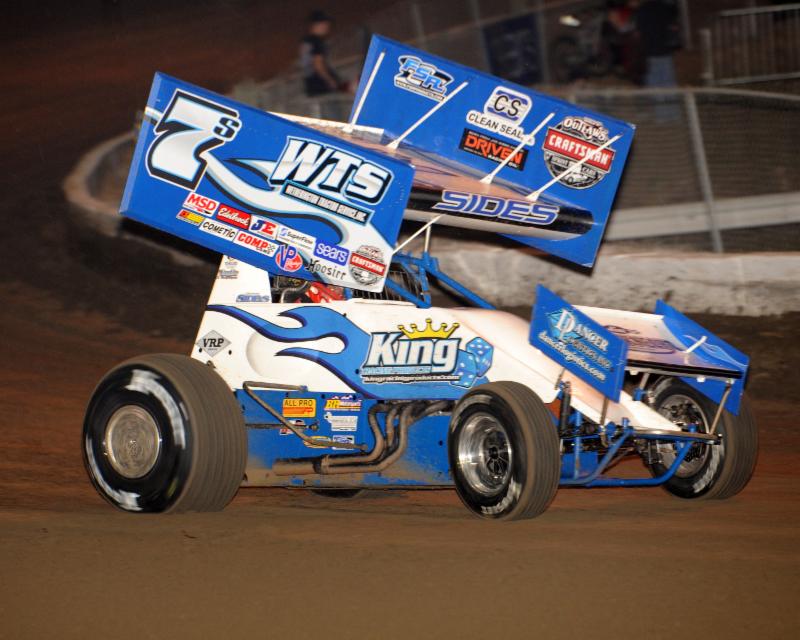 From Inside Line Promotions
KILGORE, Texas (March 6, 2017) – Jason Sides is hopeful luck is on his side as he is venturing to Las Vegas this week for the FVP Outlaw Showdown with the World of Outlaws Craftsman Sprint Car Series.
Sides has been involved in a crash during the two World of Outlaws weekends this season, including last Friday at LoneStar Speedway during the East Texas Lone Star Shootout.
"The car felt really loose in hot laps to begin the night," he said. "We were in the infield before qualifying and couldn't go to the trailer so we tightened it up a bit. It wasn't that great and felt loose in qualifying. We didn't qualify very well. We tightened it up some more for the heat race and that helped. The more we tightened it the better it got."
Sides, who qualified 19th quickest overall, maneuvered from seventh to fifth place in a heat race to lock himself into the 13 th starting position for the main event. However, the team found a problem on the race car and was able to fix it prior to the feature.
"That made a world of difference in the main event," he said. "We had a really good car and moved forward. We were up to eighth with nine laps remaining when we had a caution. When we got going another driver got into us from behind and spun us out. It collected me, Aaron Reutzel and Joey Saldana. When Joey hit us it ripped the nose wing and top wing up and when Reutzel got into us it bend the hip bar by the seat."
Sides was unable to finish the race and he was credited with a 21 st-place result.
Saturday's show at Gator Motorplex in Willis, Texas, was postponed to April 13 because of inclement weather.
The team returned home to Tennessee last weekend to rebuild prior to heading west this week for the Outlaws doubleheader at The Dirt Track at Las Vegas on Thursday and Friday.
"I enjoy going there," he said. "I like the race track. You can run all over it. We've had six or seven top fives. It's been really good, but we're still looking for that first win."
Sides has earned seven top-five finishes and nine top 10s in 13 races at the half-mile oval since 2009, including three straight runner-up results in 2012 and 2013. He has also secured at least one top-10 finish at the track each season for the past eight years.