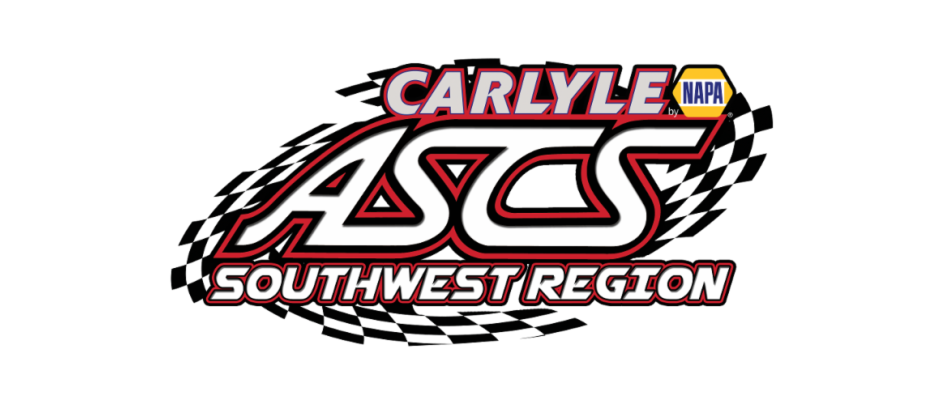 From Bryan Hulbert
QUEEN CREEK, Ariz. (March 11, 2017) – The Carlyle Tools ASCS Southwest Region dropped into the Arizona Speedway on Saturday with a 20 car field and a first time winner as Alabama's Kevin Thomas, Jr. rolled into Victory Lane behind the wheel of the Buffalo Wild Wings No. 82.
The 45th driver to earn a win with the Carlyle Tools ASCS Southwest Region, Thomas began his run from the sixth starting spot. Giving chase through the race's half-way point the feature was in the control of Canada's Skylar Gee.
Having led since the drop of the green, Gee looked to be well on his way, but the No. 99 would not see the checkered flag as Gee's night ended upside with nine laps remaining while trying to get around a slower car in the first turn. Skylar was unharmed.
Handing the lead to New Mexico's Lorne Wofford, the MVT No. 18 led the next pair of laps before losing the point to Kevin Thomas, Jr. on the 19th revolution by a margin of 0.006 seconds.
Able to hold off any challenges through a couple late race cautions, Thomas grabbed the win by 1.283 seconds over Colton Hardy, who clawed his way from ninth. The runner-up finish also netted Colton the lead in the championship standings by two markers.
Billy Chester III claimed the final podium step on the closing lap over Lorne Wofford with Bob Ream, Jr. making up the top five. From 13th, Montana's Jeremy McCune came up to a sixth place finish with Rick Ziehl seventh. Jesse Baker was eighth from 14th, followed by C.J. Hulsey and Mike Rux, Jr. to round out the top-ten.
Ron Gilson Photography put an extra $25 in the pocket of the evening's Heat Race winners, which consisted of Josh Shipley, Bob Ream, Jr., and Lorne Wofford. The $100 Beaver Stipes Hard Charger was Colton Hardy. Courtesy of James Mosher and Elite Wings, Hawaii's Rocky Silva won a set of wings in a random draw.
The Carlyle Tools ASCS Southwest Region goes live again on Saturday, March 25 at the Central Arizona Speedway in Casa Grande, Ariz. For continued updates on the Carlyle Tools ASCS Southwest Region, log onto http://www.ascsracing.com.
Race Results:
ASCS Southwest Region
Arizona Speedway – Queen Creek, Ariz.
Saturday, March 11, 2017
Car Count: 20
Heat 1 (8 Laps): 1. 01-Josh Shipley[2]; 2. 99-Skylar Gee[1]; 3. 5C-Billy Chester III[4]; 4. 0J-Jeremy McCune[3]; 5. 77C-C.J. Hulsey[7]; 6. 34-Darrell Sickles[6]; 7. 5H-Rocky Silva[5]
Heat 2 (8 Laps): 1. 8-Bob Ream Jr[1]; 2. 20Z-Rick Ziehl[3]; 3. 22-Mike Rux Jr[2]; 4. 90-Lance Norick[6]; 5. 22B-Jesse Baker[5]; 6. 8AZ-Jordan Stetson[4]; 7. 7-Mark Clark[7]
Heat 3 (8 Laps): 1. 18-Lorne Wofford[1]; 2. 82-Kevin Thomas Jr[4]; 3. 74-Colton Hardy[3]; 4. 19-Wes Wofford[6]; 5. 14-Cody Sickles[2]; 6. (DNF) 77-Damon McCune[5]
A Feature (25 Laps): 1. 82-Kevin Thomas Jr[6]; 2. 74-Colton Hardy[9]; 3. 5C-Billy Chester III[3]; 4. 18-Lorne Wofford[4]; 5. 8-Bob Ream Jr[7]; 6. 0J-Jeremy McCune[13]; 7. 20Z-Rick Ziehl[1]; 8. 22B-Jesse Baker[14]; 9. 77C-C.J. Hulsey[12]; 10. 22-Mike Rux Jr[10]; 11. 8AZ-Jordan Stetson[17]; 12. 34-Darrell Sickles[16]; 13. 5H-Rocky Silva[18]; 14. 14-Cody Sickles[15]; 15. 90-Lance Norick[5]; 16. 99-Skylar Gee[2]; 17. 01-Josh Shipley[8]; 18. 19-Wes Wofford[11]; 19. 7-Mark Clark[19]; 20. 77-Damon McCune[20]
Lap Leader(s): Skylar Gee 1-16; Lorne Wofford 17-18; Kevin Thomas, Jr. 19-25;