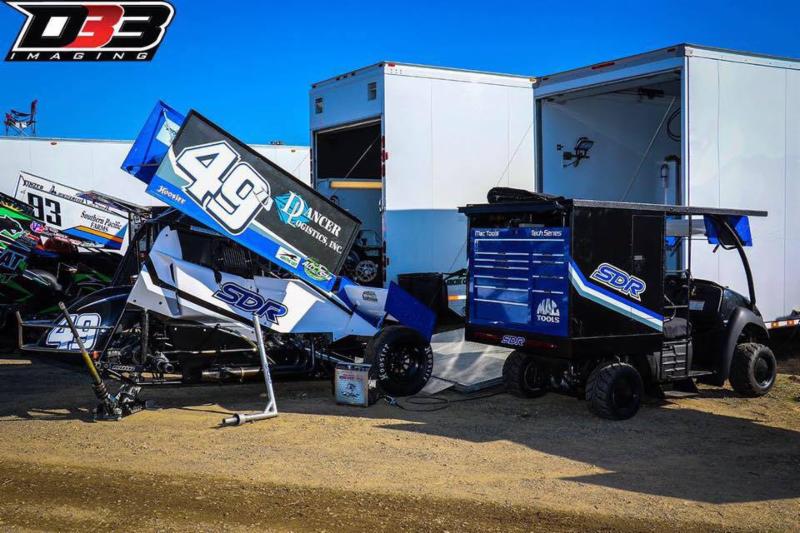 Inside Line Promotions

LAS VEGAS (March 14, 2017) – Shawn Dancer is upbeat following his first career visit to Las Vegas to race his sprint car last weekend at the FVP Outlaw Showdown.
"Although we didn't get the results we wanted, we learned a lot and I think we helped our program for when we race on half-mile tracks later this season," he said.
The World of Outlaws Craftsman Sprint Car Series doubleheader began last Thursday at The Dirt Track at Las Vegas, where Dancer qualified 17 th quickest in his group before he placed 10th in a heat race. That relegated him to a C Main, in which he ended fourth to narrowly miss a transfer into the back of the Last Chance Showdown.
"Our biggest problem was qualifying," he said. "I screwed up and had the car too tight. Qualifying is everything and once you get behind there it's hard to make it up the rest of the night.
"We've never been that good on a half mile. Plus, the first time at a track is a learning experience. We had some trouble with the setup early on Thursday so we threw something at the car in the C Main and we liked it."
Dancer started Friday's finale with that setup. He timed in 17th quickest in his group and placed eighth in a heat race before ending the night third in a C Main – only one spot shy of a transfer.
"The car felt a lot better so we have something to work toward on the half-mile tracks," he said. "Even though the results didn't show it, the car felt better. It was a lot more stable and drivable. We made a lot of progress."
While the finishes weren't what Dancer hoped for, he said the lessons learned throughout his debut at The Dirt Track at Las Vegas will benefit him in the future.
"When you're at that competition level with the World of Outlaws and the guys who showed up you have to be smooth and on your game," he said. "We made a lot of progress so I'm excited to get to a half-mile track again and see where we stack up."
QUICK RESULTS –
March 9 – The Dirt Track at Las Vegas in Las Vegas, Nev. – Qualifying: 17; Heat race: 10 (9); C Main: 4 (2).
March 10 – The Dirt Track at Las Vegas in Las Vegas, Nev. – Qualifying: 17; Heat race: 8 (9); C Main: 3 (1).
SEASON STATS –
5 races, 0 wins, 0 top fives, 0 top 10s, 0 top 15s, 0 top 20s
UP NEXT –
TBD
MEDIA LINKS –
Twitter: https://twitter.com/shawn_dancer49
Facebook: https://www.facebook.com/ShawnDancerRacing/
SPONSOR SPOTLIGHT – Amshaw Service Center
Amshaw Service Center, which is based in Delphos, Ohio, is a service center for semi trucks and trailers.
"Amshaw Service Center offers complete services and road service calls," Dancer said. "The company and its employees do great work and are a big supporter of our race team."
Dancer would also like to thank Dancer Logistics, Inc., Global Warehousing, King Racing Products, Pitsenbarger Supply, Mox Nursery, Friedrich Lawn Care and FSR Radiators for their continued support.
INSIDE LINE PROMOTIONS –
Inside Line Promotions specializes in affordable public relations and media management for motor sports drivers, teams, sponsors, tracks, series, events, organizations and manufacturers. ILP Founder Shawn Miller leverages professional journalism with new media technologies and social networking to improve your exposure and the return on investment for your sponsors.
To meet the media relations needs of your program by joining Team ILP, contact Shawn at 541-510-3663 or Shawn@InsideLinePromotions.com . For more information on Inside Line Promotions, visit http://www.InsideLinePromotions.com .