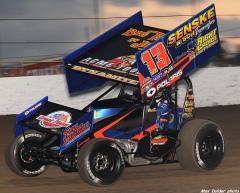 By Bill W
March 14, 2017 – Mark Dobmeier and the Jimco Racing/Polaris #13 team showed speed again with the World of Outlaws at The Dirt Track at Las Vegas, but a tough track and a tip-over Thursday pressed the team into action on Friday. Nonetheless, the Grand Forks, North Dakota native plugged away and made both features last weekend. The team has its eyes on April now, as weather will determine their first race in the Midwest.
Mark was happy with the way things started out on Thursday in Vegas. "We had a decent trip," he says. "We rolled out really well in hot laps and we were ninth quick in qualifying with our group. We were up to fourth at one time, and finished fifth in the heat. We felt like we had a really good car at that point."
He would start 18th in Thursday's feature. "The track was really rough," says Mark. "There were some holes. I hooked a rut a couple of laps in, and did all but turn the car over. I had to almost stop the car to quit from bouncing. I was able to keep it going, but that sent us all the way to the back. The (leader) Shane Stewart was trying to lap us, and he spun in a dry spot. I had nowhere to go, and that sent us tipping over. That ended our night."
The crash broke the frame, so the team went to work. "We pulled out the backup car for Friday," says Mark. "We hadn't run it yet, so we were kind of shaking it down as the night went on. You don't get any practice, obviously."
Mark timed in 13th quick in his group before lining up seventh in his heat. "We worked on (the car) all night, and we were finally comfortable after the heats," he says. "In the heat, we were fair. We started seventh and we were up into the fifth and final transfer before Shane Stewart got by us there."
He would roar from sixth to the lead in the B. "We had an excellent car," says Mark. "We started sixth and worked our way all the way up into the lead. We were driving away when we cut a tire on the white flag lap. The right rear blew off on the backstretch. Fortunately, we had a big enough lead that we coasted on the rim a half a lap and still finished third."
That meant Mark would start the finale 23rd. "We were able to work our way up to 18th," he says. "The car was good. Overall, the weekend was decent. We were able to make the show both nights. Luck just wasn't entirely on our side in a couple of instances. With the hand we were dealt, I thought the team performed really well and made the changes we needed to get the car where we wanted."
About Polaris…
Polaris Industries Inc. (NYSE: PII) is a global powersports leader with annual 2015 sales of $4.7 billion. Polaris fuels the passion of riders, workers, and outdoor enthusiasts with our RANGER®, RZR® and POLARIS GENERAL™ side-by-side off-road vehicles; our SPORTSMAN® and POLARIS ACE® all-terrain off-road vehicles; VICTORY® and INDIAN MOTORCYCLE® midsize and heavyweight motorcycles; SLINGSHOT® moto-roadsters; and Polaris RMK®, INDY®, SWITCHBACK®, and RUSH® snowmobiles. Polaris enhances the riding experience with parts, garments, and accessories sold under multiple recognizable brands, and has a growing presence in adjacent markets globally with products including military and commercial off-road vehicles, quadricycles, and electric vehicles. www.polaris.com
Follow Jimco Motorsports and Mark Dobmeier Racing on Facebook…
https://www.facebook.com/Mark-Dobmeier-Racing-329718337235441/?fref=ts
Mark Dobmeier Racing | Facebook

www.facebook.com

Mark Dobmeier Racing, Grand Forks, North Dakota. 6,942 likes · 330 talking about this. Official page of Mark Dobmeier Racing. Keep up to date with…
Jimco Motorsports would like to thank Polaris, Senske & Son Transfer, Big Trucks by Jimco, Right Choice Electric, Acme Tools, Interstate Towing & Recovery, Kyllo Trucking, B/L Strong Box, Steffes, Dahlstrom Motors, GLB Transport, Forx Radiator, Anderson Auto Body, Gary Gruhot Farms, Willow Ridge, Rose Creek, Herberg Custom Harvesting, Great Plains Plumbing & Heating, DAV, Ron Gatheridge, Boss Signs & Graphics and Dobmeier Bonding for all their help!