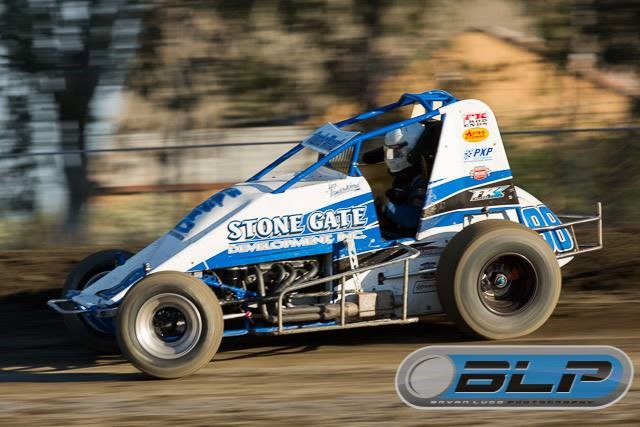 From Petersen Media
Competing at the Las Vegas Dirt Track last week, Jace Vander Weerd would rebound from a tough opener to finish fourth during the Sin City Showdown finale.
"We had a bad first night, but I was really glad we were able to come back and end our trip with a good finish," Jace Vander Weerd said.
Thursday night's opener would see the Visalia, CA pilot get his trip underway by timing the Vander Weerd Construction/Stonegate Development/Mid-Valley Pipe backed No. 88v entry in 17th fastest.
Just missing the heat race inversion by one spot, Vander Weerd would have a little trouble on an extremely trough and hooked up Las Vegas Dirt Track surface, as he would slip back and finish sixth in his heat race.
Forced into the semi, Vander Weerd would need to finish in the top-three to keep his night going, but a fourth place finish would leave him on the outside and looking in, ultimately ending his night.
Putting the disappointing night behind him, Friday night saw Vander Weerd time his Vander Weerd Racing mount it 15th fastest in qualifying time trials.
Winning his heat race from the pole, Vander Weerd would then line his entry up in the second row for the 30-lap affair. With the track extremely slick and smooth on Friday, Vander Weerd would take a liking to the bottom groove.
Falling back to seventh in the first couple of laps, he would continue to show patience. A bottle up with cars fighting for position would see him lose a few more spots, though he continued to run in the top-10.
Vander Weerd's patience would ultimately workout for him as he picked up a few spots as cars fell out of the race, but the last 10-laps would see him come alive and pick up positions as he would end the week with a fourth place finish.
"We fell back early in the feature, but at the end we really got going and made up some ground," Vander Weerd added. "It was a nice way to finish off the week and ready ourselves for Tulare this weekend."
Jace and his Vander Weerd Racing team would like to thank Vander Weerd Construction, Stonegate Development, Mid-Valley Pipe, Basic Industries, Factory Kahne Shocks, Steve Watt Enterprises, FK Rod Ends, PXP Racewear and K&N for their support in 2017.