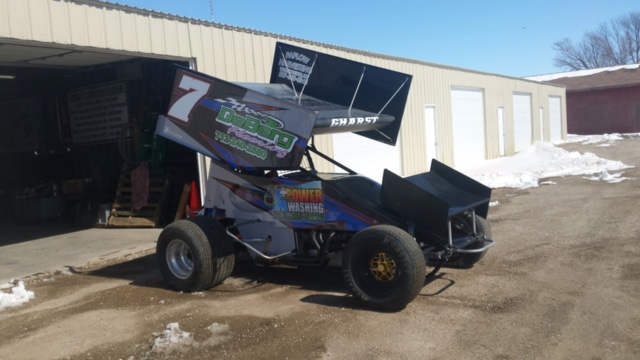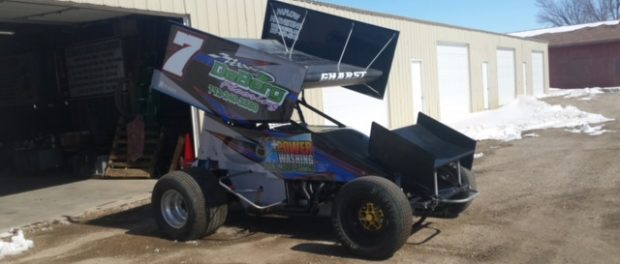 From Bill Wright
March 15, 2017 – Kaley Gharst and the Sandvig #7 team are ready to kick off their 2017 season this weekend. They're looking forward to leaving their Spencer, Iowa headquarters and heading south for the Lucas Oil ASCS National Series opener at Devil's Bowl Speedway in Mesquite, Texas this Friday and Saturday night.
The team has been busy this offseason. "We've been busy getting the car getting the car ready for Devil's Bowl," says Kaley. "We've been getting the trailers loaded back up, and we're getting everything ready to go."
It has been some time since the Decatur, Illinois driver has competed in Texas. "It will be nice to get out of this cold weather here," he says. "We're looking forward to being out in the sun. It's been probably ten years since I've been to the Devil's Bowl. I think it was the fall race in the Three-Star car."
The competition is always formidable with ASCS. "It's always tough," says Kaley. "We've run a lot of laps with Wayne Johnson. It sounds like Justin Henderson will be running with ASCS this year, and of course, you have guys like (Johnny) Herrera, (Sam) Hafertepe and (Aaron) Reutzel down there to name a few."
Kaley doesn't remember much about the famous half-mile, other than its unique shape. "I don't remember driving it much to be honest," he says. "I do remember the backstretch being higher than the frontstretch. You are going uphill one way and downhill the other."
The next month should be busy for the team. "Depending on how things go this weekend, we're also planning on hitting Wichita with NCRA next weekend," says Kaley. "The week after that may be in Missouri and then I-80, but we'll take it one week at a time."
The team is also welcoming some new partners this season. "We've got some great partners here," says Kaley. "A+ Power Washing, DeBerg Flooring and Hinchman Racewear are back with us. We've also added Paplow Harvesting and Trucking in Worthington, Minnesota, and Morton Buildings and Jamie Brosnahan from Spencer, Iowa. We really appreciate their help."
Keep an eye on Kaley's progress this week and beyond at www.KaleyGharst.com!
If you would like to receive Kaley's weekly releases, send an e-mail with the subject line "Kaley" to sprntcar@hotmail.com.
Kaley and the Sandvig #7 team would like to thank A+ Power Washing, DeBerg Flooring, Paplow Harvesting and Trucking of Worthington, Minnesota, Morton Buildings and Jamie Brosnahan of Spencer, Iowa and Hinchman Racewear!