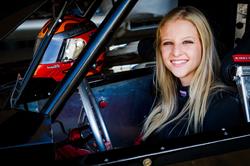 Inside Line Promotions
 BISMARK, N.D. (March 15, 2017) – Andee Beierle is making a big change in her racing career in 2017.
"I can't thank Bryan (Sundby) and everyone at BDS Motorsports enough for giving me the opportunity to learn and grow in this sport," Beierle said. "We will hit many of the ASCS National races. However, it will be a somewhat limited schedule due to my college summer courses."
Beierle is double majoring in aerospace and chemical engineering.
"We will do as much of the series as the budget allows," she said. "If we are able to pick up some more marketing partners we will be able to have the resources we need to hit more shows."
In addition to ASCS National Tour events, BDS Motorsports and Over the Top Marketing and Promotion will continue their appearance schedule greeting fans at tracks throughout the season. Beierle said the team and sponsors will be represented at several returning appearances such as the multiple national touring series dates at Iowa Speedway, which is located just outside of Newton, Iowa.
"I'm excited to meet the fans and help promote our race team, our sponsors, the tracks, the series and sprint car racing in general," she said. "We will have a trailer at all the races with a show car to take to sponsor locations. We will hand out kids' bags with coloring books and stickers. I look forward to the interaction with the fans."
Beierle said her first race of the season is scheduled for April 23 at Missouri State Fair Speedway in Sedalia, Mo., with the Lucas Oil ASCS National Tour.
UP NEXT –
April 23 at Missouri State Fair Speedway in Sedalia, Mo., with the Lucas Oil ASCS National Tour
MEDIA LINKS –
SPONSOR SPOTLIGHT – Dollar-Dental
"You get the quality care you deserve with Dollar-Dental and it is great for people who don't want dental insurance," Beierle said. "I'm proud to represent them in sprint car racing and help fans get dental care and save money."
Beierle would also like to thank Northern Coatings, Inc., Arienco Construction Inc., Harmony Stables, Lucas Oil Products, Inc., Liquid Nitro, Simpson Race Products, IETF, Hi-Tech Motorwerks and Four in the Fluff Marketing & Promotions for their continued support.
INSIDE LINE PROMOTIONS –
Inside Line Promotions specializes in affordable public relations and media management for motor sports drivers, teams, sponsors, tracks, series, events, organizations and manufacturers. ILP Founder Shawn Miller leverages professional journalism with new media technologies and social networking to improve your exposure and the return on investment for your sponsors.
Article Credit: Inside Line Promotions