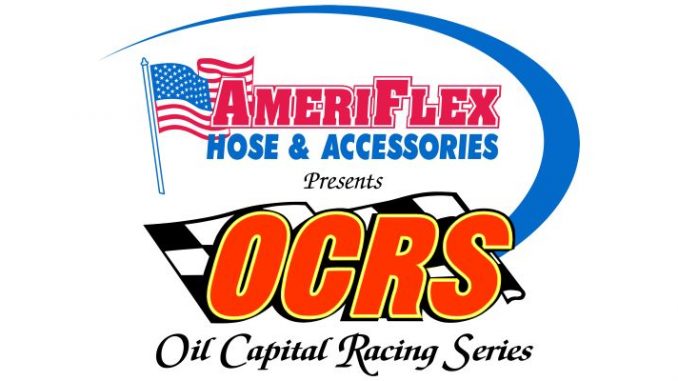 Tulsa Okla. (March 28, 2017) – Drive Shafts Inc. has tossed their hat into the ring as the latest company to sponsor the Ameri-Flex Challenge II presented by Grand National Trailer. Drive Shafts Inc, a Tulsa Oklahoma based business, is entering their six season of supporting the Ameri-Flex / OCRS sprint car series. The company is well known in the regional racing scene for sponsoring one of multiple heat races over the course of a season with the series.
A regional leader in custom drive shaft manufacturing and with their expansion of their participation with the series, race teams will compete for a $3000 to win / $1000 to start purse on Saturday August 26th at the Salina Highbanks Speedway in Salina Oklahoma. It will be the largest single event purse in the 16 year history of the traveling series.
We are thrilled that Drive Shafts Inc. has become an associate sponsor of this special event." said series owner Barry Grabel. "It seems just like yesterday that our relationship started and here we are heading for year number six. Loyalty is something we can't take for granted and we are forever grateful for the support Rick & Rita Whitehead (owners of Drive Shafts Inc.) have bestowed upon us. To say we have been fortunate to have a great company like Drive Shafts Inc. behind us would be a shear understatement."
The Ameri-Flex Challenge II presented by Grand National Trailer is a racing event where up to 30 champ sprint teams can qualify to be in the program. Rules and qualification criteria are posted on the Oil Capital Racing Series website. Teams with any inquiries can contact Barry Grabel at (918) 260.3899 or John Lemon at (918) 850.5341.
About the Ameri-Flex / OCRS Series –
Established in 2002, the Tulsa OK based Ameri-Flex / OCRS series sanctions dirt track sprint car racing in the southern region of the central plains. Fan appeal and quality race teams, combined with our solid core of supporting sponsors are the nucleus of the series. Thrilling competition providing the ultimate quality family entertainment is the essence of what the Ameri-Flex / OCRS series is all about.
Website: www.ocrsracing.net
Facebook: www.facebook.com/oil.series
About Ameri-Flex Hose & Accessories –
Located in Tulsa OK, Ameri-Flex Hose & Accessories is a family owned and operated company. From food grade hose to hoses for the petroleum industry, Ameri-Flex will strive to fill your needs. Ameri-Flex can build a hose to your specifications or we will assist you in creating what you have designed while you wait. Ameri-Flex has several hard to find items that some vendors can't get or find. Product can be shipped quickly and efficiently. If we do not have what you are looking for, we will direct you on where to find it. Give us a try, after all…………..
Ameri-Flex Has The Stuff That Keeps You Going!
Website: www.ameriflexhose.com
About Grand National Trailer –
With 30 years in the industry, Grand National Trailer has based their foundation on the knowledge that in the eyes of a trucker, time is money. To meet this understanding, Grand National Trailer provides prompt, quality and friendly customer service while giving their undivided attention to all jobs until the end. Grand National Trailer's goal is to truckers get back out on the road as quickly and safely as possible, at the best value possible.
Website: www.grandnationaltrailer.com
About Drive Shafts Inc.
Drive Shafts Inc. has been a fixture in Tulsa, OK for over 30 years. Since 1977, Drive Shafts Inc. has specialized in designing and building custom drive shafts for major industries across the United States and overseas. All custom drive shafts are built with the highest quality parts and have been produced for industry leaders in construction equipment, paper processing, food processing, material handling, transportation, energy systems, truck body, agriculture, steel mills, bottling and marine.
In addition to custom orders, Drive Shafts Inc. also repairs and balances all types of drive shafts. Using advanced technology machines, repairs can be done for all sizes of pick-up and vans, automotive and racecar needs, PTO and steering shafts, industrial and agricultural shafts, front wheel drive, heavy duty, 4-wheel drive and axle shafts.
Website: www.driveshaftsoftulsa.com
About the Salina Highbanks Speedway –
The Salina Highbanks first opened in 1992 and was
​sold to the ​
current ownership in 2011
​
when the track began a life of its own as several improvement projects took hold. One of which
​was​
the
​
Finishline Restaurant that sits atop the speedway where fans can view the racing action while enjoying
​a ​ribeye steak or other fantastic menu items. The 3/8-mile track surface features 22 degrees of banking in the corners with 12 degree average banking on the straights making for the fastest racing surface in the region.
Website: www.salinahighbanksspeedway.com