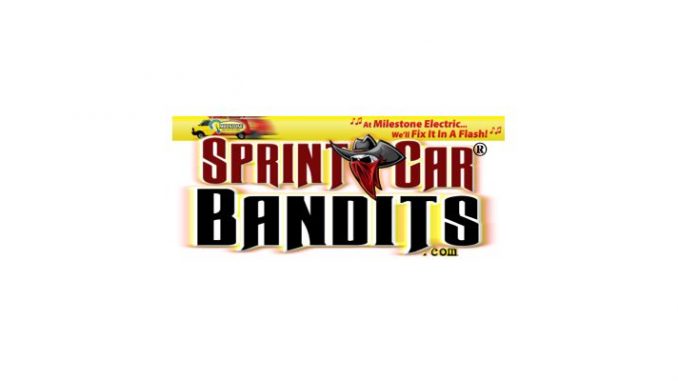 From Darin Short
GREENVILLE, Tx. (April 1, 2017) — The NCRA Sprint Car Bandits Series (SCB) presented by Blaine's Motor Supply had two great nights of racing this past weekend, culminating with 30 teams competing at Superbowl Speedway near Greenville Texas on Saturday night.
The Bryant's had the Superbowl racing surface in superb condition, resulting in racing from the bottom of the track all the way to the top. This allowed sprint car teams lots of passing options – which is a key element in the SCB passing points qualifying format.
Feature race leader Scott Bogucki, hailing from McLaren Vale South Australia, looked as if he had victory in his sight, as he was able to hold off repeated charges from the 'Brad Attack' of Brad Queen and Brad Welborn as the two continued to swap positions behind him.
As the Brad's continued to race each other, it allowed Bogucki to build his lead to an entire straightaway. Then 'it' happened with about 10 laps to go in the 25-lap championship event.
Bogucki lost his power steering (resulting in him receiving a power steering fluid 'shower' while still racing), and the pair of Brad's started closing in on him.
A late-race caution would close the gap all the way on the restart, which would allow Welborn to sneak by Bogucki for the lead.
While all of that was going on, Friday night SCB winner and 9th place starter Justin Melton, was methodically moving his way through the field and collected a hard-earned 3rd place finish. Bogucki would hold on for a 2nd place finish, while Welborn would take the victory – much to the approval of the 'local' crowd (as Welborn lives northwest of the track 20 minutes or so away).
But race fans were also very impressed with the smooth high-riding style of Bogucki, as it was his first time at the Texas equivalent of his '400 yards on the pole' type track configuration.
With the late race surge by Melton, he emerged as the weekend Griffith Truck & Equipment High Point Driver, and collected an additional $500 cash bonus – beating our Bogucki for the honor…by just 1 scant point!
The Lawrence Towing & Kustom Craft Exhibits $200 Hard Charger Award was won by Dalton Stevens, who advanced 11 positions in the feature event. The SIMPSON Racing Products Hard Luck recipient went to Chase Parson, after being clipped in his heat race and taking a tumble in turns 3 and 4 (Chase was reported to be OK).
Another point that needs to be conveyed, and this is expressly in the opinion of this writer, is fans witnessed the largest gathering of 360CI sprint cars in the history of SuperBowl Speedway at last night's Sprint Car Bandits event. If there is someone out there that can disprove that fact, I would like to know – and I will easily stand corrected – but I cannot remember a time when this has ever happened in the 20+ years of me being in this area and keeping tabs on feats such as this. So, kudos to the Series and to the race teams for their such strong support! The fans were very vocally happy with the racing action, and enjoyed the 'international' battle that emerged in the feature event.
Earlier in the night during qualifying heat race action, Scott Bogucki was on a rail in his heat race turning the 1/4 mile oval in 12.30 seconds – as evidence of just how fast the track was.