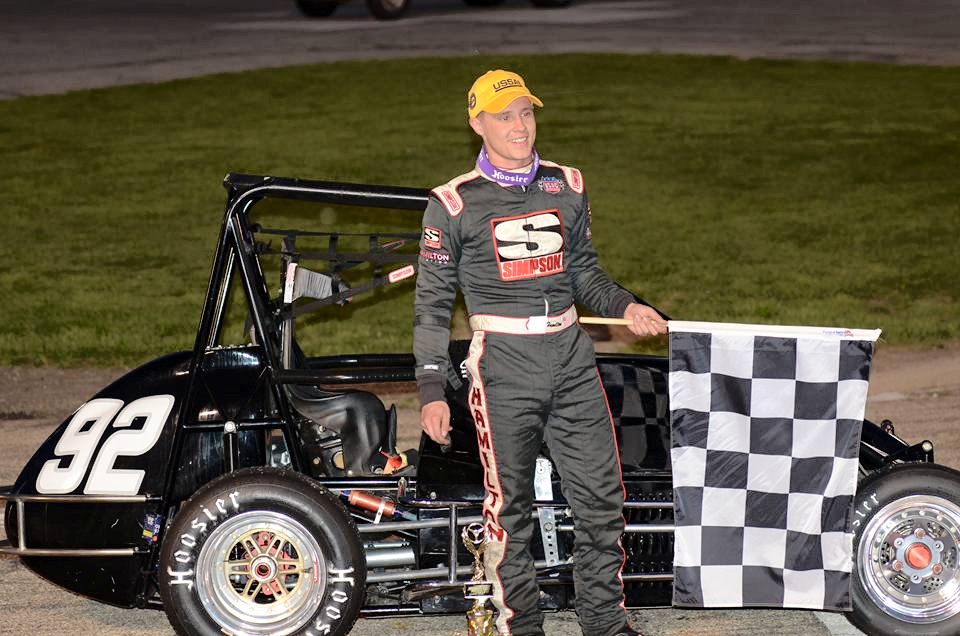 From Eric Bunn
LEBANON, Ind. (April 13, 2017) — Kyle Hamilton will be returning to Anderson Speedway on Saturday night to shoot for his second win in the opening race of the UAW American Made Mel Kenyon Midget Series season. On April 9, 2016 Hamilton beat 2016 series champion Dameron Taylor to the stripe by 0.430 second.
"Anderson is a cool place and I have several thousand laps there so I'm expecting us to get right up to speed," Hamilton said. Hamilton has been driving the Beast/Klatt Enterprises car in the Pay Less Little 500 presented by UAW GM, finishing 4th in the 2016 event, earning the Simpson World Indy Helmet for being the best finishing Kenyon Midget Alumnus.
This Saturday Hamilton will pilot the number 92 Kenyon Midget prepared by Don and Mel Kenyon. "I'm really excited to team back up with Don and Mel for the season opener this year. We have a lot of confidence after our performance in the Rumble at Fort Wayne this year," Hamilton continued.
Hamilton is not expecting a cakewalk on the high banks of Anderson however. 2016 champion Taylor will be leading Hamilton's competition for the win. Seven drivers who finished in the 2016 top ten series points will join Taylor in trying to beat Hamilton. In closing Hamilton emphasized "There will be several of the Mel Kenyon Midget regulars who will be tough to beat on April 15."
The UAW American Made Mel Kenyon Midget Series opens its 2017 racing season Saturday Night April 15 on the high banks of Anderson Speedway. The UAW Kenyon Midgets will be joined by Anderson's Late Model Division and the VCTS Pro Compacts. Spectator gates open at 3 PM with qualifying at 4:30 and racing at 6:00.