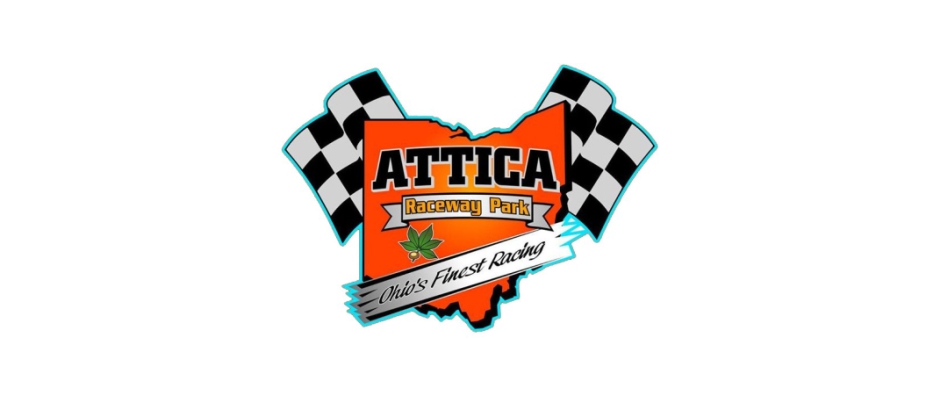 From Brian Liskai
ATTICA, Ohio (April 14, 2017) — D.J. Foos wasn't going to let eight time and defending Attica Raceway Park 410 sprint champion Byron Reed intimidate him. The Fremont, Ohio driver, in only his fifth year behind the wheel of a 410 sprint, hunted down and then passed Reed with four laps to go and drove to his first career Attica victory to open the 28th Annual HD Supply Spring Nationals Presented by Merrill Lynch Financial Services and Fisher Performance.
Foos, a former Attica 305 sprint champion who owns 15 career victories at the track in that division, is in his second year driving the Jay Kiser owned #23. The team has clicked early in 2017, recording a runner-up finish a couple of weeks ago at Mansfield Motor Speedway. It wasn't easy for Foos who had a close encounter with the front stretch wall with two laps to go. But, he gathered his composure and took the Jet Express, Crown Battery, Kistler Racing Products, Kistler Engines, JLH General Contractor, NAPA of Bryan, Shelluke's Bar backed machine to victory lane to claim the $5,000 top prize.
The win also opens the ninth season for the All Pro Aluminum Cylinder Heads FAST Championship Series Presented by Ohio Logistics. Foos is a former FAST 305 champion and hopes to dethrone Reed for the 410 FAST title in 2017.
"This is like a dream come true. There's no better man here to race with than Byron Reed. If you want to be the best you have to beat the best and tonight it happened. When I hit that wall I had all kinds of things going through my head. I was like 'oh man don't give this one away…I know Byron's going to try and come back,'" Foos said.
"I'm so excited for this team. We ran really well at Mansfield a couple of weeks ago and now we have momentum. I knew coming into tonight…my buddy Keith texted me and said 'top five tonight, over-under.' I started to text him 'I'm going there to win.' I deleted that and said hopefully a top five. I should have stuck with my original text. I can't thank Jay Kiser, Nicole, Cody Renfro and all our great sponsors enough for always sticking with me," Foos added.
After an early race battle with team mate Charlie Duncan, Wooster, Ohio's Doug Drown drove away the last half of the Summit Racing Equipment UMP Late Model feature to score his 21st career Attica victory. Drown sits just one win shy of all-time division feature winner Rusty Schlenk.
"It feels good to be back out here with car that handles this good. I have to thank Leroy Hall for all he does for me to be able to go out and have fun. My guys, Cody (Duncan) and Jeff (Drown), my wife…everyone who helps out on this deal. It was fun racing with Charlie there. He let us set up his car…he's never driven a Swartz car…and for him to be that fast was really cool," said Drown beside his Hall's Auto Sales, Kar Connection, Malcuit Engines, Wooster Glass, ABR Farms, Dirt Girl Racewear, Efco Power Equipment backed machine.
Fremont, Ohio's Paul Weaver – Attica's defending 305 track champion – survived a restart with five laps to go and drove to his second straight win in the Fremont Fence 305 sprints. Weaver, who tops the division's all-time win list, now has 37 career Attica 305 sprint victories.
"We really didn't do much to this car over the winter. We painted the tail section and I bought a new arm guard. That's it. This car goes forward. It doesn't spin the tires one bit," said Weaver beside his M&L Excavating; Hampshire Racing Engines; Schiets Motorsports, Weaver Performance Center backed sprinter.
In the 30-lap Hammer Pallets 410 Sprint feature Cole Duncan and Stuart Brubaker brought the field to green with Brubaker gaining a slight advantage. As Brubaker began to pull away slightly there was a fantastic battle for third between Reed, Carson Macedo and Foos with Adam Kekich and Tim Shaffer in tow.
Action ground to a halt with six laps in when Jordan Ryan took a tumble. On the ensuing restart Thomas Meseraull spun. When the green flew Brubaker led Duncan who had his hands full with Macedo while Reed and Foos battled for fourth. Cody Gallogly would spin on lap nine and when the green flew the battle was on.
Brubaker, Duncan, Reed, Macedo and Foos were locked in a tremendous battle. Reed took second on lap 12 and quickly closed on Brubaker. Reed drove to the extreme low groove as Brubaker tried to block in turns three and four but to no avail as the Monclova Missile took the lead on lap 14. Brubaker fought back and regained the top spot the next circuit with Reed returning the favor on lap 17.
Once in the lead Reed pulled away slightly as Brubaker tried to defending second from Duncan, Macedo and Foos. A caution with nine laps to go for a Dean Jacobs spin set up a classic shoot out. Reed maintained the lead on the restart as Foos drove around Brubaker with Duncan trying to hold off Macedo and Spencer Bayston.
With six laps to go Foos was all over Reed looking for his opportunity to make the winning pass. It came two laps later as Foos drove around Reed with Brubaker, Duncan, Bayston and Macedo staying close.
Foos avoided disaster with two laps to go when he blasted the front stretch wall. He gathered his composure and drove to the win over Reed, Bayston, Duncan and Macedo as Brubaker spun coming to the checkers.
In the 25-lap late model feature, Duncan and Ryan Markham brought the field to green but a two car tangle necessitated another start. After a lap was complete another two car tangle resulted in a brief red as crews worked to separate the cars.
When the green flew again Duncan and Drown waged a great battle for the lead with Markham, Devin Shiels and Eric Spangler staying within striking distance. Drown finally gained the top spot on lap six and began to pull away as Duncan and Markham battled for second.
At the half way point Drown held a commanding lead while the battle for second between Duncan, Spangler, Rusty Schlenk and Markham heated up. Spangler took the runner up spot on lap 13 but could not close on Drown.
Drown pulled away for the win while Spangler held off Schlenk for second with Duncan and Shiels rounding out the top five.
Ricky Peterson and Weaver paced the field for the 25 lap 305 sprint feature with Peterson gaining the advantage over eighth starter Jamie Miller.
Miller drove into the lead on lap two with Weaver blasting from third into the lead a lap later. Action ground to a half on lap six when Dustin Rall got upside down with Weaver leading Peterson, Miller, Nate Dussel, Bobby Clark, Kyle Capodice and 15th place starter Steve Rando.
Weaver got a great restart and pulled away from Peterson who had his hands full with Dussel. Landon LaLonde brought out the caution with 13 laps in with Weaver leading Peterson, Dussel, Miller, Rando, Clark and Capodice.
As Weaver drove away when the green reappeared, Dussel grabbed second on lap 16. Jason Keckler would bring out the final caution with five laps to go, giving Dussel a shot at Weaver. But, Weaver was just too good on the restart and drove away for the win over Dussel, Miller, Peterson and Rando.
Night two of the HD Supply Spring Nationals will be held Saturday, April 15 featuring the Arctic Cat All Star Circuit of Champions.
For more information go to www.atticaracewaypark.com or follow the track on Twitter @atticaracewyprk or on Facebook at www.facebook.com/atticaracewaypark and Instagram at attica_raceway_park.
Attica Raceway Park
HD Supply Spring Nationals
Presented by Merrill Lynch & Fisher Performance
Starting position [*]
Hammer Pallets 410 Sprints
Qualifying
1.23-DJ Foos, 12.167; 2.16-Chris Andrews, 12.169; 3.39-Spencer Bayston, 12.256; 4.22-Cole Duncan, 12.293; 5.3G-Carson Macedo, 12.332; 6.45L-Brian Lay, 12.516; 7.5T-Travis Philo, 12.574; 8.35-Stuart Brubaker, 12.619; 9.49X-Tim Shaffer, 12.662; 10.5K-Adam Kekich, 12.690; 11.8-Dean Jacobs, 12.707; 12.7-Shawn Valenti, 12.734; 13.3J-Trey Jacobs, 12.738; 14.5R-Byron Reed, 12.748; 15.60K-Kory Crabtree, 12.749; 16.45-Trevor Baker, 12.761; 17.9-Jordan Ryan, 12.782; 18.11N-Dale Blaney, 12.855; 19.81-Lee Jacobs, 12.865; 20.68G-Tyler Gunn, 12.880; 21.9X-Thomas Meseraull, 12.961; 22.60-Jody Keegan, 13.005; 23.9Z-Duane Zablocki, 13.015; 24.5-Jordan Harble, 13.021; 25.83X-Nate Reeser, 13.039; 26.8J-Jess Stiger, 13.061; 27.92-Sam Ashworth, 13.106; 28.4-Brian Smith, 13.138; 29.5B-Chade Blonde, 13.168; 30.10S-Jay Steinebach, 13.268; 31.27-Cody Gallogly, 13.288; 32.40-Mark Imler, 13.514; 33.22M-Dan McCarron, 13.526; 34.15H-Mitch Harble, 13.675; 35.4B-Steve Butler, 14.293; 36.7J-Joe Swanson, 21.905; 37.91-Cale Thomas, 99.990;
Heat 1, Group A – (8 Laps, top five to A)
1. 49X-Tim Shaffer[3]; 2. 5T-Travis Philo[4] ; 3. 9-Jordan Ryan[1] ; 4. 81-Lee Jacobs[5] ; 5. 68G-Tyler Gunn[6] ; 6. 7-Shawn Valenti[2] ; 7. 92-Sam Ashworth[8] ; 8. 22M-Dan McCarron[9] ; 9. 60-Jody Keegan[7] ; 10. 15H-Mitch Harble[10]
Heat 2, Group B – (8 Laps, top five to A)
1. 8-Dean Jacobs[3] ; 2. 5K-Adam Kekich[4] ; 3. 3J-Trey Jacobs[2] ; 4. 9X-Thomas Meseraull[6] ; 5. 9Z-Duane Zablocki[7] ; 6. 5B-Chade Blonde[8] ; 7. 40-Mark Imler[9] ; 8. 11N-Dale Blaney[1] ; 9. 16-Chris Andrews[5]
Heat 3, Group C – (8 Laps, top 5 to A)
1. 35-Stuart Brubaker[2] ; 2. 5R-Byron Reed[1] ; 3. 39-Spencer Bayston[4] ; 4. 45L-Brian Lay[3] ; 5. 5-Jordan Harble[5] ; 6. 8J-Jess Stiger[7] ; 7. 83X-Nate Reeser[6] ; 8. 4-Brian Smith[8] ; 9. 7J-Joe Swanson[9]
Heat 4, Group D – (8 Laps, top 5 to A)
1. 3G-Carson Macedo[2] ; 2. 23-DJ Foos[4] ; 3. 22-Cole Duncan[3] ; 4. 60K-Kory Crabtree[1] ; 5. 27-Cody Gallogly[7] ; 6. 10S-Jay Steinebach[6] ; 7. 4B-Steve Butler[8] ; 8. 45-Trevor Baker[5]
B-Main 1 – (10 Laps, top 2 to A)
1. 7-Shawn Valenti[1] ; 2. 92-Sam Ashworth[3] ; 3. 22M-Dan McCarron[5] ; 4. 60-Jody Keegan[7] ; 5. 4-Brian Smith[6] ; 6. 83X-Nate Reeser[4] ; 7. 15H-Mitch Harble[9] ; 8. 8J-Jess Stiger[2]
B-Main 2 – (10 Laps, top 2 to A)
1. 16-Chris Andrews[7] ; 2. 5B-Chade Blonde[1] ; 3. 11N-Dale Blaney[5] ; 4. 40-Mark Imler[3] ; 5. 10S-Jay Steinebach[2] ; 6. 4B-Steve Butler[4] ; 7. 45-Trevor Baker[6]
A-Main 1 – (30 Laps)
1. 23-DJ Foos[4] ; 2. 5R-Byron Reed[3] ; 3. 39-Spencer Bayston[8] ; 4. 22-Cole Duncan[1] ; 5. 3G-Carson Macedo[5] ; 6. 49X-Tim Shaffer[7] ; 7. 3J-Trey Jacobs[12] ; 8. 5T-Travis Philo[10] ; 9. 16-Chris Andrews[23] ; 10. 5K-Adam Kekich[6] ; 11. 5B-Chade Blonde[24] ; 12. 45L-Brian Lay[13] ; 13. 9Z-Duane Zablocki[18] ; 14. 9X-Thomas Meseraull[16] ; 15. 68G-Tyler Gunn[17] ; 16. 7-Shawn Valenti[21] ; 17. 35-Stuart Brubaker[2] ; 18. 92-Sam Ashworth[22] ; 19. 27-Cody Gallogly[20] ; 20. 81-Lee Jacobs[15] ; 21. 8-Dean Jacobs[9] ; 22. 60K-Kory Crabtree[14] ; 23. 9-Jordan Ryan[11] ; 24. 5-Jordan Harble[19]
Hard Charger: 16-Chris Andrews +14
Fremont Fence 305 Sprints –
Heat 1 – (8 Laps, top 5 to A)
1. 12-Kyle Capodice[2] ; 2. 2-Ricky Peterson[1] ; 3. 66D-Chase Dunham[5] ; 4. 1X-Tyler Street[3] ; 5. 36-Seth Schneider[7] ; 6. 23-Chase Baker[8] ; 7. 94K-Kevin Mingus[6] ; 8. 14-Luke Daugherty[4] ; 9. 47-Matt Lucius[9]
Heat 2 – (8 Laps, top 5 to A)
1. 11XE-George Englert[1] ; 2. 1-Nate Dussel[3] ; 3. 1W-Paul Weaver[4] ; 4. 5J-Jake Hesson[2] ; 5. 9R-Dustin Rall[5] ; 6. 3X-Brad Keckler[7] ; 7. 09-Justin Adams[9] ; 8. 11X-Jordan Ryan[6] ; 9. 77I-John Ivy[8]
Heat 3 – (8 Laps, top 5 to A)
1. 8-Bobby Clark[1] ; 2. 25-Jason Keckler[3] ; 3. 2L-Landon LaLonde[2] ; 4. 66-Jamie Miller[6] ; 5. 19R-Steve Rando[8] ; 6. 20I-Kelsey Ivy[7] ; 7. 5JR-Jimmy McGrath[4] ; 8. 26-Ryan French[5]
B-Main 1 – (10 Laps, top 5 to A)
1. 77I-John Ivy[11] ; 2. 23-Chase Baker[1] ; 3. 94K-Kevin Mingus[4] ; 4. 3X-Brad Keckler[2] ; 5. 20I-Kelsey Ivy[3] ; 6. 5JR-Jimmy McGrath[6] ; 7. 14-Luke Daugherty[7] ; 8. 47-Matt Lucius[10] ; 9. 26-Ryan French[9] ; 10. 09-Justin Adams[5]
A-Main 1 – (25 Laps)
1. 1W-Paul Weaver[2] ; 2. 1-Nate Dussel[9] ; 3. 66-Jamie Miller[8] ; 4. 2-Ricky Peterson[1] ; 5. 19R-Steve Rando[15] ; 6. 8-Bobby Clark[4] ; 7. 36-Seth Schneider[13] ; 8. 12-Kyle Capodice[5] ; 9. 77I-John Ivy[16] ; 10. 66D-Chase Dunham[3] ; 11. 11XE-George Englert[6] ; 12. 5J-Jake Hesson[10] ; 13. 94K-Kevin Mingus[18] ; 14. 23-Chase Baker[17] ; 15. 2L-Landon LaLonde[11] ; 16. 20I-Kelsey Ivy[20] ; 17. 1X-Tyler Street[7] ; 18. 25-Jason Keckler[12] ; 19. 3X-Brad Keckler[19] ; 20. 9R-Dustin Rall[14]
Hard Charger: 19R-Steve Rando +10
Summit Racing Equipment UMP Late Models –
Heat 1 – (8 Laps, top 5 to A)
1. 36-Matt Irey[1] ; 2. CJ1-Rusty Schlenk[7] ; 3. 8-Rob Anderzack[8] ; 4. 00-Mathew Chapman[5] ; 5. 19-Cody Scott[9] ; 6. 97-Brett Miller[6] ; 7. 44-Matt Shipley[3] ; 8. 03-Jim Gingery[4] ; 9. 69R-Doug Baird[2]
Heat 2 – (8 Laps, top 5 to A)
1. 240-Doug Drown[5] ; 2. 27S-Eric Spangler[4] ; 3. 51-Devin Shiels[8] ; 4. 60-Dale Glassford[3] ; 5. 1-Ben Mott[1] ; 6. RH21-Gregg Haskell[2] ; 7. 006-Jarrett Rendel[7] ; 8. P3-Truck Robertson[9] ; 9. 17X-Dustin Keegan[6]
Heat 3 – (8 Laps, top 5 to A)
1. 49-Brian Ruhlman[3] ; 2. 15B-Mike Bores[2] ; 3. 5M-Ryan Markham[5] ; 4. 240X-Charlie Duncan[7] ; 5. 69-Jeff Warnick[1] ; 6. 30-Nate Potts[4] ; 7. 42*-Bob Mayer[8] ; 8. 72-Jim Nicely[6] ; 9. P33-Josh Robertson[9]
B-Main 1 – (10 Laps, top 5 to A)
1. 97-Brett Miller[1] ; 2. 30-Nate Potts[3] ; 3. 006-Jarrett Rendel[5] ; 4. P3-Truck Robertson[8] ; 5. 69R-Doug Baird[10] ; 6. 17X-Dustin Keegan[11] ; 7. P33-Josh Robertson[12] ; 8. 42*-Bob Mayer[6] ; 9. RH21-Gregg Haskell[2] ; 10. 03-Jim Gingery[7] ; 11. 72-Jim Nicely[9] ; 12. 44-Matt Shipley[4]
A-Main 1 – (25 Laps)
1. 240-Doug Drown[4] ; 2. 27S-Eric Spangler[7] ; 3. CJ1-Rusty Schlenk[9] ; 4. 240X-Charlie Duncan[1] ; 5. 51-Devin Shiels[3] ; 6. 5M-Ryan Markham[2] ; 7. 49-Brian Ruhlman[8] ; 8. 15B-Mike Bores[12] ; 9. 36-Matt Irey[6] ; 10. 19-Cody Scott[13] ; 11. 8-Rob Anderzack[11] ; 12. 69-Jeff Warnick[15] ; 13. 60-Dale Glassford[10] ; 14. 1-Ben Mott[14] ; 15. 00-Mathew Chapman[5] ; 16. 17X-Dustin Keegan[21] ; 17. 30-Nate Potts[17] ; 18. 006-Jarrett Rendel[18] ; 19. P3-Truck Robertson[19] ; 20. 97-Brett Miller[16]
Hard Charger: CJ1-Rusty Schlenk +6