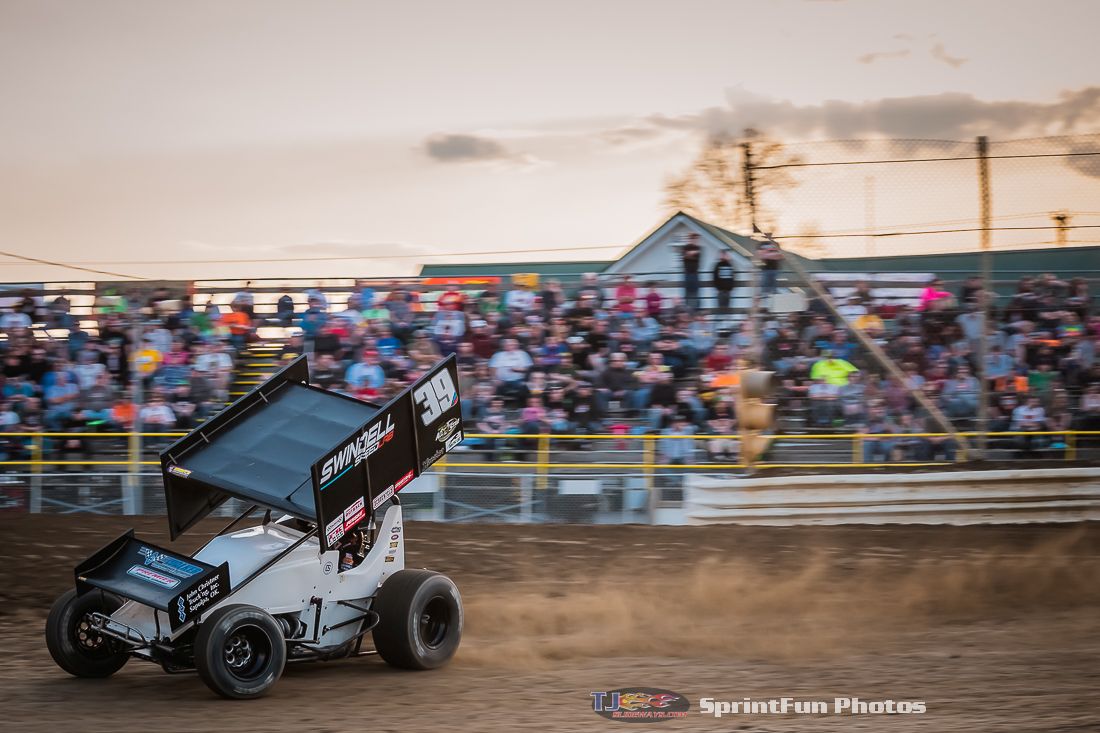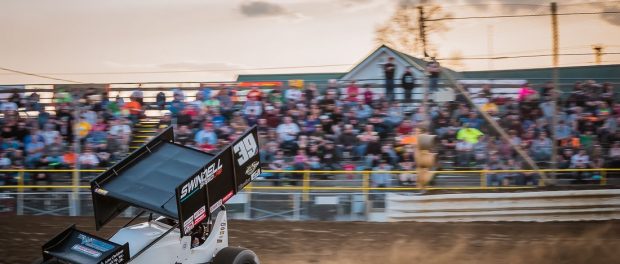 By T.J. Buffenbarger
(April 17, 2017) — Saturday's eye opening victory by Spencer Bayston driving for Kevin Swindell was a remarkable moment for a race team that is less than a year and a half old running on a part time basis. Add that Bayston made his 15th start ever in a winged sprint car on Friday, defeating a formidable collection of Ohio and All Star teams, made this the biggest story of the weekend.
Bayston, 18 years old, is just another young and talented driver that doesn't seem intimidated by taking on winged sprint car racing coming out of the midget division. It's interesting that Bayston's generation that is bringing back crossover to winged and non-wing racing that was more common when I was growing up in the 80's and early 90's.
Bayston will be interesting to follow throughout the 2017 season based on how eclectic his schedule is. Midgets, winged sprint cars, and various pavement late model starts dot his schedule. Bayston will follow up his Attica victory with a late model start before racing with POWRi during the re-opening of the dirt track at Route 66 Motor Speedway in Joliet, Illinois and a pair of Indiana World of Outlaws dates at Plymouth and Tri-State Speedways.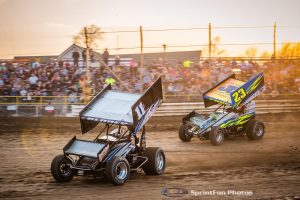 Not to be remiss D.J. Foos picking up the victory with his new team during the Fremont/Attica Sprint Title opener Friday at Attica is a story of perseverance. After a successful run in the 305's early in his sprint car career Foos has been trying to get a solid foothold in the 410 ranks. Finding some chemistry with Jay Kiser and finding some marketing partners they have become the little team that could in Northwest Ohio. Look for Foos and Kiser to make waves at Attica and Fremont throughout the season.
Notes…
Carson Macedo's first Midwest start of the season aboard the JG Motorsports #3G car saw him up front with Bayston before mechanical issues put him out of the event. After a couple of lackluster seasons the JG team is highly motivated and Macedo is one of the rising stars of the sport. This is a team that found success with Shane Stewart and James McFadden in the past and will be one of the storylines to watch during the summer.
After the weekend of USAC National Sprint Car Series races at Bloomington and Tri-State Speedways Justin Grant and Chad Boespflug sit atop the point standings following their wins Friday and Saturday. If you look at the top 10 overall in the
sprint car standings
it leads me to believe the USAC Sprint Cars will be extremely interesting to follow all season.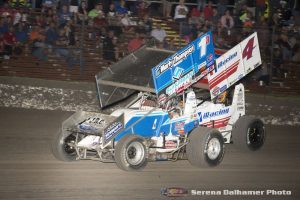 With NASCAR's National touring series off for Easter guest stars were prevalent all around the country for sprint car races. Kasey Kahne made a three starts in Texas with the World of Outlaws at Gator Motorplex and Devil's Bowl Speedway. Kahne managed a best finish of 11th. Kahne's entries with Brad Sweet and Daryn Pittman are both in the top five in points with Sweet solidly holding down third spot after picking up a win Thursday at Gator Motorplex.Former NASCAR competitor and team owner Tony Stewart also returned to World of Outlaws competition during the Texas swing. In a strange twist Stewart finished 22nd in three consecutive World of Outlaws main events.Kyle Larson was victorious in his guest appearance with the Sprint Car Challenge Tour at Placerville Speedway. Another strong field of 63 cars was on hand for the second event for the series. With the Hunt Magneto Sprint Car Series also on hand 94 total sprint cars were on the grounds that performed in front of a sold out audience.
Jamie Veal has been one of the most successful drivers this season in Australia. Over the weekend it was announced Veal will drive for Krikke Motorsports during the 2017-2018 campaign in Australia. Veal takes over for Brooke Tatnell, who has driver for the Krirkke family over the past 12 seasons. This comes off of Veal announcing they were scaling back their family effort in Australia to focus more on their team in the United States.
When Michael Pickens was on the podcast earlier this year he did not have any plans lined up for the United States this season. That has changed as Seamount Racing is considering sending a car over for a short tour of Illinois and Indiana centered on Indiana Midget Week.
Cap Henry was absent from the All Star festivities in Ohio driving the Blazin' Racin' 82 car during the Texas trio of events with the World of Outlaws. Henry's best finish during the three race stint was 15th at Gator Motorplex.
While Knoxville Raceway's opener fell victim to the weather, there seems to be a lot of excitement in Marion County for the upcoming season based on the pre-race party. Knoxville will try to open their season with 410, 360, and 305 sprint cars again on Saturday.
Keith Kunz and Clauson/Marshall Racing both fielding some younger drivers at events this season. Both teams were on hand at Montpelier on Saturday.
If you are looking for an interesting race/concert combination June 8-9. Knoxville will have a weekly program at the Marion County Fairgrounds Saturday June 8th before Metalica plays Iowa Speedway on the Sunday June 9th. The Metalica show is a benefit for the Native Fund.