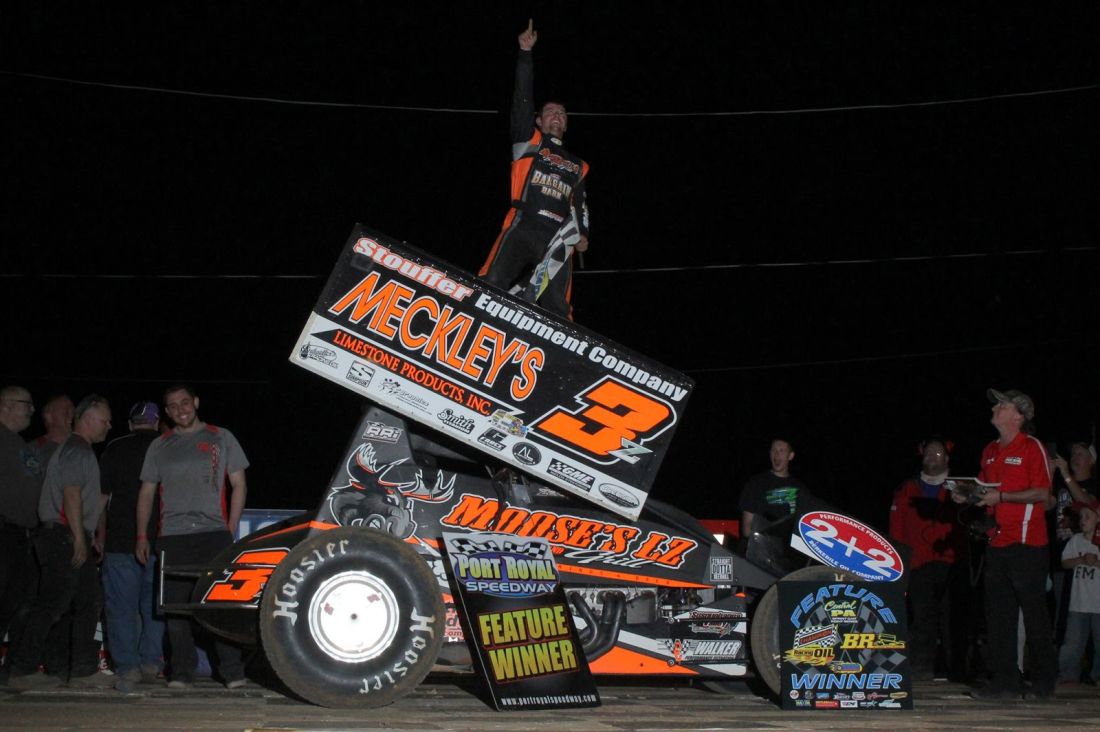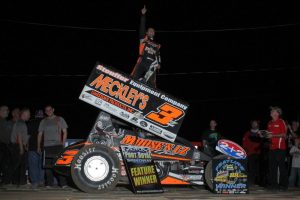 From Fully Injected Motorsports:
JONESTOWN, Pa. (April 17, 2017) – For the first time in 2017, and for the second time in his career, Brock Zearfoss is a main event winner at Port Royal Speedway, this time dominating feature action on Saturday evening, April 15. Despite being delayed four times during the 25-lap main event, two for red flag conditions and two for cautions, Zearfoss remained unchallenged, at one point extending his advantage to nearly five seconds. The victory raised Zearfoss' top-ten total to three on the season at Port Royal Speedway, as well as raised his career win total to three in Central Pennsylvania.
"Man, this feels awesome. The start of the season has been great for us at Port Royal. Take away the motor problems we had last weekend and I think we would be right there near the top of the point chase," Zearfoss explained. "I can't say enough about my team and what they do for me. This is the first of many this year, I hope."
The "Jonestown Jet" Brock Zearfoss will return to competition at the Port Royal Speedway "Speed Palace" on Saturday night, April 22, but not before making a routine visit to the Williams Grove Speedway near Mechanicsburg on Friday, April 21. Zearfoss will enter the upcoming weekend currently sixth in the 2017 Central PA Sprint Cars presented by Hoseheads point standings, working to become just the third repeat feature winner in Central Pennsylvania in 2017.
"I'm confident that we can be a frontrunner all season long in Central Pennsylvania. My team has the motivation and the confidence to race with anyone right now. That is really exciting," Zearfoss said. "With the Arctic Cat All Stars coming to town in two weeks, and with the World of Outlaws coming to town next month, this is a great time to be confident. I'm ready to show our fans what we are capable of doing."
Fans can keep up with Brock Zearfoss during his entire campaign right here at www.fullyinjected.com, or at www.brockzearfoss.com. Be sure and "follow" the "Jonestown Jet" on all of the available social media networks including Twitter: https://twitter.com/brock_zearfoss and Facebook: https://www.facebook.com/brockzearfossracing.
2017 Brock Zearfoss Racing merchandise is now available and can be found at all scheduled events.
2016 Highlights: Earned second career 410 sprint car victory on Saturday night, August 20, at Port Royal Speedway in Port Royal, PA. Finished second in final Port Royal Speedway 410 sprint car track championship in 2016.
2017 Highlights: Started year with back-to-back top-ten finishes at Williams Grove Speedway and Port Royal Speedway on March 24-25. Finished fourth at Susquehanna Speedway on Sunday, April 9. Earned first victory of 2017 at Port Royal on April 15.
2016 Wins: 2 (Williams Grove Speedway & Port Royal Speedway)
2017 Wins: 1 (Port Royal Speedway)
Brock Zearfoss would like to thank all of his marketing partners including: Moose's LZ Bar & Grill, Meckley's Limestone, Central Builders Supply Co., Berkebile Oil Company, BAPS Auto Paint & Supply, Invisible Glass, Walker Performance Filtration, Schaeffer Racing Oil, Smith Precision Products, GME Steering, Simpson Race Products, CR Graphics, G Force Gears, Precision Powder Coat, Susquehanna Valley Speed Shop, RRI Graphics, AL Driveline.
About Fully Injected Motorsports: Headquartered in Western Pennsylvania, Fully Injected Motorsports provides professional grade press releases to multiple short track teams from all areas of the country.