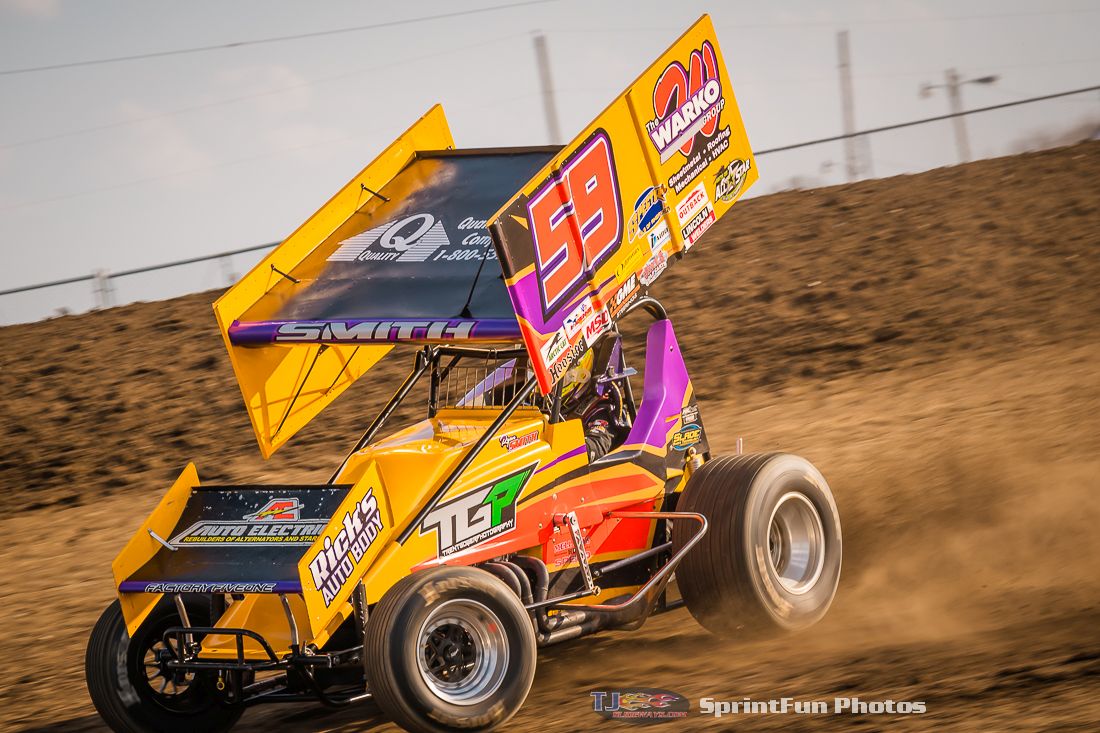 From Inside Line Promotions
ATTICA, Ohio (April 17, 2017) – Running two different cars can be challenging, but Ryan Smith made it work last weekend.
Smith drove the No. 94 at Williams Grove Speedway in Mechanicsburg, Pa., on Friday before piloting the No. 59 at Attica Raceway Park on Saturday with the Arctic Cat All Star Circuit of Champions.
A bad pill draw on Friday put Smith deep in the heat race lineup at Williams Grove Speedway.
"We started eighth and were battling for third, but I made a mistake and we finished fifth," he said. "That put us toward the tail of the feature. I drove up to 12th and I knew there was no difference in pay from 11th on back so I just pulled in to save equipment. The good news was we were a bullet right out of the trailer."
Smith was credited with a 21st-place result.
The team towed west to Attica Raceway Park for the HD Supply Spring Nationals on Saturday. The event drew 47 of the regions top race teams. After struggling early – qualifying 33rd, placing seventh in a heat race and ending 10th in the B Main – Smith used a provisional to get into the A Main.
"We changed everything after hot laps except the colors," he said. "We changed all four shocks and all four bars. This was the first time we've run this car on a sticky track. We threw stuff at it every time we hit the track. We thrashed and thrashed on it just to try and find something and we didn't. To be honest, in the feature the track came to me. We were able to make something good out of a bad night, which is what you have to do when you are chasing points."
Smith rallied from 25th to a seventh-place finish, which earned the Hard Charger Award for passing the most cars. The result propelled Smith and the Leidig/Warko/Smith racing team into fourth place in the All Star championship standings.
"We are going to go to work on that car this week, get the scales out and see what's going on," Smith said. "We are running two different cars and two different operations and hopefully we get everything on the same page this week."
Smith and the Leidig/Warko/Smith racing team plan to head to Lernerville Speedway in Sarver, Pa., on Friday before travelling to Wayne County Speedway near Orrville, Ohio, with the All Stars on Saturday.
"We aren't completely sure about Lernerville yet," he said. "We may go just to do some testing before we head to Wayne County."