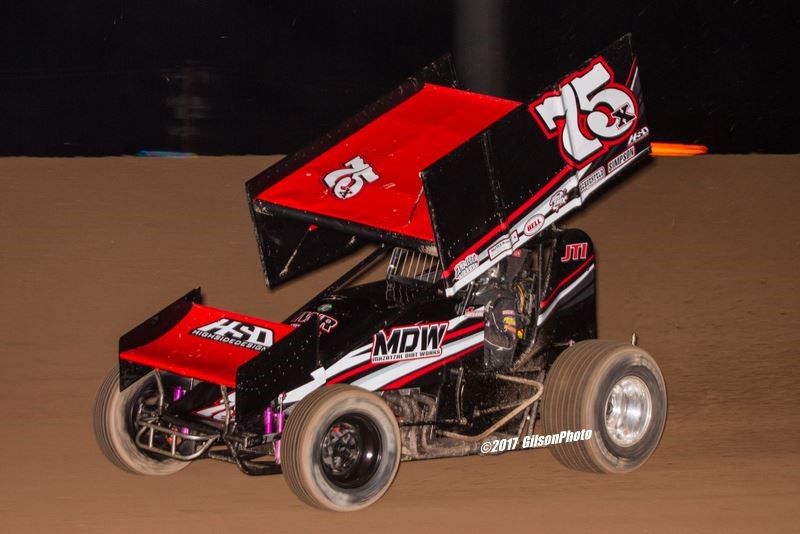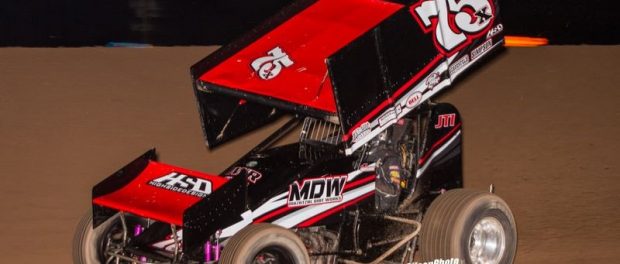 From Bryan Hulbert
QUEEN CREEK, Ariz. (April 22, 2017) – Having been close several times, Arizona's J.T. Imperial finally broke into Victory Lane with the Carlyle Tools ASCS Southwest Region with his first victory coming this past Saturday at Arizona Speedway Queen Creek, Ariz.
Imperial is the 46th different winner with the Carlyle Tools ASCS Southwest Region, and second first time winner on the season following Kevin Thomas, Jr. who picked up the win at the Arizona Speedway on March 11.
Giving chase from the second starting spot, Imperial followed Matt Rossi the first nine rotations before taking over the top-spot with 10 laps in the books. From there, the No. 75x was on cruise control with a margin of 4.897 seconds at the checkered flag over Rick Ziehl, who advanced to second on Lap 21.
Coming from sixth current point's leader, Colton Hardy, made it to his fourth podium finish of the season, despite not having any brakes, with Bob Ream, Jr. and Lance Norick making up the top-five. Damon McCune moved to sixth from 11th with Darrell Sickles coming from 14th to seventh. Mindy McCord wa eighth with Steve Cushman and James Aragon completing the night's top-ten.
Arizona Speedway is the series destination for the next two outings on May 6 and July 1. For continued updates on the ASCS Southwest Region, as well as any of the seven regions and National Tour that make up a lineup of over 150 races in 2017, log onto http://www.ascsracing.com.
Race Results:
ASCS Southwest Region
Arizona Speedway – Queen Creek, Ariz.
Saturday, April 22, 2017
Heat 1 (8 Laps): 1. 20Z-Rick Ziehl[2]; 2. 75X-J.T. Imperial[3]; 3. 33-Steve Cushman[1]; 4. 77-Damon McCune[4]; 5. 11-Mindy McCord[5]; 6. 7-Mark Clark[6]
Heat 2 (8 Laps): 1. 99-James Aragon[1]; 2. 74-Colton Hardy[4]; 3. 0J-Jeremy McCune[2]; 4. 57-Steve Stone[5]; 5. 22-Mike Rux Jr[3]
Heat 3 (8 Laps): 1. 8-Bob Ream Jr[2]; 2. 01-Josh Shipley[3]; 3. 02-Matt Rossi[5]; 4. 90-Lance Norick[1]; 5. 29-Darrell Sickles[4]
A Feature (25 Laps): 1. 75X-J.T. Imperial[2]; 2. 20Z-Rick Ziehl[3]; 3. 74-Colton Hardy[6]; 4. 8-Bob Ream Jr[4]; 5. 90-Lance Norick[12]; 6. 77-Damon McCune[11]; 7. 29-Darrell Sickles[14]; 8. 11-Mindy McCord[13]; 9. 33-Steve Cushman[10]; 10. 99-James Aragon[8]; 11. 02-Matt Rossi[1]; 12. 01-Josh Shipley[5]; 13. 0J-Jeremy McCune[7]; 14. 22-Mike Rux Jr[15]; 15. 7-Mark Clark[16]; 16. 57-Steve Stone[9]