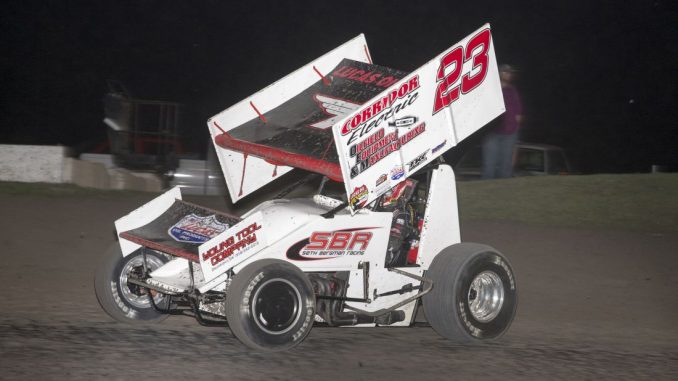 From Bryan Hulbert
WILLIS, Texas (May 6, 2017) – The fifth different winner on the 2017 season with the Griffith Truck and Equipment ASCS Gulf South Region, Washington's Seth Bergman parked it at the Gator Motorplex in Willis, Texas to pick up his first triumph in the Nolan Wren Memorial along with a $3,000 paycheck.
Bergman's fourth career win with the Gulf South Region; Saturday's victory is Seth's first on the season in ASCS competition. Able to hold off Oklahoma's Harli White, Seth led start to finish to add his name to the history books of the Gator Motorplex.
White's runner-up finish is her best of the season as she held off Channin Tankersley who worked to the show position after starting seventh. Ray Allen Kulhanek was fourth with Zane Lawrence posting an impressive top-five finish from the 13th starting spot.
A rebound from a DNF the night before, Canada's Skylar Gee moved to sixth from ninth with Dustin Gates from 11th in tow. Matt Covington as well ended the weekend on a high note with a run from 14th to eighth. In Victory Lane on Friday night, Lady Luck wasn't so nice to Michael Lang who started 21st, but the run through the field to ninth showed her back in his favor. Advancing from 18th to round out the top-ten was Scott Smith.
The Griffith Truck and Equipment ASCS Gulf South Region hits the throttle again on Memorial Day Weekend with a three night run that begins on May 26 at RPM Speedway in Crandall, Texas followed by the Devil's Bowl Speedway in Mesquite on May 27. Ending the trio of races is Lone Star Speedway in Kilgore on Sunday, May 28.
For continued updates on the American Sprint Car Series, from the National Tour to any of the seven regions that make up the ASCS Nation, log onto http://www.ascsracing.com.
Race Results:
ASCS Gulf South Region
Gator Motorplex – Willis, Texas
6th annual Nolan Wren Memorial
Saturday, May 6, 2017
Car Count: 23
Heat 1 (8 Laps): 1. 21T-Ray Allen Kulhanek[1]; 2. 23-Seth Bergman[3]; 3. 88-Scottie McDonald[5]; 4. 29-Travis Rilat[7]; 5. 1-Randy Allen[2]; 6. 48-Cody Stacy[6]; 7. F13-Cody Barksdale[4]; (DNS) 02-Tony Russell
Heat 2 (8 Laps): 1. 17G-Channin Tankersley[1]; 2. 17W-Harli White[3]; 3. 6-Dustin Gates[4]; 4. 51-Caleb Martin[6]; 5. 76-Zane Lawrence[7]; 6. 12-Scott Smith[2]; 7. 17B-Casey Burkham[5]; 8. (DNF) 11-Jerry Cox[8]
Heat 3 (8 Laps): 1. 28-Tommy Bryant[2]; 2. 69-Larry Howery[1]; 3. 57-Jacob Lucas[5]; 4. 99-Skylar Gee[7]; 5. 95-Matt Covington[6]; 6. 4-Austin Mundie[4]; 7. 14-Michael Lang[3]
A Feature (25 Laps): 1. 23-Seth Bergman[2]; 2. 17W-Harli White[1]; 3. 17G-Channin Tankersley[7]; 4. 21T-Ray Allen Kulhanek[3]; 5. 76-Zane Lawrence[13]; 6. 99-Skylar Gee[9]; 7. 6-Dustin Gates[11]; 8. 95-Matt Covington[14]; 9. 14-Michael Lang[21]; 10. 12-Scott Smith[18]; 11. 17B-Casey Burkham[19]; 12. 69-Larry Howery[10]; 13. 1-Randy Allen[15]; 14. 57-Jacob Lucas[8]; 15. 51-Caleb Martin[12]; 16. F13-Cody Barksdale[20]; 17. 28-Tommy Bryant[6]; 18. 02-Tony Russell[23]; 19. 29-Travis Rilat[4]; 20. 88-Scottie McDonald[5]; 21. 4-Austin Mundie[17]; 22. 48-Cody Stacy[16]; 23. 11-Jerry Cox[22]