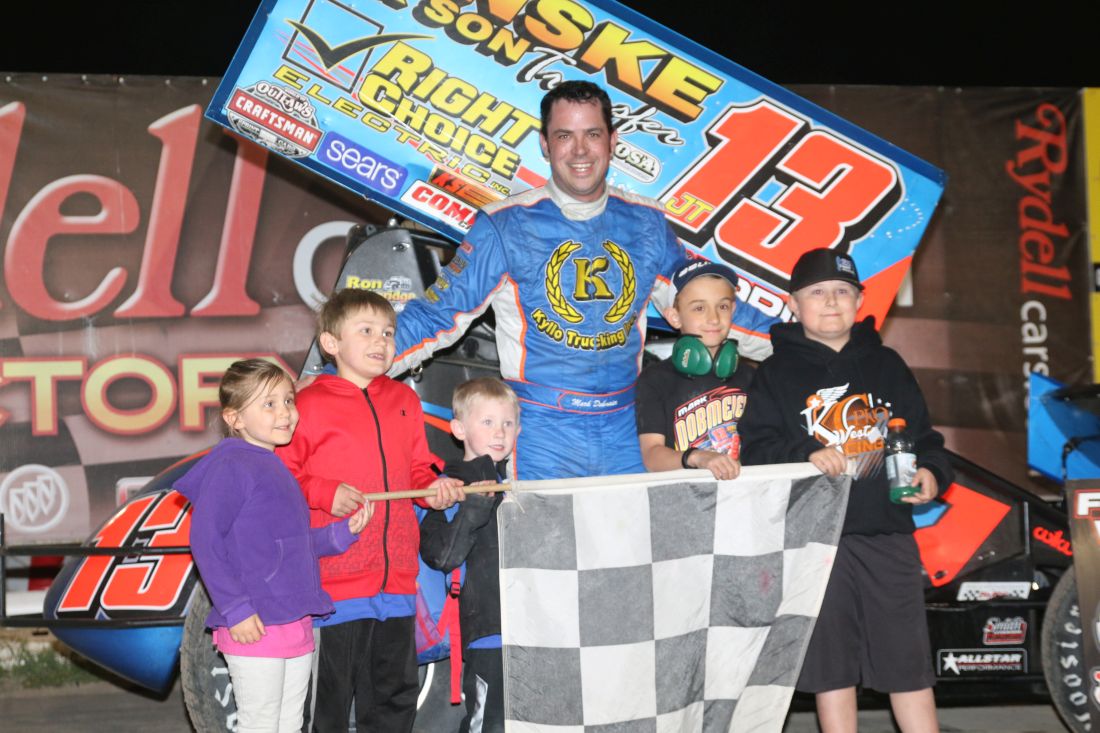 By Bill W
May 8, 2017 – Mark "Dynamite" Dobmeier notched win #125 at his hometown River Cities Speedway in Grand Forks, North Dakota last Friday night. The win came aboard the Jimco Racing/Polaris #13 in the track's season opener. Mark added an impressive top five finish at the Knoxville Raceway in Iowa Saturday. This weekend, the team plans on running at the opener for Jackson Motorplex in Minnesota Friday and at the Silver Shootout at Badlands Motor Speedway near Brandon, South Dakota Saturday.
The opener at River Cities was delayed a week due to weather. "I have to take my hat off to the staff at River Cities," says Mark. "That may be the smoothest night of racing I've ever seen at an opener. Everything was organized. Hot laps started right at 6, and racing at 7. The track was excellent too."
Mark would line up fifth in his heat and run third. "The heat went a little rocky, but we got through there," he says. "The driver and the setup were a little rusty. They flipped a coin to invert the top eight or not. We ended up starting third in the feature."
The feature took a few tries getting started. "We had three tries to get the race going," says Mark. "The first two tries, I passed the front row in the first corner and had the lead coming out of two. But both of those got called back. The third time, they didn't let me slide by so easy. We got to second, and then in a couple of laps, we were able to get by Mitch Mack for the lead."
Mark would never look back. "There was a cushion on the top, so the right rear was hanging over the side a little all the way around," he says. "We had quite a few yellows. It seemed like one of those races that right when you get into lapped traffic, there's a yellow. Overall, it was good. We made the right changes after the heat and the car was a rocket ship in the feature."
The team unloaded fast at Knoxville on Saturday as well. "We were definitely satisfied," says Mark. "I think we had a 14.8 in hot laps, which was good. Our goal in qualifying was to make the board (top five) and we were able to do that with fifth quick."
Starting fifth in his eight-lap heat, Mark stormed to a win in impressive fashion. "The car was just perfect in the heat," he says. "We were able to get a couple of guys on the start, and then we got working the bottom really well. We kept sliding by them, and we worked our way into the lead and won it. The car was working just how it was supposed to."
The feature invert was eight, and Mark was second in points heading in, meaning he would start seventh. "I was the lucky guy to draw the inversion pill," he says. "We had a good car though. I was happy with it. (Brian) Brown, (Tim) Kaeding and I had a heck of a race going there for ten laps. Kaeding was on the bottom and Brown was on the top, and we were all about the same speed. We were all grinding our teeth, but not really going forward."
He would checker fifth. "I felt I made a few mistakes early in the race that may have cost us a few spots in the end," says Mark. "I feel we could have done a few things setup-wise and driver-wise to do a little better, but the good news was we were right there with the leaders at the end."
About Polaris…
Polaris Industries Inc. (NYSE: PII) is a global powersports leader with annual 2015 sales of $4.7 billion. Polaris fuels the passion of riders, workers, and outdoor enthusiasts with our RANGER®, RZR® and POLARIS GENERAL™ side-by-side off-road vehicles; our SPORTSMAN® and POLARIS ACE® all-terrain off-road vehicles; VICTORY® and INDIAN MOTORCYCLE® midsize and heavyweight motorcycles; SLINGSHOT® moto-roadsters; and Polaris RMK®, INDY®, SWITCHBACK®, and RUSH® snowmobiles. Polaris enhances the riding experience with parts, garments, and accessories sold under multiple recognizable brands, and has a growing presence in adjacent markets globally with products including military and commercial off-road vehicles, quadricycles, and electric vehicles. www.polaris.com
Follow Jimco Motorsports and Mark Dobmeier Racing on Facebook…
https://www.facebook.com/Mark-Dobmeier-Racing-329718337235441/?fref=ts
Mark Dobmeier Racing – Home | Facebook
www.facebook.com
Mark Dobmeier Racing, Grand Forks, North Dakota. 7,016 likes · 235 talking about this. Official page of Mark Dobmeier Racing. Keep up to date with…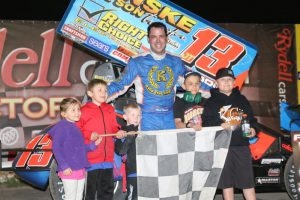 Jimco Motorsports would like to thank Polaris, Senske & Son Transfer, Big Trucks by Jimco, Right Choice Electric, Acme Tools, Interstate Towing & Recovery, Kyllo Trucking, B/L Strong Box, Steffes, Dahlstrom Motors, GLB Transport, Forx Radiator, Anderson Auto Body, Gary Gruhot Farms, Willow Ridge, Rose Creek, Herberg Custom Harvesting, Great Plains Plumbing & Heating, DAV, Ron Gatheridge, Boss Signs & Graphics and Dobmeier Bonding for all their help!