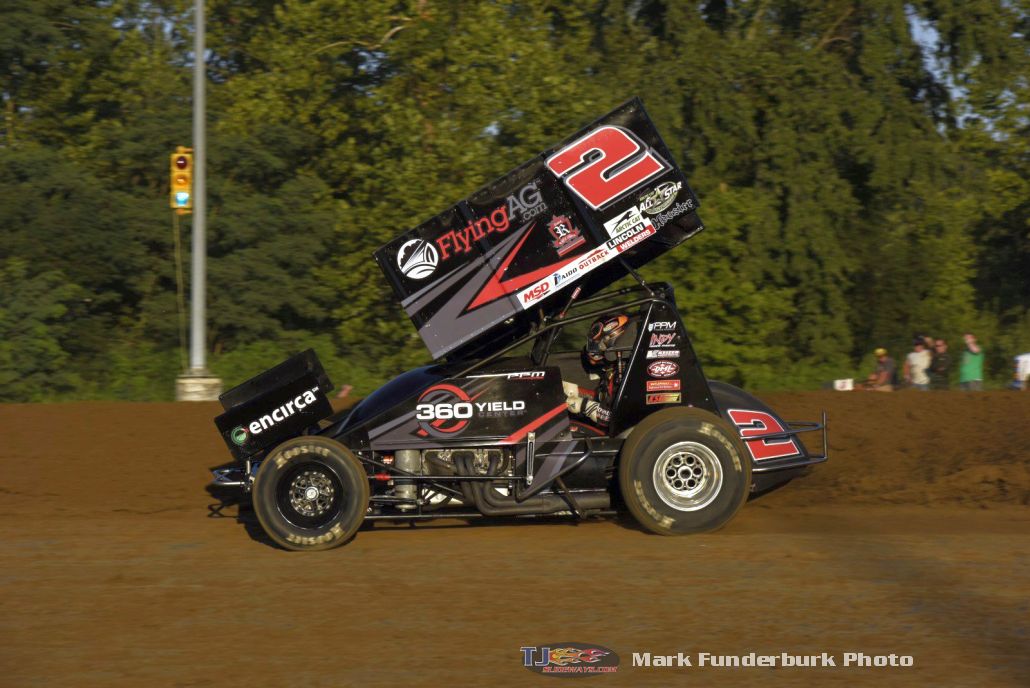 HAUBSTADT, Ind. (May 14, 2017) — All the stars aligned at Tri-State Speedway for Parker Price-Miller. Inheriting the lead on Lap 18 after Sheldon Haundenschild ran into a slower car in lap traffic, causing him to do a complete 360, Price-Miller had to endure challenges from last year's Tri-State Speedway winner, David Gravel. Meticulously working his way through lap traffic, Price-Miller picked the best lanes and would go on to win his first career World of Outlaws Craftsman® Sprint Car Series race.
Starting the season out at DIRTcar National at Volusia Speedway Park in February and continuing with the World of Outlaws Craftsman Sprint Car Series tour through mid-April, before eventually dropping off full-time, Price-Miller knew it was going to be a steep-learning curve.
"We knew going into the season we were going to get our butt-kicked," Price-Miller said about starting the season with the World of Outlaws. "But this was going to make us better as a team. This surely has paid off making me better as driver, getting our car better and making us overall better as a unit."
Price-Miller has shown speed over the last several weeks, having earned fast qualifier at Plymouth Speedway. Entering the special Mother's Day race at Tri-State Speedway, Price-Miller's career best Outlaw finish was a third-place, coming at Tri-State Speedway in 2016.
"I can't explain how I feel right now. Whenever you can get an Outlaw win you take it. Whether it's on a slick, heavy, small or big [track]."
CJB Motorsports entered Tri-State Speedway as the team everyone was looking to knock off. Each of the last three-years, the team has made trips down to Victory Lane at the high-banked quarter-mile speedway. 2016 winner, already a five-time winner in the 2017 World of Outlaws Craftsman Sprint Car Series season was poised to continue the team's win streak at the Haubstadt, IN-track.
Starting from the pole for the evenings 40-lap feature, David Gravel quickly shot out to an early lead. It wasn't long before he was being challenged by 2017 Kevin Gobrecht Rookie-of-the-Year contender, Sheldon Haudenschild. Haudenschild on the top-side of the race track worked his way by Gravel and rocketed out to a commanding lead.
"I knew Sheldon was going to have a [quick] pace and it was a 40-lap race so I was going to let him do what he wanted to do and wait for lap traffic and catch back up," Gravel said.
While Haudenschild was checking out with the race lead, the battle for second heated up with Price-Miller forcing the issue on Gravel. Just shy of the half-way mark Price-Miller was able to get by Gravel for the second position.
It was on Lap 18 when Haudenschild was working his way through lap traffic that he got tangled up with a slower car, sending him into a complete 360-spin dropping the young rookie back in the running order. The yellow flag would eventually come out for a stopped car in Turn 1.
Taking over the lead for the restart and getting the jump, Price-Miller went right back to the top-side of the track. Setting sail from the rest of the field, Price-Miller had the first opportunity to pick his way through traffic.
With under 10-laps to go and in heavy traffic, Gravel starting to close the gap on Price-Miller; setting up the reigning race winner with a chance to go back-to-back at Tri-State Speedway.
"Sheldon [Haudenschild] and Parker [Price-Miller] could really run the cushion pretty aggressively. In open track they're were faster. In open track I think they had us beat but in traffic I thought I could run the bottom and we were pretty good."
Price-Miller seemed to able to point his No. 2X machine wherever he wanted, eventually steering him clear of the lap traffic and runner-up finisher, David Gravel en route to his first World of Outlaws Craftsman Sprint Car Series victory.
"When you've never won an Outlaw race and you're leading, you just go as hard as you can and that's what I did. Luckily we pulled it off."
The World of Outlaws Craftsman Sprint Car Series kicks off another busy week with a stop at Lincoln Speedway on Wednesday, May 17 before heading to Williams Grove for a doubleheader on Friday and Saturday, May 20-21. The Series will then make the trek north to Weedsport Speedway to close out the week of racing on Sunday, May 22. For tickets, visit WorldofOutlaws.com/Tickets.
World of Outlaws Craftsman Sprint Car Series
Tri-State Speedway
Haubstadt, IN
Sunday May 14, 2017
Qualifying: 1. 99-Brady Bacon, 12.396; 2. 49-Brad Sweet, 12.435; 3. 4-Paul McMahan, 12.437; 4. 93-Sheldon Haudenschild, 12.441; 5. 2X-Parker Price-Miller, 12.455; 6. 5-David Gravel, 12.554; 7. 41-Jason Johnson, 12.577; 8. 20N-Hunter Schuerenberg, 12.598; 9. 39-Spencer Bayston, 12.608; 10. 21-Carson Short, 12.696; 11. 19-Brent Marks, 12.736; 12. 2-Shane Stewart, 12.747; 13. 9-Daryn Pittman, 12.78; 14. 15-Donny Schatz, 12.822; 15. 5X-Justin Peck, 12.915; 16. 48-Danny Dietrich, 12.92; 17. 24-Rico Abreu, 12.922; 18. 11K-Kraig Kinser, 12.958; 19. W20-Greg Wilson, 13.003; 20. 84-Brandon Hanks, 13.006; 21. 51B-Joe B, 13.042; 22. 1S-Logan Schuchart, 13.064; 23. 3G-Carson Macedo, 13.079; 24. 17-Joey Saldana, 13.105; 25. 44-A.J. Bruns, 13.122; 26. 4K-Kody Kinser, 13.153; 27. 42-Cory Bruns, 13.155; 28. 7S-Jason Sides, 13.237; 29. 42X-Andy Mcelhannon, 13.276; 30. 1A-Jacob Allen, 13.378; 31. 3-Dakota Jackson, 13.504; 32. 13-Clyde Knipp, 13.751; 33. 71M-Paul May, 18.607; 34. 85-Mike Terry, NT
Heat #1 (10 Laps) – Top 5 Transfer to Feature: 1. 99-Brady Bacon [1]; 2. 2X-Parker Price-Miller [2]; 3. 39-Spencer Bayston [3]; 4. 9-Daryn Pittman [4]; 5. 24-Rico Abreu [5]; 6. 51B-Joe B [6]; 7. 44-A.J. Bruns [7]; 8. 42X-Andy Mcelhannon [8]; 9. 71M-Paul May [9]
Heat #2 (10 Laps) – Top 5 Transfer to Feature: 1. 5-David Gravel [2]; 2. 49-Brad Sweet [1]; 3. 15-Donny Schatz [4]; 4. 21-Carson Short [3]; 5. 11K-Kraig Kinser [5]; 6. 1S-Logan Schuchart [6]; 7. 1A-Jacob Allen [8]; 8. 4K-Kody Kinser [7]; 9. 85-Mike Terry [9]
Heat #3 (10 Laps) – Top 5 Transfer to Feature: 1. 41-Jason Johnson [2]; 2. 4-Paul McMahan [1]; 3. 3G-Carson Macedo [6]; 4. 5X-Justin Peck [4]; 5. 19-Brent Marks [3]; 6. W20-Greg Wilson [5]; 7. 42-Cory Bruns [7]; 8. 3-Dakota Jackson [8]
Heat #4 (10 Laps) – Top 5 Transfer to Feature: 1. 93-Sheldon Haudenschild [1]; 2. 20N-Hunter Schuerenberg [2]; 3. 2-Shane Stewart [3]; 4. 17-Joey Saldana [6]; 5. 7S-Jason Sides [7]; 6. 48-Danny Dietrich [4]; 7. 13-Clyde Knipp [8]; 8. 84-Brandon Hanks [5]
Craftsman Club Dash (8 Laps): 1. 5-David Gravel [2]; 2. 93-Sheldon Haudenschild [4]; 3. 49-Brad Sweet [6]; 4. 2X-Parker Price-Miller [5]; 5. 41-Jason Johnson [3]; 6. 4-Paul McMahan [7]; 7. 20N-Hunter Schuerenberg [8]; 8. 99-Brady Bacon [1]
Last Chance Showdown (12 Laps) – Top 4 Transfer to Feature: 1. W20-Greg Wilson [2][-]; 2. 1S-Logan Schuchart [5][-]; 3. 44-A.J. Bruns [6][-]; 4. 51B-Joe B [4][-]; 5. 4K-Kody Kinser [7][$300]; 6. 3-Dakota Jackson [11][$250]; 7. 42X-Andy Mcelhannon [9][$225]; 8. 42-Cory Bruns [8][$200]; 9. 13-Clyde Knipp [12][$200]; 10. 1A-Jacob Allen [10][$200]; 11. 48-Danny Dietrich [1][$200]; 12. 84-Brandon Hanks [3][$200]; 13. 71M-Paul May [13][$200]; 14. 85-Mike Terry [14][$200]
Feature (40 Laps): 1. 2X-Parker Price-Miller [4][$10,000]; 2. 5-David Gravel [1][$5,500]; 3. 41-Jason Johnson [5][$3,200]; 4. 2-Shane Stewart [12][$2,800]; 5. 99-Brady Bacon [8][$2,500]; 6. 93-Sheldon Haudenschild [2][$2,300]; 7. 49-Brad Sweet [3][$2,200]; 8. 20N-Hunter Schuerenberg [7][$2,100]; 9. 4-Paul McMahan [6][$2,050]; 10. 9-Daryn Pittman [13][$2,000]; 11. 15-Donny Schatz [10][$1,500]; 12. 39-Spencer Bayston [9][$1,200]; 13. 17-Joey Saldana [16][$1,100]; 14. 24-Rico Abreu [17][$1,050]; 15. 11K-Kraig Kinser [18][$1,000]; 16. 19-Brent Marks [19][$900]; 17. 7S-Jason Sides [20][$800]; 18. 21-Carson Short [14][$800]; 19. W20-Greg Wilson [21][$800]; 20. 3G-Carson Macedo [11][$800]; 21. 44-A.J. Bruns [23][$800]; 22. 1S-Logan Schuchart [22][$800]; 23. 5X-Justin Peck [15][$800]; 24. 51B-Joe B [24][$800]; Lap Leaders: David Gravel 1-5, Sheldon Haudenschild 6-18, Parker Price-Miller 19-40; KSE Hard Charger Award: 2-Shane Stewart[+8]