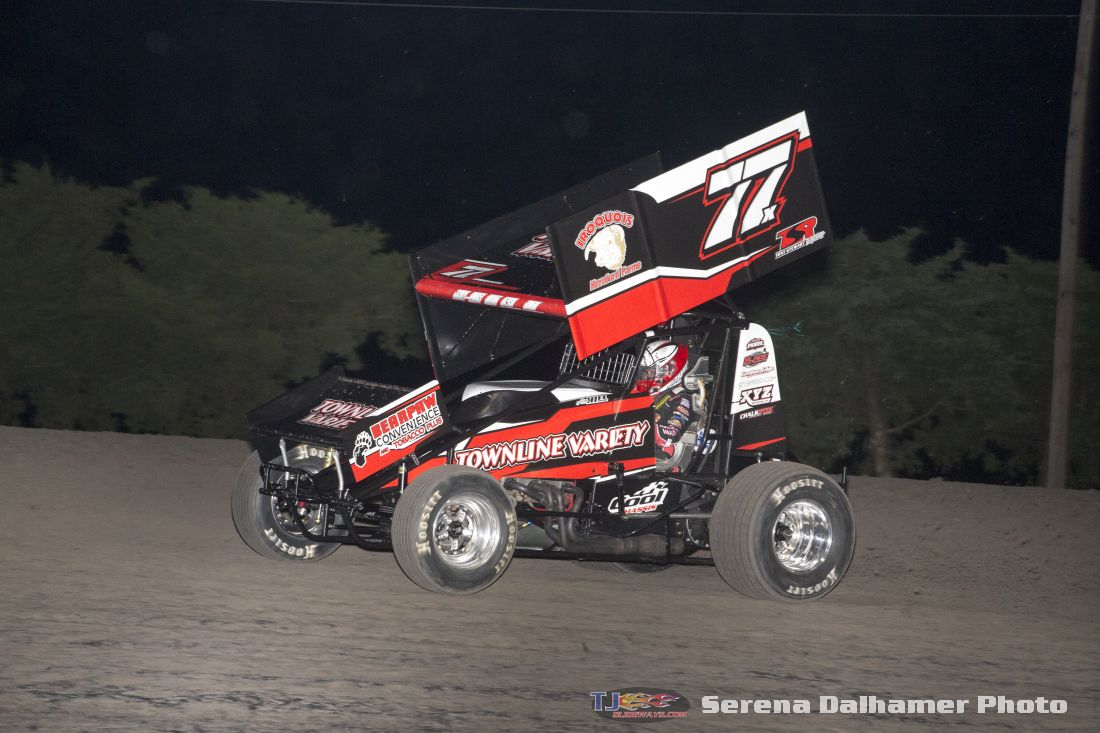 Inside Line Promotions
HUMBOLDT, Kan. (May 16, 2017) – Alex Hill will return home this weekend to test what she has learned after spending the last couple of months on the road.
Hill is set to compete this Friday at Ohsweken Speedway in Ohsweken, Ontario, Canada, for the 22nd annual Season Opening Night.
"I'm pretty excited," she said. "We're going to see how much better we've gotten after being out on the road. We've learned a lot and I think that will show this weekend at a track we're familiar with."
Hill has two crate sprint car wins – both in 2015 – during her career at the track, but is hoping this weekend produces her first career 360ci winged sprint car triumph. A good result would also be productive for the team after it endured a couple of frustrating outings in Kansas last weekend.
"We had car troubles all weekend," she said. "We just couldn't catch a break. The first night the throttle was messed up. I tried to push it down and it wouldn't go. I'd have to lift it with my foot. Then my brakes were seizing up. I wasn't even touching them and they were on all race."
Hill was unable to finish her heat race and she placed eighth in the B Main last Thursday at Lakeside Speedway in Kansas City following the mechanical woes.
The weekend wrapped up on Friday at Humboldt Speedway, where Hill finished fourth in a heat race to start the B Main on the outside of the front row.
"Everything was going well," she said. "The car was fast. We were going to transfer to the A Main, but the car just stopped as I was going into turn one."
Hill was running second just before the midpoint of the race when a fuel problem occurred. She was unable to resume action and the weekend ended early.
QUICK RESULTS –
May 11 – Lakeside Speedway in Kansas City, Kan. – Heat race: DNF (8); B Main: 8 (9).
May 12 – Humboldt Speedway in Humboldt, Kan. – Heat race: 4 (2); B Main: DNF (2).
SEASON STATS –
11 races, 0 wins, 0 top fives, 0 top 10s, 0 top 15s, 2 top 20s
UP NEXT –
Friday at Ohsweken Speedway in Ohsweken, Ontario, Canada, for the 22 nd annual Season Opening Night
MEDIA LINKS –
Website: http://www.HillsRacingTeam.com
Twitter: https://twitter.com/HillsRacingTeam
Facebook: https://www.facebook.com/hillsracing/
SPONSOR SPOTLIGHT – Davis Fuels
Davis Fuels is a family-owned and operated fuel distributor serving Brantford, Brant County, Simcoe, Hagersville, Tillsonburg, Woodstock and London for more than 55 years. The company provides comprehensive fuel supply, delivery, distribution and dispensing solutions for commercial, industrial, agricultural and residential customers. It also provides oil/propane heating and cooling systems, lubricants and propane. For more information, visit http://www.DavisFuels.ca.
"Davis Fuels has been long-time supporters of my dad's business and we're thrilled to have them as partners on our race team," Hill said.
Hill would also like to thank Townline Variety, BearPaw Gas and Convenience, Iroquois Hereford Farms, Tony Stewart Racing, Ackland Insurance, Creative Edge, Lettrage Pixel, Chalkstix, Slade Shock Technologies, Cool Chassis, XYZ Machining, Fisher Racing Engines, Gaerte/Topp Performance Race Products and Strodes for their continued support.
INSIDE LINE PROMOTIONS –
Inside Line Promotions specializes in affordable public relations and media management for motor sports drivers, teams, sponsors, tracks, series, events, organizations and manufacturers. ILP Founder Shawn Miller leverages professional journalism with new media technologies and social networking to improve your exposure and the return on investment for your sponsors.
To meet the media relations needs of your program by joining Team ILP, contact Shawn at 541-510-3663 or Shawn@InsideLinePromotions.com . For more information on Inside Line Promotions, visit http://www.InsideLinePromotions.com.
*PHOTO BY SPEEDWAY SHOTS*