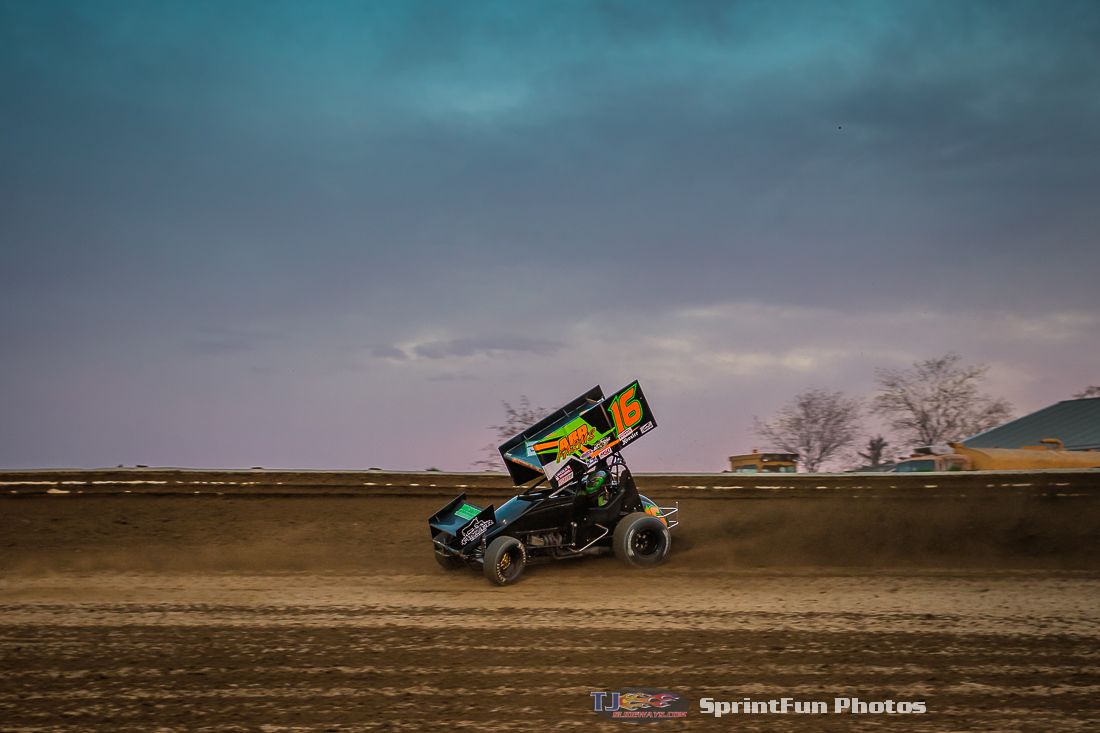 By Mike Swanger
Another night of jammed packed pits along with some nice weather and a fantastic racing surface made for some great racing at NAPA Wayne County Speedway on Bechtel Services night on Saturday. The Ohio Valley Sprint Car Association would make their 1st appearance of the year at 'Orrville's Historic Oval' and Wooster's Danny Mumaw loves when the OVSCA rolls in as he won two of their races last season at NAPA WCS and tonight would set on the pole and at the drop of the green flag would out drag race Dean Jacobs into turn one and lead all the way in the 25 lap event. There would be four caution flags through out the feature and on each restart, Jacobs would try to power his way past Mumaw in turns one and two but Mumaw and his ABR Farms, Finish Line Autobody and Finzer Farms #16 would drive away from Jacobs. Jordan Ryan would run third but the fans eyes would be the battle between two Hall of Fame drivers. Seventh starting Danny Smith and Jac Haudenschild, who started 11th, would match up on lap 6 and battled back and forth behind Jamie Myers for fourth place until lap 19 when Haudenschild pulled into the infield with mechanical problems and Smith would end up 4th. At that point in the race both had gotten around Myers who would find himself in a race with OVSCA points leader Nathan Skaggs for a top 5 finish and Myers would win out over Skaggs for fifth. Jacobs, Jamie Myers, Andre Layfield and Bryan Nuckles won the heat races as Steve Butler and last weeks feature winner, Andrew Palker, topped the last chance races.
Tuning up for next weeks World of Outlaw Late Model invasion, the Kar Connection Super Late Models were in top form with some great action for a place in the top five. Much like the Sprint race, Wooster's Doug Drown would beat Ryan Markham out of turn two for the lead and then go flag to flag aboard the Hall's Auto Sales, Wooster Glass and Kar Connection #240 for the win. Markham would run second and tried to take the lead away from Drown on each of the four restarts following caution flags. Last years track Champion, Brad Malcuit, Charlie Duncan, JR Gentry, Corey Conley and Matt Irey were all bunched together behind the two front runners. Malcuit would jump the cushion in turn four and tap the wall and come to a stop on lap 19, ending his run. Two laps later, Gentry, Duncan and Conley all made contact with each other with Gentry's ride backing into the guardrail and he would go to the pits as Duncan's ride received heavy damage to the right rear quarter panel but stayed in the race. As the green flag flew for the last 4 laps, Drown held off Markham's last challenge with Duncan in third. On the last circuit, Irey would power past Conley to take 4th. Heat wins were claimed by Markham, Drown and Duncan.
Canton's Paul Holmes led all the way in the Lowes Super Stock feature and parked his #68 in the Summit Racing victory lane for the 1st time this season. A great battle for second place had the fans attention as Gary Hensel Jr. and 8th starting Bob Daugherty, a two time winner this season, would exchange second place several times in the 20 lap event. Daugherty would take control of second with three laps to go but could not catch up to Holmes. Hensel Jr. finished in the third spot as Dustin Daugherty and T A Perrine filled out the top five. Hensel Jr. and D. Daugherty bested the heat races.
Brad Hensel of Smithville started 4th in the WQKT 104.5 Mini Stock main and by the end of the first lap was in the lead and the DJ Directional Services and JoyRide Transportation #28 then kept Wes Staley at bay for the last 6 circuits to post his 1st win of the season. Staley would take second from Justin Cranmore at the 1/2 mark but could not get by Hensel for the top spot. Cranmore would finish third as 9th starting and last weeks winner, Stephen Crowe, would finish fourth and Last Chance winner Colton St. John grabbing fifth. Heat winners were Wes Staley, Brad Hensel and Brianna Hensel.
Contingency Connection awards were once again in play for the drivers as nearly $100,000 of awards and prizes are up for grabs for the season at NAPA Wayne County Speedway.
Next Saturday night, May 27th will see the World of Outlaw Craftsman Late Models come in for a $10,000 to win 50 lap feature as Brandon Sheppard will lead the traveling troupe into the nights action. The Lowes Super Stocks will also compete. For more news and info for this race and the schedule, go to www.waynecountyspeedway.com
NAPA WAYNE COUNTY SPEEDWAY RESULTS
Saturday, May 20, 2017
OVSCA/FISHER PERFORMANCE SPRINTS
Heat   1   Dean Jacobs, Danny Mumaw, Ronnie Blair, Trevor Baker, Dave Dickson, Dylan Kingan, Andy Fike, Bret Barbone dns
Heat   2   Jamie Myers, Jordan Harble, Nathan Skaggs, Russ Sansosti, Steve Butler, Cody Gallogly, Chase Baker, Brad Keckler, Jason Dolick
Heat   3   Andre Layfield, Nick Patterson, Jac Haudenschild, Josh Davis, Ryan Fredericks, Bill Ault, Randy Fink, Lane Cecil, Chris Myers
Heat   4   Bryan Nuckles, Danny Smith, Troy Kingan, Jordan Harble, Andrew Palker, Tyler Dunn, Chris Ferrall, Nate Reeser, Kris Davis, Brian Benson
L.C. #1     Steve Butler, Dave Dickson, Cody Gallogly, Kris Davis, Andy Fike, Brad Keckler, Dylan Kingan, Jason Dolick dns, Chase Baker dns, Bret Barbone dns
L.C. #2     Andrew Palker, Ryan Fredericks, Tyler Dunn, Chris Ferrall, Randy Fink, Nate Reeser, Brian Benson, Bill Ault, Lane Cecil, Chris Myers dns
Feature   Danny Mumaw, Dean Jacobs, Jordan Ryan, Danny Smith, Jamie Myers, Nathan Skaggs, Andrew Palker, Andre Layfield, Jordan Harble, Nick Patterson, Tyler Dunn, Josh Davis, Steve Butler, Russ Sansosti, Dave Dickson, Jac Haudenschild, Ryan Fredericks, Bryan Nuckles, Ronnie Blair, Troy Kingan, Trevor Baker dns