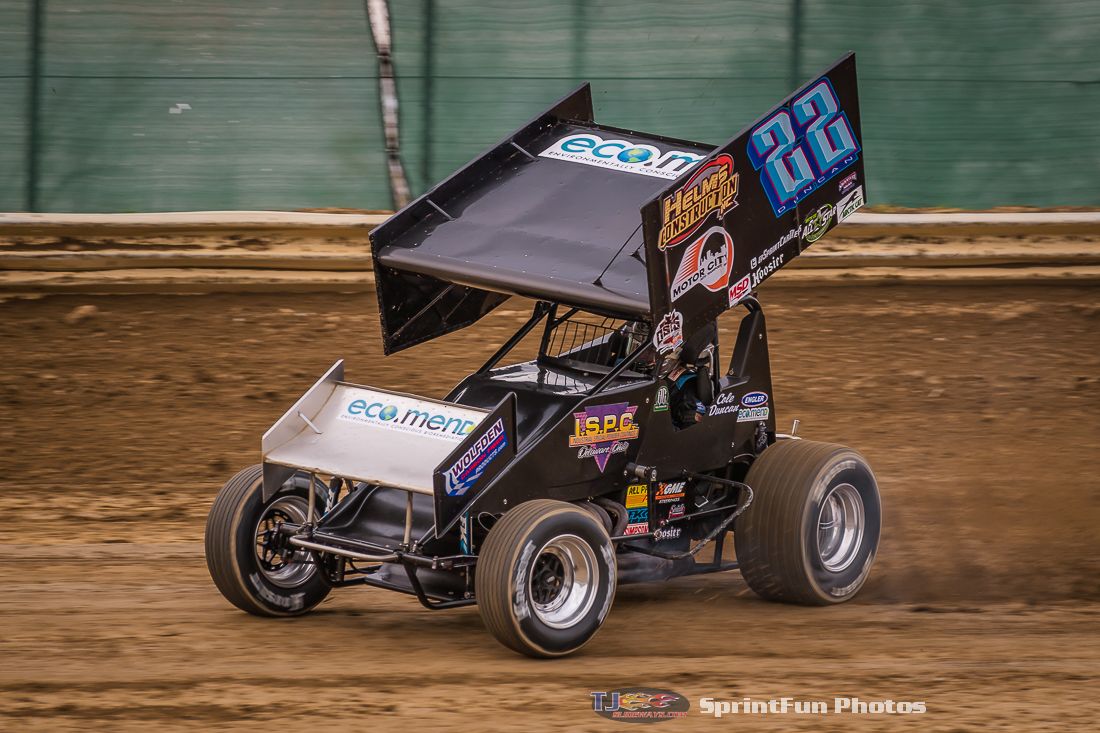 From Mike Swanger
ORRVILLE, Ohio (June 10, 2017) — The Ohio Sprint Car Series (OSCS) pulled into NAPA Wayne County Speedway for the 1st time this season on Fisher Performance night as dash winner Jordan Ryan and Danny Smith would lead the field to the green flag and Smith, the current points leader for the OSCS, would take the lead out of turn two on the opening lap. Lockbourne's Cole Duncan would motor past Ryan on lap three for second and then Ryan and Sean Zemunik would battle back and forth for third until lap 14 when Zemunik pulled into the infield. The race's first caution flag would wave on the next circuit for Clay Riney, who spun in turn one with a flat tire, that would be changed and he would continue. On the restart, Duncan, last season's OSCS champion, began to hound Smith for the lead and on lap 20 would dive low in turn three and slide up in front of Smith coming out of turn four for the top spot. The caution would fly again on the next lap for Danny Mumaw who smacked the turn four guardrail. That would set up a four lap dash to the checkered flag but Duncan would pull away aboard the family owned #22 as Smith held on to second. Ryan held off a late challenge from Cale Conley for third as Brad Haudenschild, who started 11th, made a last lap pass on Mike Terry Jr. for fifth. Heat winners were Smith, Duncan and Ryan Myers while Andrew Palker topped the last chance race.
It was an action packed 25 lap feature for the Kar Connection Super Late Models as Charlie Duncan claimed the front spot at the drop of the green flag from his outside front row starting position with pole sitter Matt Irey into second. Doug Drown would pull into third on lap two and points leader Ryan Markham would take fourth from Larry Bellman on lap nine. A caution on lap 11 for a spun Andrew Myers would see Duncan exit the track with mechanical issues and Drown to the pits to change a flat tire. Ashland's Irey would inherit the lead with Markham in second followed by Bellman and Cody Scott. It took Drown five circuits to get back to third place and then another caution on lap 17 and on the ensuing restart, TROUBLE appeared in capital letters. Heavy contact between Irey, Markham and Drown going into turn one and it would continue into turn two when Markham flipped over Drown's car and ended up on his top. Drown's night was finished while Markham was put back on all fours and went to the pits to check things out and would return as Bellman also went to the pits with a flat tire. Irey's Dzugan Real Estate, Rod Eddleblute's Garage and Mid Ohio Graphics #36 received a lot of damage but held onto the lead. As racing resumed, it was Irey, Scott, Jim Nicely, Blaine Aber, and Markham and Bellman who were the last still on the lead lap. Irey would pull away in the final 8 laps for his 1st ever NAPA WCS win as Nicely slipped past Scott with four to go but his power plant began to sputter right after that and he would drop out of the top five. Markham, the points leader, would pick his way back through the field and passed Scott on the last lap for second as Bellman and Blaine Aber filled out the top five. Markham and Drown scored the heat wins.
The Lowes Super Stocks feature had it's twist and turns also as T A Perrine took his pole position starting spot and built up a straight away lead in the first nine laps of the race when the caution flag waved for the first time and negating Perrine's big lead. Bob Daugherty and Canton's Paul Holmes would be on Perrine's rear bumper as the green flag reappeared. Perrine held serve for the next two laps as Daugherty out dueled Holmes for second and swiped the lead away from Perrine on lap 12 as Holmes followed suit on Perrine on the next circuit. Holmes and his Don Rutt Builders and Medina Mountain Motors #68 would power past Daugherty on the next lap. Jordan James, Tyler Nicely and Gary Hensel Jr. were in a tussle for fourth place all this while. Action would be slowed on lap 17 when Nicely's ride broke and came to a stop and during that time both Daugherty and Hensel Jr. pulled off with mechanical woes. Before another lap could be recorded, contact going down the backstretch between some cars would see Frank Oriti slide up into the turn three wall and Jon Preston making contact with Oriti's car ending both of their chances of a top five finish. As the checkered flag waved, Holmes would win for the second time this season as Perrine finished second followed by James, Chris Albright and Tom Hudson. Pocketing the heat wins were Daugherty and Holmes.
It took two tries to get the WQKT 104.5 Mini Stock feature underway but after that it was non stop as Smithville's Brad Hensel would take the lead away from Michael Stewart on lap three and then park the DJ Directional Services and JoyRide Transportation #28h in the Summit Racing victory lane for the second time this season. Stewart would go the last 10 laps looking at the back of Hensel's car while fending off points leader Corey Staley's advances. Jeff Slykhuis and Taylor Mazzoleni finished fourth and fifth as both posted their first top fives of the year. Stewart, Jason Henderson and Brad Hensel topped the heat races.
All drivers were once again competing for the Contingency Connection's Racer Rewards for the night and season long awards.
The next action at NAPA Wayne County Speedway will come on Monday, June 19th with Tony Stewart's All Star Circuit of Champions Speed Week show and the Duffy Smith Memorial paying $5,000 to win. The Lowes Super Stock will be racing for $1,000 to win as they compete in the 1st Danny Gardner Memorial race. This will be a non points race for the Lowes Super Stock although all that race will receive show points. For more info about the track and the schedule, go to www.waynecountyspeedway.com
NAPA WAYNE COUNTY SPEEDWAY RESULTS
Saturday, June 10, 2017
OHIO SPRINT CAR SERIES & FISHER PERFORMANCE SPRINTS
Heat 1 Danny Smith, Sean Semunik, Nick Patterson #23, Jason Dolick, Danny Mumaw, Troy Kingan, Bill Ault, Bryan Nuckles, Clay Riney
Heat 2 Cole Duncan, Cale Conley, Mike Terry, Brad Haudenschild, Mark Imler, Andrew Palker, Dean Jacobs, Dylan Kingan
Heat 3 Ryan Myers, Jordan Ryan, Tyler Dunn, Mitch Harble, Russ Sansosti, Nate Reeser, Nick Patterson#33, Steve Butler
Dash Jordan Ryan, Danny Smith, Cole Duncan, Cale Conley, Sean Zemunik, Ryan Myers
B Main Andrew Palker, Clay Riney, Nate Reeser, Troy Kingan, Dean Jacobs, Steve Butler, Bill Ault, Nick Patterson#33, Bryan Nuckles, Dylan Kingan
Feature Cole Duncan, Danny Smith, Jordan Ryan, Cale Conley, Brad Haudenschild, Mike Terry, Nick Patterson#23, Jason Dolick, Dean Jacobs, Tyler Dunn, Mitch Harble, Andrew Palker, Clay Riney, Ryan Myers, Mark Imler, Russ Sansosti, Nate Reeser, Danny Mumaw, Troy Kingan, Sean Zemunik
KAR CONNECTION SUPER LATE MODELS
Heat 1 Ryan Markham, Cody Scott, Jim Nicely, Jerry Aber, Brett Bee, Rob Metz, Andrew Myers, Bob Fry dns
Heat 2 Doug Drown, Matt Irey, Larry Bellman, Charlie Duncan, J R Gentry, Blaine Aber, Randy Davis
Feature Matt Irey, Ryan Markham, Cody Scott, Larry Bellman, Blaine Aber, Jerry Aber, Randy Davis, Rob Metz, Jim Nicely, Brett Bee, Doug Drown, Andrew Myers, Charlie Duncan, Bob Fry, J R Gentry
LOWES SUPER STOCKS
Heat 1 Bob Daugherty, Jordan James, T A Perrine, Chris Albright, Tom Hudson, Don Rutt, Gary Hensel Jr., Brandon Dormaier, Cliff Staley
Heat 2 Paul Holmes, Tyler Nicely, Frank Oriti, Jon Preston, Tod Bevilacqua, Steve Ott, Jamie Gibbs, Ryan Tope
Feature Paul Holmes, T A Perrine, Jordan James, Chris Albright, Tom Hudson, Don Rutt, Jamie Gibbs, Frank Oriti, Jon Preston, Bob Daugherty, Tyler Nicely, Gary Hensel Jr., Ryan Tope, Tod Bevilacqua, Steve Ott, Cliff Staley, Brandon Dormaier dns
WQKT 104.5 MINI STOCKS
Heat 1 Michael Stewart, Stephen Crowe, Doug Hensel, Corey Staley, Mitch Reichard, Dustin Smith, Brianna Hensel, Sean Rush
Heat 2 Jason Henderson, Wayne Newberry, Jeff Slykhuis, Dustin Bedlion, Randy Gibson, Jessica Hensel, Roger Rush, Jeffrey Slykhuis
Heat 3 Brad Hensel, Taylor Mazzoleni, Lance Smith, Jim Burns, Buzz Bender, Clayton Evans, Justin Cranmore, Wes Staley dns
Feature Brad Hensel, Michael Stewart, Corey Staley, Jeff Slykhuis, Taylor Mazzoleni, Mitch Reichard, Lance Smith, Buzz Bender, Jason Henderson, Randy Gibson, Jessica Hensel, Dustin Bedlion, Dustin Smith, Clayton Evans, Wayne Newberry, Doug Hensel, Jim Burns, Brianna Hensel dns, Roger Rush dns, Justin Cranmore dns, Sean Rush dns, Wes Staley dns, Jeffrey Slykhuis dns, Stephen Crowe dns