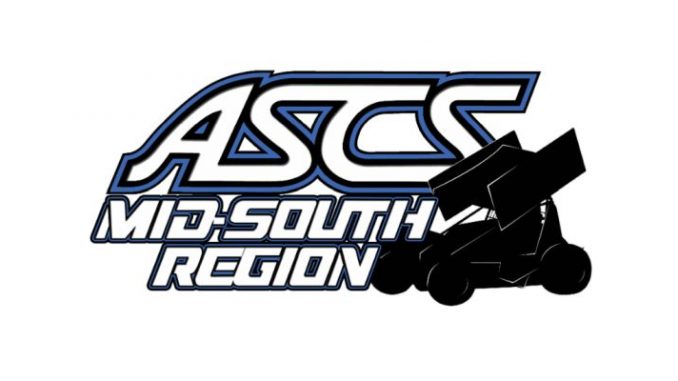 From Bryan Hulbert
W. MEMPHIS, Ark. (June 10, 2017) Taking the top spot just before the half-way point of Saturday's A-Feature at "The Ditch", Tennessee's Howard Moore wheeled his No. 40 to victory with the ASCS Mid-South Region at Riverside International Speedway on Saturday night.
The third winner on the season in just as many races, Moore rolled by Andy McElhannon on the tenth round for his first ASCS Mid-South score, and second ASCS regional victory of his career. McElhannon held on to second with Tim Crawley moving forward three spots to third. From eighth, Gary Taylor grabbed fourth with Marshall Skinner making the top-five.
Jeremy Middleton, Ernie Ainsworth, Dakota Gaines, Brad Bowden, and 18th starting Wally Henson made the night's top-ten.
Coming up, the ASCS Mid-South Region will be back on July 2 at Diamond Park Speedway and July 3 at Crowley's Ridge Raceway for an Independence Day Weekend showdown. For continued updates on the American Sprint Car Series, from the National Tour to the seven regional tours that make up the over 150 dates across the ASCS Nation, log onto http://www.ascsracing.com.
Race Results:
ASCS Mid-South
Riverside International Speedway – West Memphis, Ark.
Saturday, June 10, 2017
Car Count: 19
Heat 1: 1. 1X-Gary Taylor, [1]; 2. 40-Howard Moore, [3]; 3. 31-Justin Webb, [2]; 4. 91A-Ernie Ainsworth, [7]; 5. 12M-Greg Merritt, [5]; 6. 23B-Brian Bell, [4]; 7. 2H-Wally Henson, [6]
Heat 2: 1. 26-Marshall Skinner, [2]; 2. 39-Brad Bowden, [5]; 3. 15J-Jeremy Middleton, [4]; 4. 44-Ronnie Howard, [3]; 5. 10K-Dwayne White, [1]; (DNS) 44C-Chase Howard,
Heat 3: 1. 3-Sammy Swindell, [2]; 2. 42-Andy McElhannon, [4]; 3. 88-Tim Crawley, [5]; 4. D6-Dakota Gaines, [6]; 5. 93-Jake Knight, [3]; 6. 21K-Kevin Hinkle, [1]
Pizza Express of Okla. A Feature (25 Laps): 1. 40-Howard Moore, [2]; 2. 42-Andy McElhannon, [1]; 3. 88-Tim Crawley, [6]; 4. 1X-Gary Taylor, [8]; 5. 26-Marshall Skinner, [3]; 6. 15J-Jeremy Middleton, [9]; 7. 91A-Ernie Ainsworth, [7]; 8. D6-Dakota Gaines, [10]; 9. 39-Brad Bowden, [4]; 10. 2H-Wally Henson, [18]; 11. 93-Jake Knight, [14]; 12. 31-Justin Webb, [11]; 13. 10K-Dwayne White, [15]; 14. 44-Ronnie Howard, [12]; 15. 3-Sammy Swindell, [5]; 16. 23B-Brian Bell, [16]; 17. 44C-Chase Howard, [19]; 18. 12M-Greg Merritt, [13]; 19. 21K-Kevin Hinkle, [17]
ASCS | O: 918-838-3777 | F: 918-836-5517 | http://www.ascsracing.com
STAY CONNECTED: