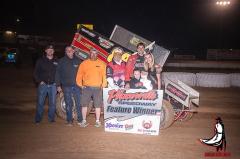 ---
By Gary Thomas and Brad Kennedy

Placerville, CA – June 10, 2017…Roseville's Sean Becker showed his veteran expertise on Saturday night at the Placerville Speedway, snagging the lead in traffic and going on to take the checkered flag for his first victory of the Red Hawk Casino championship season at the quarter-mile.

Also sharing victory lane on Saturday were Matt Micheli with the Ltd. Late Models, Jason Palmer with the Pure Stocks, Danny Wagner with the Nor-Cal Dwarf Car Association and Derek Boarman in the Mini Trucks. A total of 75 cars signed into the pit area on Thompson's Auto Fan Appreciation Day at the races.

Becker was making his third Thompson's Auto Winged Sprint Car start of the year aboard the Dan Monhoff owned M&M Structures No. 88n sprinter and certainly made it pay off, scooping up the $2000 payday with extra money courtesy of Thompson's New GMC Auto Center. "It feels great to give Dan and the whole 88n team a win tonight," Becker said. "I really enjoy getting the chance to drive this car whenever possible."

Early on in the feature it was Rio Linda's Cody Lamar who showed the way while making his first weekly start of the season. In the opening stages second and third place runners Jimmy Trulli and Steven Tiner battled, as Tiner got by for the runner up spot before a caution occurred when fifth place starter Justin Sanders came to a stop in turn four.

On the restart Tiner tried to drive around Trulli for second. Tiner and Greg Decaires then made contact, ultimately spinning the 94 of Tiner sideways. Both Decaires and Tiner somehow continued on, but Decaires fell to 14th, while Tiner fell to 19th.

Lamar continued to set a high temp pace as Colby Wiesz and Sean Becker turned on the burners to reel Lamar in as traffic came into play. The trio went three wide on multiple occasions, until Lamar hit the burn on the exit of turn two sending him up the track blocking Weisz's momentum and allowing Becker to drive by both on lap 19.

Becker went on to claim his 101st career sprint car victory.
Watsonville's Justin Sanders rebounded from the early stoppage to charge for a second place finish at the checkered. It was also Sanders' initial start of the Red Hawk Casino championship season. Colfax racer Wiesz claimed third, with Lamar and Placerville's Jimmy Trulli rounding out the top-five.

A strong field of 30 Thompson's Auto Group Winged 360 Sprint Cars signed into the pit area. Justyn Cox set the ADCO Driveline and Custom Exhaust fast time to begin the night with a lap of 11.410. The four heat races were picked off by Steven Tiner, Justin Sanders, Sean Becker and Jimmy Trulli. The B-main was captured by Kirt Organ.
Join over 9000 followers of Placerville Speedway on Facebook, where you can keep abreast of updates for the 2017 season. You can also find Placerville Speedway on Twitter by following us

https://twitter.com/

pvillespeedway – In addition, Placerville Speedway is also on Instagram. Please follow us @PvilleSpeedway.

The Placerville Speedway is operated by Russell Motorsports Incorporated, which can be reached at the track business office at 530-344-7592. Contact Kami Arnold or Scott Russell directly for 2017 sponsorship opportunities at the office. Results can be found at our website

www.placervillespeedway.co

m