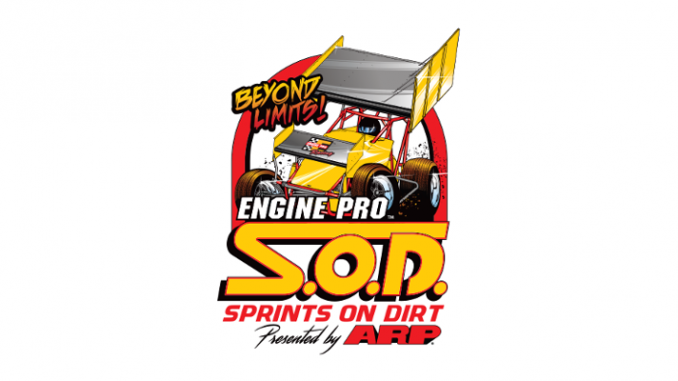 From Sprints on Dirt
ERIE, Mi. (June 13, 2017) – The 2017 Driven Racing Oil Battlegrounds Bash four-race series will roll out this Saturday. Butler Motor Speedway's WW III presented by Jim Coffey & Son Plumbing and Heating will pay $2,100 to win.
In the past, SOD races at Butler, when held on Michigan International Speedway special events weekends have been known to attract both famous and not-so-famous spectators from MIS. This year, all three Driven Racing Oil Battlegrounds Bash races at Butler are scheduled on MIS weekends.
Last year's two SOD races were exciting to say the least. In the first race, 2016 SOD champion Brian Smith passed former Butler champion Doug Zimmerman in the last corner of the last lap for the win. Not about to let it happen again, Zimmerman thrilled the crowd as he charged to the win in the second show.
SOD races at Butler traditionally bring regulars from both SOD and Butler face to face for bragging rights. Butler point leader Doug Zimmerman will be defending his home turf, driving for Tom Dale. Boston Mead, currently 5th in Butler points, has also run a couple SOD races and is the son of 1987 and 1988 SOD champion Mark Mead. His car owner is reining Butler champion Shelby Bilton who is currently 2nd in 2017 Butler points.
2001 SOD champion Steve Irwin leads SOD points going into the weekend with top SOD series rookie contender Thomas Schinderle in 2nd; Dain Naida, 1999 SOD champion, is in 3rd.
Also chasing the first Driven Racing Oil BB win will be veteran Chad Blonde, whose sprint car career began at Butler. Although not pursuing either Butler or SOD points, Blonde won at Butler on May 13 and won both SOD races last weekend in his Sean Robinson-owned ride; Robinson is another former SOD champion.
Driven Racing Oil Battlegrounds Bash dates are Saturday, June 17, the first Michigan International Speedway 2017 NASCAR weekend, Saturday, July 22, the MIS Faster Horses Festival weekend,; and Saturday, August 12, the final 2017 MIS NASCAR weekend.
The Driven Racing Oil Battlegrounds Bash will pay a five-place point fund for the three races, and the Driven Racing Oil Battlegrounds Bash champion will have a guaranteed starting spot in the Engine Pro Sprints On Dirt presented by ARP Mike Olrich Memorial Race at Crystal Motor Speedway on September 2.
Engine Pro Sprints On Dirt by ARP's other two 2017 series, the King Engine Bearings King of Michigan and the MAHLE/Clevite Beyond Limits Challenge were part of last weekend's action.
Get to know Driven Racing Oil at http://www.drivenracingoil.com. For more information about Butler Motor Speedway, go to www.butlerspeedway.net. To learn more about Engine Pro, go to www.enginepro.com. For more information about ARP, go to www.arp-bolts.com. For complete information about all 2017 SOD events, follow SOD at www.sprintsondirt.com and on Facebook at www.facebook.com/sprintsondirt.