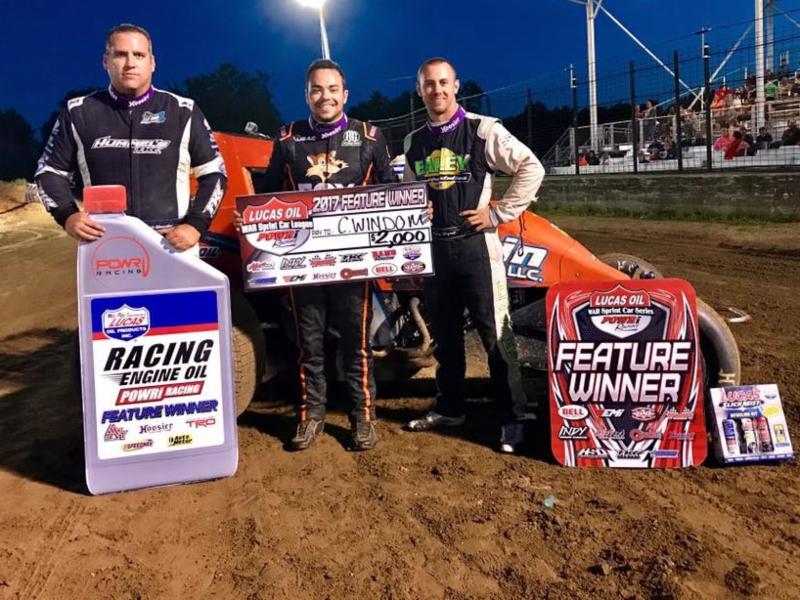 Chad Buford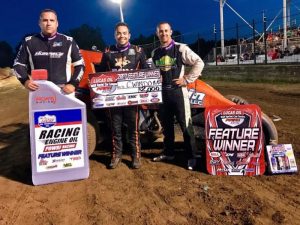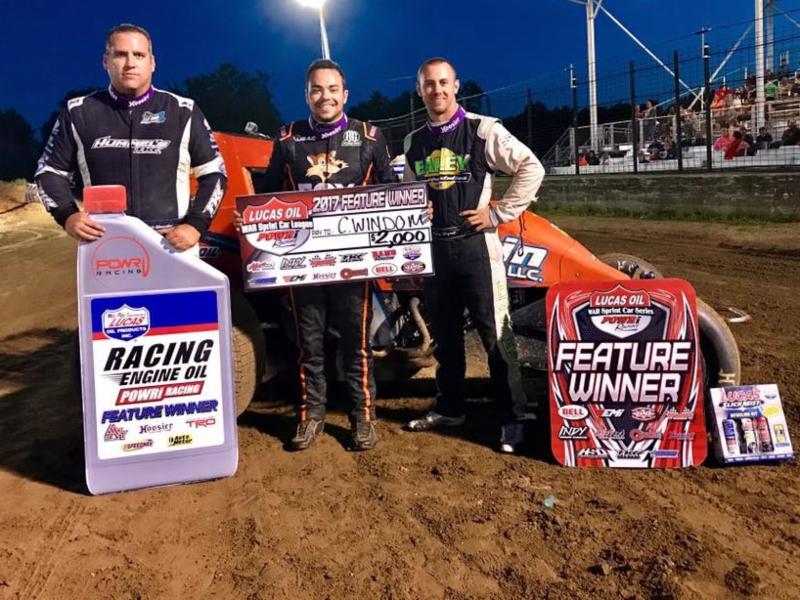 Brownstown, IL (June 24, 2017) – Taking the lead off of turn four coming to the white flag, Chris Windom picked up his first POWRi Lucas Oil WAR East Sprints win at Fayette County Speedway Saturday night, June 24.
Korey Weyant beat fellow front-row starter Mario Clouser through turns one and two to take the lead for the start of the 25 lap main event.
The only yellow of the race would take place with one lap complete as Isaac Chapple and another competitor made contact bringing out the yellow and ending his night.
On the restart, Weyant again set the pace as he was trailed by Mitch Wissmiller. The lead duo set a torrid pace running the high side of the raceway as Windom manuevered his way into third.
Wissmiller was within striking distance of Weyant, but contact with the fourth turn guard rail sent the Saybrook, IL native off of turn four. Wissmiller saved it and continued on, but the contact allowed Windom to get by him for second a short time later.
Windom closed on Weyant and attempted multiple slide jobs on the leader to only have Weyant turn back underneath him to keep the top spot. In heavy lapped traffic Windom was able to get a good run on the bottom to move in front of Weyant at the white flag. Windom went on to the $2000 win in his Baldwin Brothers/Fox Paving/AmsOil DRC with Claxton power.
Weyant ran a strong second to take over the WAR East points lead in his Ealey Transportation/Weebles Bar and Grill/Tosti's Transmission Eagle with Automotive Machine power. Wissmiller was third in his Air Plus Contracting Solutions/ SF Welding & Repair Maxim with Chevy 410 power. Clouser was fourth in his Yokohama Tires/Clouser Auto Repair Claxton-powered Maxim. Rounding out the top five was fourteenth starter Terry Babb in the KCBJ Motorsports/Faith Flat Out Ministries/APT Powder Coating Eagle with Five Star power. Babb was the Indy Race Parts Hard Charger. Aric Gentry, making his first WAR Series start in a couple of seasons, ran sixth as he was followed by James Lyerla. Landon Simon, Chet Williams, and Mitchell Davis rounded out the top ten for the nineteen car field.
The POWRi Lucas Oil WAR East Sprints will next be in action along with the POWRi Lucas Oil WAR Sprints in the "BORDER WARS" at Belle-Clair Speedway in Belleville, IL next Friday, June 30. They will follow that up with leg two of the "BORDER WARS" at the St. Francois County Raceway in Farmington, MO on Saturday, July 1.
POWRi Lucas Oil WAR East Sprint League
6/24/17
Fayette County Speedway – 19 cars
Hinchman Racewear Heat 1 – 8 laps
1. 99-Korey Weyant, Springfield, IL (1); 2. 5-Chris Windom, Canton, IL (6); 3. 38-Chet Williams, Newburgh, IN (5); 4. 22S-Slater Helt, Harrisonville, MO (4); 5. 56-Mitchell Davis, Auburn, IL (7); 6. 20-Steve Thomas, Ludlow, IL (2); 7. 41-Brad Wyatt, Kearney, MO (3)
Wilwood Disc Brakes Heat 2 – 8 laps
1. 52-Isaac Chapple, Willow Branch, IN (5); 2. 5D-Zach Daum, Pocahontas, IL (2); 3. 10-Aric Gentry, Corydon, KY (6); 4. 95-Tommy Rockwell, Towanda, IL (4); 5. 31L-Buddy Lowther, Cincinnati, OH 1); 6. 72-Al Thomas, Ludlow, IL (3)
Bell Helmets Heat 3 – 8 laps
1. 6-Mario Clouser, Auburn, IL (1); 2. 1-Mitch Wissmiller, Saybrook, IL (5); 3. 24-Landon Simon, Tipp City, OH (4); 4. 11-James Lyerla, Hillsboro, IL (6); 5. 8D-Terry Babb, Decatur, IL (3); 6. 55-Chuck Walker, Herrin, IL (2)
POWRi Lucas Oil WAR East Sprints A-Main- 25 laps
1. 5-Chris Windom (5); 2. 99-Korey Weyant (2); 3. 1-Mitch Wissmiller (4); 4. 6-Mario Clouser (1); 5. 8D-Terry Babb (14); 6. 10-Aric Gentry (3); 7. 11-James Lyerla (10); 8. 24-Landon Simon (9); 9. 38-Chet Williams (7); 10. 56-Mitchell Davis (11); 11. 22S-Slater Helt (12); 12. 20-Steve Thomas (17); 13. 95-Tommy Rockwell (13); 14. 41-Brad Wyatt (19); 15. 31L-Buddy Lowther (15); 16. 55-Chuck Walker (18); 17. 72-Al Thomas (16); 18. 52-Isaac Chapple (6)-DNF; 19. 5D-Zach Daum (8)-DNF