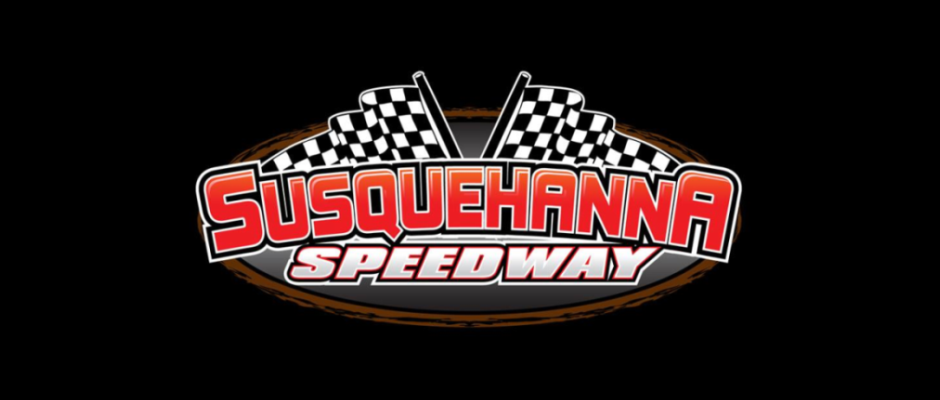 By Brad Vores for Susquehanna Speedway
YORK HAVEN, PA…7/8/17
After a tough early season, defending track champion Russ Mitten appears to be headed in the right direction.
The Newville, PA veteran gave himself a great Birthday gift Saturday night at Susquehanna Speedway as he raced to his second win of the season in the 25-lap Credit Connection Auto Sales Super Sportsman feature.
The win was his sixth straight top five finish at the York Haven oval as he now has climbed into third spot in the season long point battle.
Front row starter Steve Fannasy grabbed the early lead and led through lap 10 when Mitten, who started eighth made the race winning pass to be scored the leader with eleven laps complete.
The race was marred by four red flags-lap one for Lanny Hake, lap four for Greg Foster, lap 14 for Troy Hockenberry and a fire on lap 21 for Doug Dodson. There were no driver injuries.
Mitten was able to keep his Newville Electrical Services, RPM Chassis No. 77 out front after taking the lead and was able to keep Scott Dellinger at bay following the final restart.
Fannasy held on for third place over Devin Beidel and current track point leader and 18th starter Kenny Edkin coming home fifth.
Sixth through 10th were 17th starter Jay Fannasy, 23rd starter and Hard Charger Mike Enders, Chris Meleason, Timmie Barrick and Tom Wyckoff.
Heats for the 30 Super Sportsman were won by Frankie Herr (who scratched from the feature), Wyckoff and Hake. Edkin won the consolation.
Red Land High School student Kyle Craker scored an impressive first career win in the 20-lap Freedmont® Mortgage Lending PASS/IMCA Sprint car feature.
After Drew Ritchey led lap one and stopped on the track to bring out a caution, Craker stormed from his fifth starting spot to take the lead with two laps complete and drove off from the field to post the win in just his eighth start in the 305 Sprint car at the young age of 16.
Ken Duke, Jr. was second trailed by Kyle Ganoe, 15th starter and Hard Charger Zach Newlin and Stephanie Dodson with Darren Miller, Billy Ney, Kyle Smith, Jay Krout and Jaremi Hanson the top ten finishers.
Erin Statler, Tyler Reeser and Ganoe won heats for the 30 305 Sprints.
After leading the first 13 laps then losing it on lap 14, Scott Houdeshell used a final lap pass on Mason Chaney to score his second win of the year in the ServiceMaster Clean Central PA Legends feature. The feature was shortened to 15 laps due to curfew.
Houdeshell led laps one through 13 before Chaney took the lead for a lap only to have Houdeshell take the lead and win with Chaney, Bob Stough, Hayden Pascoe, Lucas Montgomery, Liam Heaton, Tim O'Sheehan, Scott Smith, Travis Perry and Chandler Pagnotta completing the top ten finishers.
Chaney and Pascoe won heats for the 22 Legends.
The 25-lap Bernheisel Race Cars 358 Late Model Feature and 20-lap Superior Homes Extreme Stock Feature were both postponed due to curfew. Rains hit the track just as gates opened, delaying the racing program. The Extreme Stock feature will be made up on July 29th while the Late Model feature will be completed on August 5th.
Dave Latsha and Ben Whitaker won heats for the 18 late models while Donnie Broderick and Michael Smith won heats for the 15 Extreme Stocks.
There will be no racing on Saturday, July 15 but the BAPS Auto Paints and Supplies 410 Sprint Series returns to action on Sunday night, July 16 on BAPS Night at the speedway. It will be the fourth event of the BAPS series. The Credit Connection Auto Sales Super Sportsman will join the 410 Sprints. Racing begins at 7PM.
There will be a Test N' Tune at the speedway on Wednesday, July 19 from 6-9PM.
Susquehanna Speedway
Susquehanna, PA
Saturday July 8, 2017
Super Sportsman
Feature:
1. 77 – Russ Mitten
2. 30 – Scott Dellinger
3. 11 – Steve Fannasy
4. 19 – Devin Beidel
5. 75 – Kenny Edkin
6. 222 – Jay Fannasy
7. 3B – Mike Enders
8. 318 – Chris Meleason
9. 7 – Timmie Barrick
10. 77W – Tom Wykoff
11. 58 – Paul Miller
12. 99 – Chad Smith
13. 1A – Chase Gutshall
14. 5D – Luke Deatrick
15. 23 – Justin Foster
16. 54 – Doug Dodson
17. 27 – Troy Hockenberry
18. 83 – Bruce Buckwalter
19. 2M – Matt Ondek
20. 32W – Garrett Williamson
21. 32 – Gregg Foster
22. 44 – Russ Lebo
23. 91 – Laney Hake
24. 14 – Nate Young
PA Sprint Series
Feature:
1. 14 – Kyle Craker
2. 51 – Dave Graber
3. 91J – John Fiore
4. 67 – Ken Duke Jr
5. 0 – Kyle Ganoe
6. 11Z – Zach Newlin
7. 20 – Stephanie Dodson
8. 9C – Darren Miller
9. 44K – Kirsten Hess
10. 83 – Billy Ney
11. 17 – Kyle Smith
12. 50 – Jay Krout
13. 36 – Jaremi Hanson
14. 44X – Dave Brown Jr
15. 18 – Ian Detweiler
16. 5T – Tyler Reeser
17. 99 – Cale Reigle
18. 8 – Nick Sweigart
19. 41Z – Jared Zionkowski
20. 2 – Erin Statler
21. 5 – John Walp
22. 8D – Scott Ellerman